5 ways business intelligence can drive revenue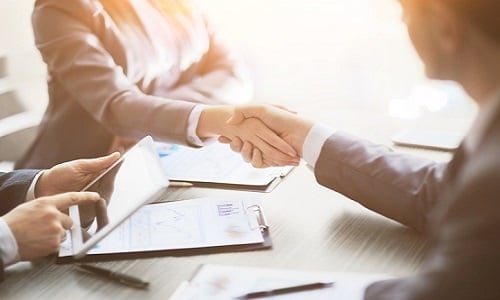 Business intelligence software gives you the information you need, and gives it to you in a way that's actionable on many levels. You can access, view, use, and collaborate from anywhere you've got wireless. If you're interested in how business intelligence can help your business, check out five ways business intelligence can drive revenue.
1. Turn everyday information into valuable data

Your business probably tracks a huge amount of information. Even facts as simple as what's on the shelves, and how long it takes it to get there, can feel overwhelming . While handling all of it can seem like a headache, the right business intelligence tool can turn that information into data that drives decisions. That's what Kimberly-Clark found when it invested in a business intelligence solution.
With business intelligence software, Kimberly-Clark turned their information overload into new business opportunities. They were able to bring together data sets from different areas—manufacturing, supply chain, and inventory—and drill into the information to increase revenue. Kimberly-Clark made large sales increases, simply by using their data to avoid situations where stores ran out of their product. The combination of disparate data sources into one BI system—a single source of truth—turned data into money.
2. Get fast access to your data
Microsoft Excel is useful, but it's hardly easy on the eye. If you've got an idea, and need information to back it up, fast, nothing slows you down like having to parse a spreadsheet. That's where dashboards and data visualizations come in.
The right dashboard can take the information trapped in Excel cells and turn it into actionable data you can get at a glance. For instance, rather than having to search for areas, or individual employees, and then compare them against each other, you can put both factors on a dashboard.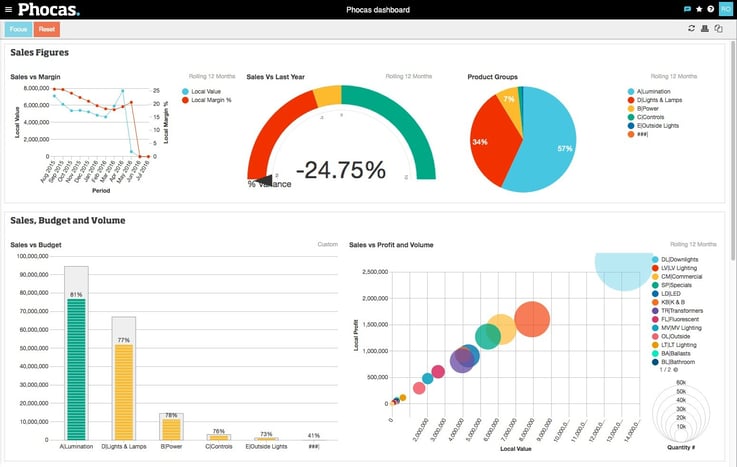 A business intelligence dashboard
With a dashboard, the information you want is already in front of you. The legwork of having to dig into Excel is replaced by a few clicks of the mouse, and the time from question to access to insight drops from minutes (if you happen to be good with Excel) to a few seconds. Your energy and attention is focused on the analysis, rather than busy work.
3. Capitalize on real-time information for future success
Asset management company, Blackstone used business intelligence software to tell when a confluence of factors actually meant there was a huge opportunity. By tracking "tenant demand and rental rates," Blackstone was able to gauge their market, and determine that a major purchase—the $378 million River North Point—was a solid investment.
Continental Airlines' investment in real-time business intelligence software helped them increase their revenue by over $500 million dollars. The minute-by-minute data tracking that Continental Airlines uses has helped them in a number of initiatives, from knowing when, and how to change fares (an initiative that netted around $10 million dollars), to determining which customers were most valuable by tracking amount and frequency of purchase. In one case, this real-time knowledge helped Continental react in an agile fashion that demonstrated excellent customer service: when valuable customers were stranded after the 9/11 attacks, Continental used their data to help the stranded travelers find accommodation.
4. Take advantage of the cloud
There's more than one reason why 78% of organizations "are planning to increase the use of cloud for BI and data management in the next twelve months". The cloud offers numerous benefits, like greater security, lower costs from not having to buy and maintain your own servers, and access from anywhere there's an internet connection. The same information that used to be kept in hard copies, in an office, can be accessed from anywhere on earth if you store your data in the cloud. If you happen to be in another city for a presentation, there's no need to worry about taking sensitive information out of office with you. When your data's stored in the cloud, all you'll need is a computer. That's the sort of agility that allows you more freedom than ever before. The greater security of the cloud may seem counter-intuitive, but it's a definite benefit. As Jason Perlow suggested at ZDNet, companies like Amazon and Microsoft can build "a far more secure" data center than most companies. The extent of security—like the number of servers used, in case some break down—is beyond what most companies could do on their own, and certainly cheaper.
5. Collaborate like never before
Cloud storage isn't the only feature of BI software that will connect you. With collaborative capabilities, like those you'll find in Phocas' BI solution, your work will have the benefit of your entire team's input. Collaborative business intelligence gets you on the same page as your colleagues, and even lets you post questions and comments on the work they've done. Better yet, you won't be tracking down the information you need from disparate emails, spreadsheets, and reports. You'll have the information you need at your fingertips in front of you, and in the same place where you can build on that knowledge with other people. The fact that Phocas modeled their collaboration features based on social media platforms makes working together more than just easy—it makes it fun.
This is a guest post from Geoff Hoppe. Geoff is a content writer at Capterra, the software directory that helps match you to the business software you need. He writes about business intelligence, business analytics, field service management software, and computerized maintenance management software. He's particularly interested in how business intelligence software can enable disruptive, agile strategies that empower small businesses.