Automotive business intelligence (BI) success stories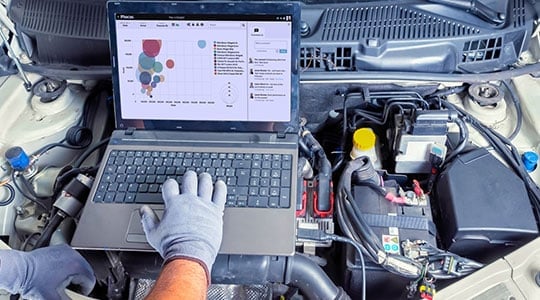 A recent report by senior research analyst John Greenough found the market position of the car today is similar to where the smartphone was in 2010. "It's just taken off and is ready to explode."
So in this growing industry, how do automotive businesses stay competitive and ahead of the game?
Here at Phocas, we have over 200 automotive customers across the globe. For automotive companies with large product portfolios and customer bases, business intelligence (BI) is the missing link between the data you already have locked in internal systems and an optimized sales and fulfilment strategy to enable a competitive advantage in this erupting marketplace. Here are some of their success stories:
Stop competitors in their tracks
Ranked as one of the 100 largest German industrial companies, Hella was keen to get a handle on their sales data issues to boost performance.
Hella Australia's general manager explained that with Phocas, it enables them to know what a customer is buying, when they are buying it and at what price. "Most importantly, it immediately shows what a customer is NOT buying."
Phocas also alerts you when a competitor is stealing business – a must-know in the competitive automotive industry. "Importantly, it also provides warning that we had better act immediately across the rest of that marketplace… I can't put a figure on what this is worth to our business, but it must be pretty substantial."
To read more on how Phocas has helped Hella, click here.
Better understand your company
CoolDrive Distribution is a supplier of parts and accessories to the automotive industry, CoolDrive has 60,000 products across its Melbourne (Australia) distribution centre and 20 warehouses nationally. They also have 40 reps on the road with local and remote customers to satisfy. The biggest challenge for them before implementing our solution was same-day delivery wins. CFO John Goodhram explained dealing with the repair sector is about immediate transactions. "You need to have the right product in the right place to meet demand."
What Goodhram wanted to understand most was how best to understand his customer relationships so he can maximize their inventory investment. "I want to see that a stock holding bears a statistical relationship to what my sales are."
After implementation, Goodhram was able to see how individual products, stock orders, stock-on-hand, sales reps and locations are performing across their 20 warehouses. "We've got about 15 people who use Phocas daily, upwards of 40 people who use it weekly and at least 90 people who could competently generate a valid query… it becomes the most useful tool you've ever had because it reveals aspects of the business you may not have thought about."
To read more on how Phocas has helped CoolDrive, click here.
Unlock data and improve sales
LED Autolamps are a leading supplier of European certified commercial vehicle lighting systems. LED's biggest challenge before implementing a BI solution was unlocking the data hidden in their Quickbooks ERP system, quickly.
After implementing Phocas, reporting times were slashed and there was a 20% turnover increase. "In three days using Phocas, we were able to sell more of our commodity product than we did previously in our busiest month," managing director, Maurice Bibb explained.
For his sales reps, they are now able to manage their territory – rather than their territory managing them. "One recent report that we ran through Phocas showed us, 150 customers, who had not bought a particular product from us in a while, Phocas enabled us to target these customers accurately and concentrate on getting their business back."
To read more on how Phocas has helped LED Autolamps, click here.
Fast and comprehensive reporting
Bennett Auto Supply is a retail and distribution business with 34 stores in Florida. They have over 60,000 automotive parts and supplies, which they use to service individual customers and service centres. General counsel, Justin Bennett said sharp data insights and up-to-date reports are shaping a set of new metrics and standards in the industry.
With sales reporting a valuable commodity in the automotive industry, the ability to combine databases is crucial. "We can now correlate data to understand the fluctuations of our business… [I'm] able to craft a report and show a sales meeting that we were 6% up on the same day last year, and the reason for that," Bennett said.
One of the biggest benefits Bennett says is being able to see, for example, if store A has $100,000 in sales and 1000 man hours, they average $100 per employee. However, store B also has $100,000 in sales but only 400 man hours. Things start to jump off the page, and you can drill into the underlying data to see exactly where workflow can be improved. "We've never had that ability before."
To read more on how Phocas has helped Bennett Auto Supply, click here.
If you're in the automotive industry, we invite you to download our new eBook - 'The key KPIs and metrics automotive businesses must know and measure'. Click the image below to download your copy.