Business intelligence dashboards: What executives are monitoring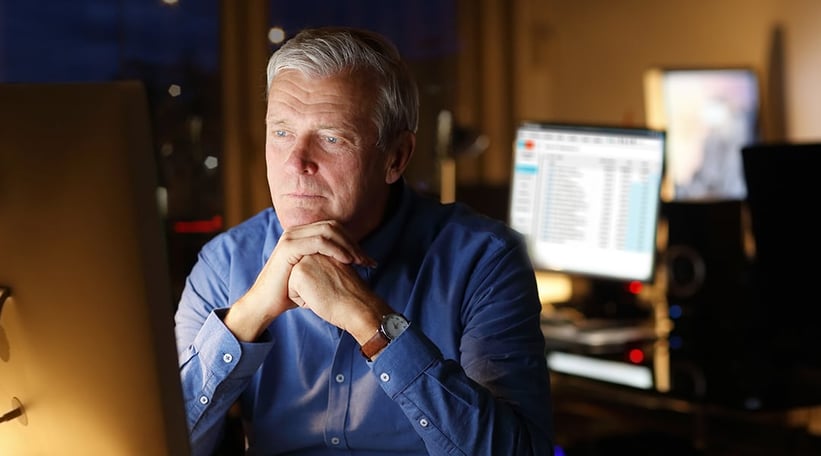 When it comes to developing business intelligence dashboards, the biggest challenge may be deciding what data should be included. Most executives want to see business-critical information that can help them make faster and more educated decisions. In a Phocas business intelligence dashboard, you get the big picture and the ability to drill into the data to investigate further. Currently, executives are focused on full visibility and how their businesses have changed due to lockdowns and disruption.
In a business intelligence dashboards you can see what the changes to your business are, where they are coming from and then make up your mind whether to encourage the change (increase in online sales) or discourage it (increase in accounts receivable average days to pay).
Many businesses are struggling to gain value from their data because they don't have the ability to truly analyze the information. Over the years we have worked with hundreds of companies that use Phocas to monitor key performance indicators and metrics, many of which are difficult to analyze without a BI system. Now that everyone is trading through unprecedented times we have been working with customers to adapt business intelligence dashboards to review inventory levels and forward orders, accounts receivable tracking and sales lead times.
Inventory
Available quantity – This may seem like a simple thing to measure, but compiling an accurate quantity of a single product from data across inventory and warehousing systems often from multiple branches and distributions center without a single source of truth, can be more difficult than it needs to be. Having a true available quantity can help you maintain appropriate inventory levels and determine .
Last order/last sold – Match open purchase orders with open sales orders
To look at both ends of your supply chain executives have been able to look at the backorders and the open orders to determine whether they match up.
An issue to look out for is where there is an open sales order but no accompanying open purchase order. The reason they don't match might be because the product hasn't be ordered yet, or in the current environment, it might be because there is no product as the supplier hasn't shipped or is shut down. You can quicklyidentify this in your data and find the vendors who are supplying and those who are not. The review of open sales orders to open purchase orders will allow your team to prioritize available shipping product, or find substitutes to fill backorders.
Inventory adjustment reason/adjustment stock status – Inventory adjustments are made all the time, so it's important that you can track the quantity changes as well as reasons why the adjustments were made. Was it a temporary item? Were you trying to purge the item from inventory? Do you want to increase stocking items that you normally do not have on the shelf that have been in greater demand? Understanding when and why inventory adjustments were made in your system will help with accountability, planning and forecasting.
The image below shows how Phocas can calculate how many months of stock you have available. In this case, the business might have an overstock of the listed items. Click the image to enlarge.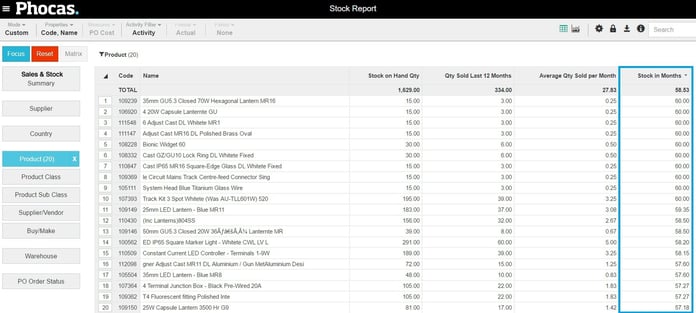 Operations
RF scanner database – Metrics created to track every time a warehouse employee touches and scans a product. This level of data found in the Phocas RF Scanner Database will allow you to track the number of scans, how frequently particular items are scanned, where in the warehouse are the most scans happening, what hour of the day or day of the week are the busiest, what locations have the most scans, etc. This information can help you plan staffing levels, monitor employee productivity, improve warehouse layout, and product location. You can answer questions such as:
Do I need to increase staffing levels at certain hours of the day or days of the week?
Why is employee A picking more frequently than employees B and C?
Do I need to relocate products to ensure my teams can be more efficient when picking?
Should we relocate product to warehouse A because of the volume of scanning?
This analysis has proven very useful for companies who have had staff working on alternate days because they have a structure to work around and can report back how a reduced team is managing.
Price overrides – Price adjustments occur frequently, so it's important to know who and why they are happening. This is an important metric for companies that don't realize that their staff is manually overriding pricing. When product pricing is changed at the point-of-sale, it can have a significant impact on sales margins and overall profitability. Visibility into how much of a discount or increase customers are receiving, who is making adjustments to pricing and for what customers can help you answer a variety of questions.
Why are products being discounted or increased?
Are price changes happening in certain locations or for certain products?
Are staff members abusing the overriding power?
Does your pricing strategy need to be changed and are you communicating it with customers?
Transfers database – There are a number of metrics within the Phocas Transfers database that help to answer a number of operations questions. For companies that have several locations, including sales branches and distribution centers, it's important to have visibility into data about the types and volume of transfers taking place between the locations. For example, if the data reveals that you are constantly transferring a part from branch A to branch B, adjustments can be to the shipments from the distribution centers. The database takes everything into account from cost of shipments from the distribution centers to the received inventory management.
Finance
Integrating finance data into the sales and operations data is providing a new level of detail for executives. Rather than reviewing finances on spreadsheets and comparing them with reports from other areas of the business, the Phocas business intelligence dashboard can present a variety of finance data about the business. Among the metrics are the following:
Original invoice amount – paid and balance – How much did you bill clients, how much has been paid and what is the balance owed. Each of these three data points answers a different question and has a significant impact on your business bottom line. They may also provide answers to customer relationship questions, and to whether or not your business can continue to afford to serve a particular customer.
General Ledger – The GL contains all the accounts for recording transactions related to your business. Convenient access to the GL in your BI solution can provide you the big picture perspective you need to monitor the health of your business. While the GL may have been separated from inventory, sales and operations analytics, the ability to see it side-by-side will make it easier for you to make important business decisions.
Below, you can see how easy it is to display financial data in Phocas. Click the image to enlarge.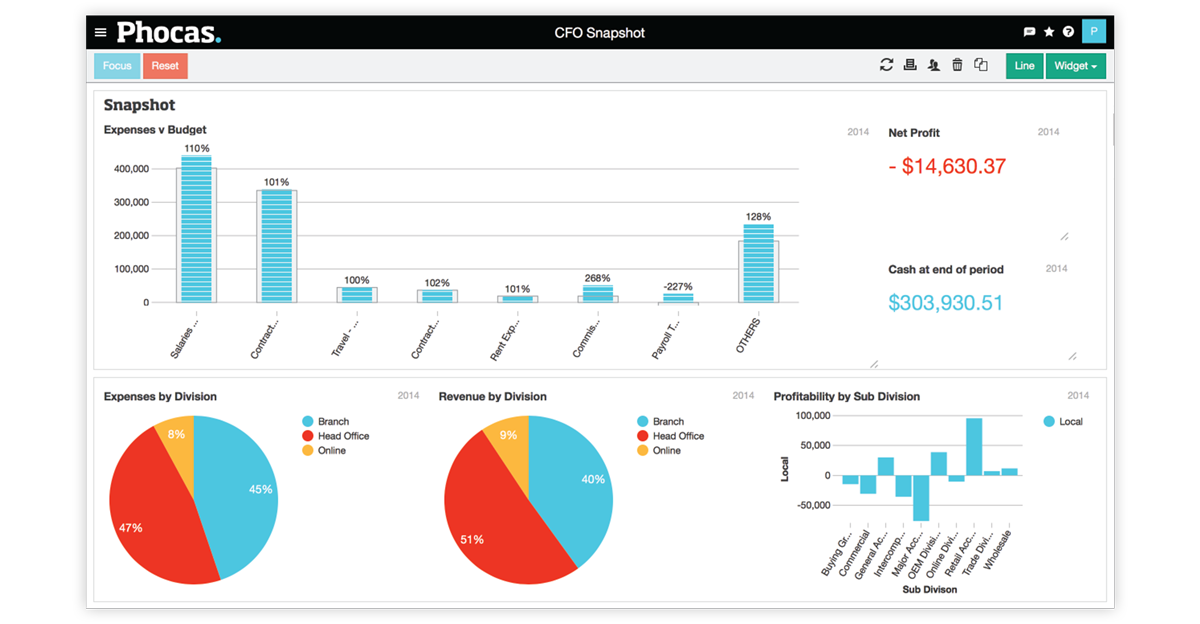 Customer profitability module – This Phocas database contains important information relating to all of the different expenses, accounts receivables, returns, deliveries, sales administration costs, warehouse storage fees, etc. to provide to you your true adjusted gross margin per customer. This data will allow you to stratify your customers, identify where customer service strains may be and who your core customers are.
As you develop your business intelligence dashboards, Phocas can help you uncover opportunities and challenges within across your business and answer important business questions with KPIs and metrics. Out-of-the-box and with additional data modules, Phocas converts your raw data into visual charts and graphs allowing you to make data-driven decisions quickly and easily.
Download our eBook on Business Intelligence Dashboards to learn more about what your KPIs and metrics could look like in Phocas. Simply click here, or on the button below, to download your copy.