Have you tried these 4 strategies to improve electrical supply sales?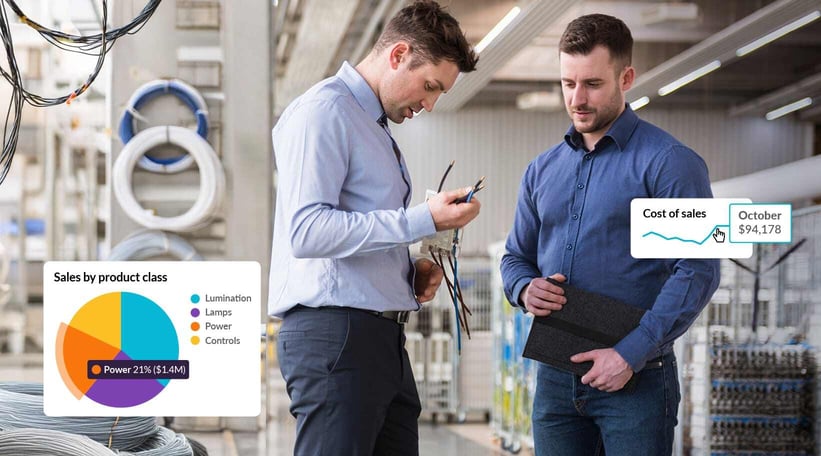 The electrical supply market is constantly evolving. IBISworld reports that US electrical equipment wholesaling sales declined by 7.6% in 2020 and may face further disruption this year due to a drop in consumer confidence and as private investment declines. Electrical businesses need data insights to refine sales strategies in order to win contracts of the electrical supply projects in market.
While all divisions within a business perform vital functions, it is the sales team that is ultimately responsible for turning your product into profit. There are several well-known strategies to improve sales performance. While established strategies can work, electrical suppliers are using data to gain a massive competitive advantage.
Let's discuss four ways you can improve your electrical sales performance through data.
1. Up-sell and cross-sell
How effectively does your sales team practice up-selling and cross-selling? Up-selling is offering a more luxurious or larger quantity of a product to a customer when placing an order. An example could be to offer a more durable motor speed controller instead of the cheaper version purchased. Cross-selling, on the other hand, is based on the principle of offering a customer complementary products. Here, you may think of offering an automation control such as a timer to go with the new lighting solution for a domestic construction project.
Using these strategies improves the purchasing experience of your customer and can lead to better profitability and margins for your business.
While these strategies are well known to sales-people, data can be used to enable more effective sales techniques. If you're interested in finding out more about how easy these techniques can be, review our cross and up selling e-book here.
2. Peer-educate your sales team
When analyzing your sales performance through business intelligence, you may find that there are variations between sales reps. Perhaps most of your reps are successfully selling large quantities of UV stabilized tie and edge clips while another rep does not sell any at all?
During a discussion with an underperforming sales rep, you may find they are unsure what a particular product is used for, or are unaware that you even sell the product? Business intelligence allows you to get these insights and share vital information that could win you the contract.
A sales rep that is performing strongly in the sale of a particular product could educate other sales reps on the qualities of the product as well as the strategies that he or she uses. By enabling each sales rep to educate their colleagues on the product of their expertise, you build the capability of others and develop leaders in the team.
Depending on your business size, peer-education can be done in a group meeting via Zoom, or as a recording that is disseminated among employees. Enabling your team to guide and mentor each other can have great benefits for your business.
3. Match your product offers to the market
Manufacturers, distributors and retailers of electrical products often have products that vary in sales volume across regions. For example, mobile controlled thermostats and other high-end controllers may sell well in one region and not in another. This could be due to internal factors such as the effectiveness of specific reps in a region or external influences such as the number of new construction projects in a region, or even climatic conditions that influence the need for a range of products.
Business intelligence allows you to identify these regional sales trends with a few clicks. A sales rep servicing a region with large sales of solar paneled products may now offer other modern and environmentally friendly products to customers. To take this one step further, sales reps in different regions with similar customers may see increases in sales when they also start focusing on environmentally friendly products. Needless to say, this doesn't need to be just one specific type of product, but could extend to groups of products or brands. BI opens up a world of possibilities for your business.
4. Re-engage customers you are about to lose
It can be difficult to know when you are about to lose a customer, especially when you have a large volume of customers you service. Decreased sales of an older version of a product does not need to be all bad. It can simply mean that customers are transitioning towards a more modern product, such as power points with safety switches rather than those without. When a customer stops buying from you altogether, it may however indicate they have found a new supplier. By using strategies such as discounts on bulk-orders, you may be able to save a customer you are about to lose by offering a better price than your competitor. If you cannot offer a better price on that specific product, you may be able to offer a better price on a different product, and create a bundle offer your competitor cannot match.
The trick, however, lies in identifying these customers quickly. With BI, it does not take long to look through current order quantities compared with previous order quantities. Dashboards in your business intelligence software allow you to monitor these trends. A dashboard constantly updates itself, and can be easily understood without the need for hours of analysis. If you wanted to, you could even open it on your tablet or mobile phone on the road, and keep up to date.
Dashboards are only one of the benefits business intelligence can have for your electrical business. Increasingly, electrical suppliers and distributors are turning to business intelligence to better understand their business, retain customers, and improve performance.