Phocas is the GetApp category leader in business intelligence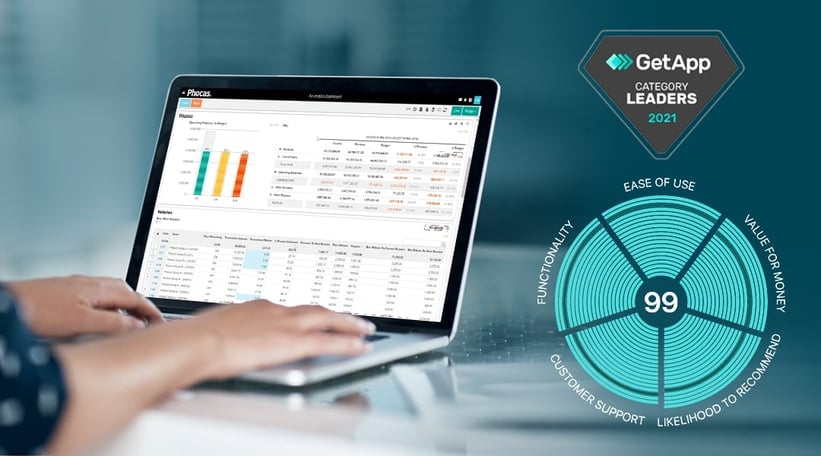 GetApp is an independent online platform that people use to review, evaluate, and compare business software. Get App creates Category Leader reports for the most popular business applications each year, and based on current trends, business intelligence or BI is in demand. In 2021, Phocas software is ranked the Category Leader for business intelligence from hundreds of other products. The Phocas core business intelligence software achieved a near-perfect 99/100 score across five categories - ease of use, value for money, functionality, customer support, and likelihood to recommend. To review the report click here.
GetApp methodology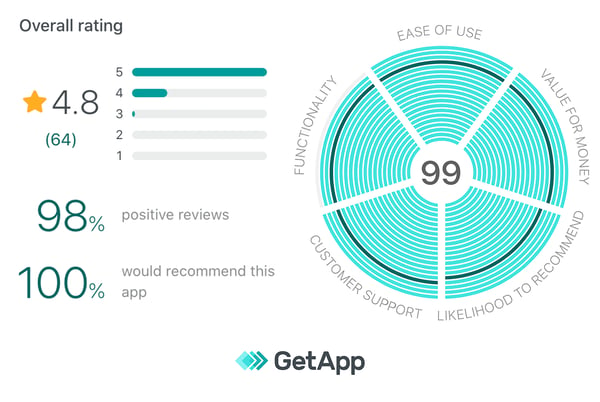 To create the Category Leaders ranking report, the GetApp research team evaluate hundreds of products in any one category. Only the products with the highest scores become Category Leaders.
Each Category Leader has a radar chart depicting the product's scores for each of the five areas (shown in aqua blue) relative to the average scores of all products in the category (the dark blue lines). Take a look at the Phocas radar chart to the right and you can see that the software scores 20/20 for four categories (ease of use, value for money, functionality and likelihood to recommend) and 19/20 for customer support. Phocas outperforms all other products across all areas of the review.
The data sources GetApp uses to develop the reports include approved user reviews, public data sources, and data from technology vendors.
Ease-of-use is important to all people
"It's great to have Gartner-owned GetApp producing reports that reflect the experience of real users of the software. When evaluating the best fit business intelligence software, people want to understand: how easy to use and do we get value for money? Then they are interested in: is the customer support any good? And ultimately, would customers recommend the product to others?" explains Glashier.
"Data is not easy for companies to bring together and present in a meaningful way. Many people find data inhibiting and are held back by not having access to the information they need. Therefore, by using business intelligence software that presents a single source of information in a format that is user friendly and current, makes a massive impact on a company," says Glashier.
The 2021 GetApp result reinforces that customers get a great experience from Phocas BI Software.
Customers tell us time and time again that ease of use is important to them.

Myles Glashier, CEO Phocas
What the customers say about Phocas
Bill W, Warehousing
It is very easy to use! I can show someone the basics in 5 to 10 minutes and they are off and running creating favorites and dashboards. The software is updated every month and their support and documentation is outstanding. The product gives us the information we need faster than doing it in our ERP system. With a couple of clicks, you can analyze your sales data and then quickly change views to look at the data in a completely different way. It very robust in all the options you have. The company is developing based on their customer needs, you can tell that they all want to help us achieve success with this product.
Vinod D, Medical Device Supplier
The team at Phocas are very customer focused and easy to deal with. We have used this software for almost 2 years and have changed the way we do business today as all information is only a few clicks away.
The ease to use and train employees on this BI tool makes it the best in the market. The power of building your own databases, customizing reports and the level of customer service is outstanding.
---
*Required disclaimer: Our Category Leaders reports use a snapshot of review data from a defined time frame and are not updated after publication. Category Leaders reports should therefore be used along with the detailed and current information available on each product's profile page for the most up-to-date view of the data.