The great lead debate: quality vs. quantity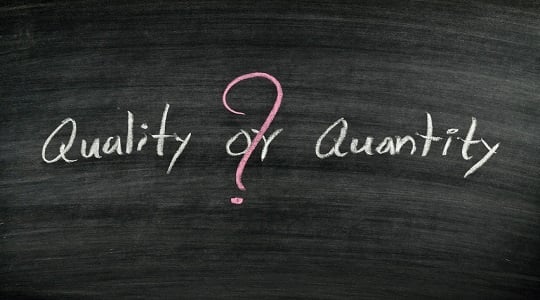 In the consumer world, quantity is often king. But what about B2B sales?
Consider places like Taco Bell, Little Caesars Pizza and your local Chinese buffet. The amount of tacos, pizza and Kung Pao chicken you get for your money is considered value. Quality, while each of the restaurants is trying hard to achieve it, comes in second to their ability to quickly attract (and feed) large volumes of consumers.
The same can be said when it comes to lead generation for consumer products and services. Again, it's not so much about whether every lead will result in a sale. Rather, it's about having a large base of prospective customers to market to with the hope that a few will actually make a purchase.
High quality leads for B2B sales
The title of this blog post is a bit of a misnomer when it comes to B2B leads, because there really is no debate. Salespeople and their teams want quality leads. In fact, in a 2015 study by Ascend2, 70 percent of survey respondents identified lead quality as the most important objective for an effective lead-generation strategy. A separate study conducted by Brighttalk found that 68 percent felt that improving lead quality should be a top priority. More than half of the Ascend2 (54%) and the Brighttalk (55%) respondents also indicated that they wanted an increase in the number of leads.
In an ideal world, sales would have both quality and quantity, but with B2B sales, there are a number of KPIs and metrics that require an increased effort to ensure the quality of any sales leads.
Generating high quality leads is one of the biggest challenges for marketers. It's a different process that needs to be embedded into the business. Identifying a high quality lead takes time and ongoing revision. It requires a formal and measurable buying process that includes the ability to gather any qualifying data, as well as scheduling and tracking customer interaction and milestones. Unlike casting a wide net by blasting email lists and sending direct mail by zip code, finding quality B2B leads requires a better understanding of the target customer. Generally, B2B sales cycles are longer and finding an interested customer by qualifying a lead is a genuine indicator of future sales success.
Tailoring content
One expert wrote, "Whether you call it a funnel, a journey, or a loop, prospects that become leads have raised their hands and expressed some interest in what your B2B company does, makes, or provides."
A quality B2B lead does not necessarily come from a big list of targets. In most cases, it starts with a few specific individuals, and it's marketing's ability to accurately and effectively connect with them that can make a significant difference in whether he/she turns into a qualified lead. Marketing must be resourced to gather and assess the data so that sales can make the right offer at the right time through the right channel. All of a sudden, mass emails become a personal note to a targeted contact; a seminar supported by mass marketing becomes a one-on-one demo; direct mail becomes a letter with a personal note from the CEO; and generic success stories become practical applications that reflect extensive knowledge about the prospect's business, infrastructure and needs.
One view of the truth
Key to successful B2B leads is data. You have to understand your prospective customers and their business needs. This is the value of business intelligence system such as Phocas, which serves as hub for your business data. Leads are oftentimes what create tension between sales and marketing. A recent Phocas blog stated, "Despite playing for the same team, sales has often questioned whether marketing really understands how to generate leads, while marketing wonders whether sales is actually working hard enough to close the leads they receive."
Business intelligence creates alignment by providing shared data and a unified view that pushes a singularity of purpose and a unified view of the business. Business intelligence integrates data from a variety of sources from across the enterprise allowing for a more in-depth analysis of leads and sales. The process of acquiring leads and the quality of data collected by marketing about prospective customers are critical to sales teams' ability to see a more complete picture of their businesses, to make more intelligent business decisions and to create and extend the ideal offer. Unlike a Chinese buffet, when it comes to B2B leads more is not always better. There is no debate. Quality is king.
Learn more about KPIs and Metrics in our free eBook for executives and managers. Click the button below to download your copy:
FEATURED EBOOK
Top 7 KPIs and metrics for mid-market executives
Download eBook
Fill out the form below to download the eBook.