Warehouse managers may not think they need BI, but here's why they do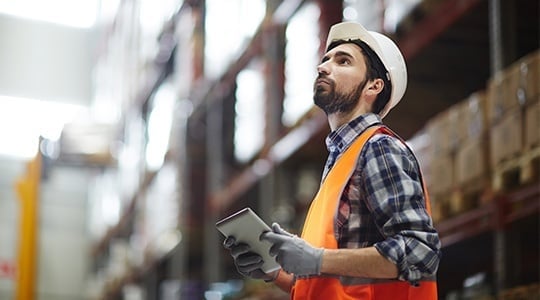 In the past, the only technology that warehouse managers thought they needed was a two-way radio to connect with staff at the shipping dock, and their legacy warehouse management system that was likely installed 20 years ago. Today, warehouses are more than storage spaces and business is moving too quickly to rely on outdated communications tools and unreliable systems.
Just as communications methods have changed, the need for more modern systems has also increased, particularly in the area of data management and data analytics. So while some warehouse managers may not think they need a business intelligence (BI) solution, here are a few reasons why they do.
Technology Innovation
The warehouse has become a sophisticated place. It is one of the main areas of the business where cutting-edge technology is having a major impact, and it's an area of the business where management must embrace business intelligence to be successful. There are of course pallet jacks and floor cranes, and the skills that were once required of warehouse managers still apply. But as the pace of business quickens and the volume of activity increases, you cannot afford bottlenecks that slow things down.
Companies are deploying a variety of hardware and software solutions to improve operations, automate processes and manage the flow of business. Robotic systems, driverless forklifts, automated storage and retrieval systems, and connected devices are just a few of the technologies that are changing how things are done around the warehouse. While each of these has a different function inside the facility, what they do share in common is data. Each is producing volumes of information that can be used to solve a variety of challenges. Where this data is stored and how it is shared and analyzed is critical to recognizing what is working, as well as opportunities for improvement.
BI software can serve as a single source of truth, capturing raw data from a variety of data systems and silos, and then convert the information into actionable intelligence.
Volume of activity
Warehouses are in a constant state of motion, with incoming and outgoing shipments; picking, storing and sorting inventory; and preparing packages for customers. In these environments, tracking inventory can be a challenge, but it is absolutely critical to avoiding dead stock, understock, or overstock issues and optimizing your supply chain. If data from the warehouse is not accurate, then departments across the organization can't do their jobs effectively. Purchasing won't know what to buy, sales won't know what's in stock and your leadership team won't have a clear picture of your operations.
BI software pulls from all of your systems and data silos so that everyone is looking at the same information. Rather than updating a spreadsheet and hoping everyone is using the same version of the data, BI software is constantly pulling data from your warehouse systems so as purchasing, sales, and your executive team log in to review their dashboards, they are able to see in near real-time stock-on-hand by product or warehouse location, stock on order and stock in transit, as well as a sales history so they can review true supply and demand.
BI software eliminates the need to manage multiple spreadsheets or systems by providing an accessible central location for all your business data.
Share the responsibilities
Warehouse managers are busy. They manage a complex operation with an increasing number of new technologies and volume of activity. If there is an opportunity to share the responsibility of managing the warehouse with team members, using accurate data as their guide, then managers should take advantage so they can be more efficient with their time. BI software makes it easy to give others across your organization access to the data that is relevant to their roles and responsibilities. By allowing others in the warehouse access to the critical inventory information, warehouse managers can share the responsibility of tracking a variety of metrics and KPIs such as delivery in full on time (DIFOT), dead stock, lead time and average monthly unit sales.
BI makes it easier for managers to take deeper dives into their specific areas of responsibility from what is causing delayed deliveries to inventory issues creating problems for sales. Sharing responsibility doesn't mean relinquishing the control; rather it allows manager to focus on high-level strategy and track overall performance metrics while helping others on their teams to improve their decision-making using accurate and reliable data.
Our BI software excels at creating a single source of truth that warehouse managers can use to help their organization become a more strategic, data-driven business. Phocas allows warehouse managers to identify stock trends and quickly respond to inventory changes driven by a variety of factors, from seasonality to competitor pricing. They can see the changes in near real-time and then take actions that keeps their businesses moving forward.
Would you like to learn more about the reporting metrics that can help steer your business towards success? Click here, or on the button below, to download your copy of our free eBook now.