What's new in BI visualizations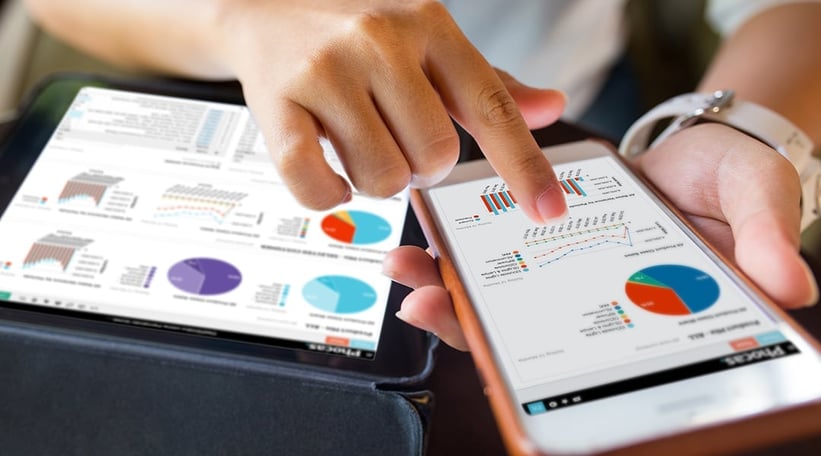 Business Intelligence (BI) depicts data visually so users can quickly recognize a trend or spot a variance. Unlike static charts, visualizations encourage users to explore their data to uncover actionable information.For instance, a BI solution can show a power tool manufacturer that sales of its cordless drills are down. While this may be caused by several factors, users can query the data and generate visualizations to see what's happening below the surface.
What is BI visualization?
Simply put, visualizations make your data visible. They are a graphic representation of a set of data represented by charts, graphs, tables, maps, and more. A good visualization provides a way to learn something about your data such as a new insight or a hidden pattern. Visualizations can show the user how the company, project, department, sales team, and so on, is performing at any given moment.
Benefits of dashboards as a BI visualization
Many managers work in front of a bank of computer screens to monitor the performance of their department. A dashboard allows the user to monitor multiple metrics and KPIs at once, from any device including a smartphone or tablet. Your data is funnelled from your various data sources and stored in one central cloud location.
Access to the cloud enables everyone in the company to see what's happening in real-time. CEOs can monitor their company, projects, and employees even when they are out of the office. Dashboards may be customized to display the metrics relevant to specific users or departments so they have the information they need at their fingertips. Phocas dashboards can be cloned in the form of a template. And each user in Phocas can be restricted to a different subset of data or template.
With relevant data accessible to everyone, collaboration becomes easier and more convenient. Whether between team members or departments or managers of different locations, the need to share reports in-person is eliminated. Also, reports can be set to generate automatically in preparation for daily, weekly, or monthly meetings.

What's new in BI visualizations
1. Real-time wallboards
Rather than sifting through a stack of spreadsheets, visualizations deliver easy-to-read data in real-time. Now your data can be viewed on large screens in warehouses or sales centers in many formats like a table, line chart, gauge, map, and more. This way, everyone can keep up-to-date with what's happening, motivate one another or help out where needed.
Midfix is a building supplier in the UK. The company has installed wallboards that display Phocas dashboards, including daily sales performance, monthly targets, margins and gross profits.
"Phocas is now part of our day-to-day business, and people look at the screen every 15 minutes to check where we are," said Paul.
Paul added, "The dashboards are powerful, and spark a lot of conversations. When we are performing well, there is a lot of buzz, and when we are not, it motivates the team to strive to achieve the goals." The wallboards are part of the day-to-day business that wouldn't have happened without Phocas. Previous versions were based on spreadsheets with very limited capabilities. Today, with Phocas as the single source of truth, the company is making additional investments and going into new areas with data analytics.
2. Assisted insights
A new function available in business intelligence dashboards is assisted insights. The software automatically serves up recommend answers to typical queries on a dashboard such as who are the declining customers for the month. The BI tool automatically finds the data to analyze, runs it through a series of steps to find the most statistically relevant results, and then presents them in easy-to-understand visualizations.
3. Automated analysis and reporting
Automated reporting is about bringing users relevant useful information in a timely way, without the users having to seek out the information for themselves. It tells you what has happened and how different areas of a business are performing. Automated reports can be generated at fixed intervals, such as every morning, for the previous days sales figures ranked by product and sales rep. They may also be triggered by certain events, like a margin alert that has now decreased to an unacceptable level that must be addressed.
4. Share insights
The ability to interact with your data is a core competency of Phocas. Users can follow their train of thought and drill down in the data behind any graph or table. We also create interfaces for customers' CRM or ordering systems and update connected data in this way. Phocas now offers built-in interactivity options called comments where users can share insights via email, or as external links. Users can also use a suite of emojis to rate the data insight so the recipient quickly understands if action is required.
To learn more about Phocas visualization tools, download the Dashboards and Scorecards eBook