What is an interactive dashboard?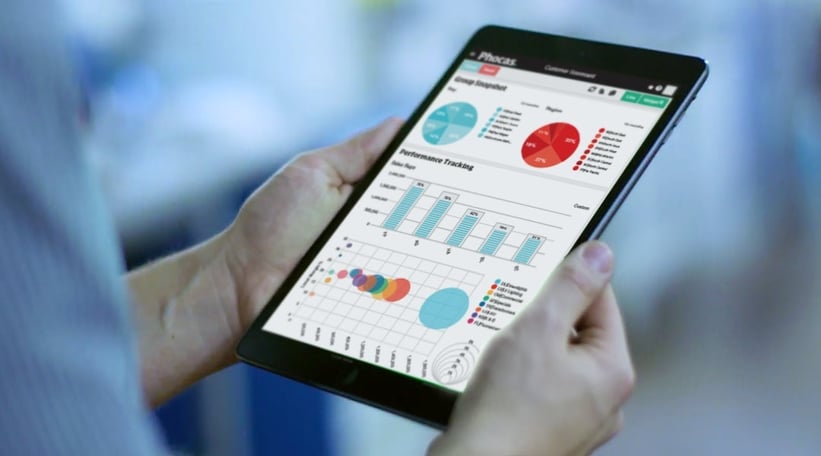 An interactive dashboard allows you to drill down and filter operational information so data can be viewed from different perspectives or in more detail. With a condensed and clear presentation of the overall business figures, dashboards enable data-driven company decisions. People don't need to analyze the whole data set to tell them what's the matter - the headline information is there. People know the colour in the chart needs to be green not red and so using the interactive features of the dashboard, can find out why this is the case. Companywide analytic solutions enable you to quickly and easily connect your ERP plus other business system data then carry out data analysis. The software does much of the heavy lifting so you can present your results on interactive dashboards and share knowledge with colleagues, partners or customers. Interactive dashboards pave the way for effective communication of your business figures inside and outside your company.
A visual presentation often cuts through an audience because pictures speak a thousand words. To have a simple gauge with a red, yellow green indicator makes a huge different. People know that the colour needs to be green not red and they can do something about it.
With the help of interactive dashboard software features, such as drill-downs and advanced dashboard filters, you allow viewers of the dashboards to view the data or key figures from different angles and as granularly as necessary. Interactive dashboards help companies to combine their financial and operational data in a single, central platform to control central corporate functions and processes and measure key performance indicators.
Dashboards need to be easily customizable
A dashboard must be customizable so you can structure your analysis results in a dynamic and interactive way. It's best if you're able to customize your diagrams, tables, and graphics according to your own needs and create overall business dashboards or individual BI dashboards for different branches. In this way, you can ensure effective and efficient BI reporting and have up-to-date information for all stakeholders.
For customization, you need to consider success-related key figures in your dashboards. Avoid using key figures that are not audience-specific, not measurable or not time-bound. Also, using the right data visualizations is key. Unfortunately chart types are often selected that are not suitable for displaying the corresponding data. We recommend looking in the software documentation to familarize with what charts match certain analysis. You should also avoid creating complex dashboards with too many widgets, so they are easier to understand. That ensures that the recipients are not overwhelmed, and that all-important information can be understood at first glance.
By using interactive dashboards, more people understand the numbers which leads to an organic education of non-financial stakeholders and a stronger performing business.
Mobile Friendly
An interactive BI dashboard is mobile friendly enabling organizations to conduct their decision-making anywhere. With mobile-friendly BI dashboards, users can easily share dynamic reports to maintain the same point of view and drive better decision-making in collaboration with the entire company.
Easy to build
With the establishment of modern self-service BI, employees without IT knowledge or extensive experience in the analysis of company data benefit from an interactive dashboard. These sophisticated tools makes it easier for companies to build a data-driven and transparent corporate culture. Modern BI dashboards already offer numerous AI-based functions, such as intelligent data alerts and automatic pattern recognition.
Interactive dashboards created in Phocas support the decision-making process of a company through better information distribution. The dashboards offer all decision-makers, managers, and project managers a valuable tool for the efficient analysis and evaluation of company data.
With Phocas's Business Intelligence Software, you can create an interactive dashboard easily and immediately share it with selected recipients.