[White Paper] Why change ERP systems?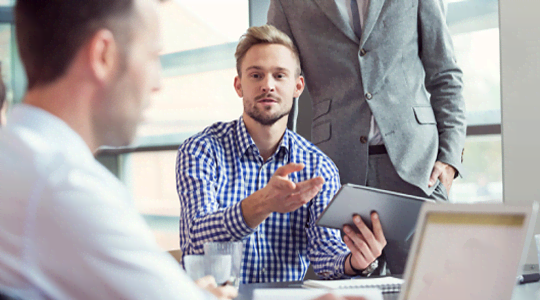 Your ERP system holds the gold behind faster, smarter business decisions. And the flexibility, efficiency and scalability of the ERP you choose will be the difference between surviving or thriving in this era of the data explosion - big data, structured data, unstructured data.
NB: This is an excerpt from our white paper: 'Why change ERP systems? How to thrive during an ERP switch'. To download the white paper, click here.
But first you must decide:
Do you stay on-premises or move to the cloud?

Do you migrate everything, including data and customizations, or start fresh?

How do you avoid joining the 7 out of 10 ERP projects that run over budget and schedule?
We've worked on hundreds of ERP implementations. This white paper shares our observations on the most common problems and how to avoid them. We'll outline tested ways to make the process of an ERP transition safe and more accountable too.
Why businesses change ERPs
Enterprise Resource Planning (ERP) systems are designed to automate and integrate core business processes to improve the efficiency and effectiveness of your business.
An ERP system should help you:
Define business processes and make sure they are followed

Protect vital business information by assigning roles and providing security access

Plan according to current orders as well as forecasts

Offer your customers the highest level of service possible

Capture all the business data to assist with decision making.
You're probably reading this because some, or all, of those needs are not being met. You wonder if it's viable to consider a change.
Let's look at the most common reasons why businesses change their ERP Systems.
Outdated technology - 32%
Your ERP system was great when you first implemented it, but technology and your business have evolved so that your system no longer has the functionality you need.
It's become difficult to use, is slow and lacks flexibility, and it's basically making your life harder, when it should be doing the opposite.
Maybe you aren't getting the help you need from your ERP supplier in a timely fashion. Your processes are suffering because you don't have the control you need, and you're not able to keep up with the market and your competition because of it. When your ERP system starts costing you business, it's time to make a change.
Lack of features - 29%
You've probably heard from industry analyst Gartner that self-service data access and the ability to collaborate in real time is the new status quo for managers.
If you're the decision maker, and having a tough time accessing and sharing information to make decisions quickly, it's time to question your ERP solution.
For example, invoicing and order entry are a core part of your needs. But not all ERP systems support sales channels like direct point-of-sale and e-commerce retail platforms natively.
Many ERP solutions now provide functionality designed to enable other sales-related and analysis processes, such as CRM or Business Intelligence (BI). But rarely do they have best of breed CRM and BI. So it's wise to consider an ERP that's built with third-party integration capability
Cost of maintenance and support - 18%
Your ERP system is becoming very expensive to operate and maintain for a number of reasons:
Lack of support from the developer or third parties because the system is old and cranky

Cost of support is high as you're paying for skills that are in short supply

Your hardware is antiquated and less than reliable

Constant customization and modification overcomes the limits of the software.
ERP can't integrate changes to the business - 13%
A decade ago, a webstore was a groovy addition. Nowadays, without one, businesses lose money by the fistful because they're competing with leaner, low-overhead organizations.
If your ERP system doesn't provide support for evolving vitals like online selling and collaboration, then it's probably time to consider a hefty upgrade, or the big switch.
Why transition from on-premises to cloud-based ERP systems?
An increasing number of businesses are shifting to cloud-based ERP systems. Industry analyst IDC forecast 24% growth would take place in the worldwide cloud IT infrastructure market in 2015 as businesses began to discover the agility and benefits of cloud set-ups. Here are some reasons why you might consider shifting from on-premises to cloud.
1. Flexibility
According to Gartner, by 2016 highly customized ERP systems will be a thing of the past as market conditions demand more agile and responsive solutions, which legacy ERP systems cannot offer.
This is especially the case for small to medium-sized businesses. Cloud-based solutions can adapt more easily as a business evolves, and continues to grow. Cloud's key benefits include:
Reduced IT infrastructure costs

Reduced IT personnel costs

Quick scalability to match business growth.
A report from the Aberdeen Group found that while any type of organization will see tangible advantages from implementing an ERP solution, those with flexible solutions will see even greater benefits. For example, companies with adaptable ERP solutions saw a 15% improvement in operational costs, versus 7% for those with inflexible systems. The chart below shows results for other important metrics.
Gartner predicts that by 2018, at least 30% of companies focused on wholesale distribution, manufacturing, services, retail and e-commerce will switch to cloud-based ERP solutions to improve revenues and lower costs, which is a pretty powerful trend.
2. Lower initial and maintenance costs
An on-premises ERP system requires significant investment initially, and over time, to keep the hardware, software, and customizations updated as your business grows.
You need personnel to maintain and manage the system, which may require more money if your IT team isn't large enough, or doesn't have the expertise.
So, either you invest from the start in an infrastructure that's larger than your current needs and pay for capacity you won't use for a long time, and might never use, or you grow your infrastructure along with your business by overhauling the system on a regular basis.
A cloud-based ERP system requires a lower initial investment.
You pay for the software, usually in the form of a subscription service, and any customizations. You pay for these for an on-premises deployment too, but with cloud solutions, because the system provider maintains the infrastructure, there's no investment in hardware and IT resources to manage servers, networks and other on-premises infrastructure costs. All you do is implement the system on your end, which can be as simple as accessing it via a web browser.
A Hurwitz & Associates study found that a cloud-based ERP solution can be as much as 50% cheaper than an on-premises solution for a company with 100 employees over four years.
Other flow-on benefits of cloud-based systems can include:
Freeing IT staff to focus on more important tasks related to your core business

Simpler budgeting and cash flow management due to the subscription model used by most cloud service providers.
NB: This is an excerpt from our latest white paper: 'Why change ERP systems? How to thrive during an ERP switch'. To download the white paper, click here or on the image below.
FEATURED EBOOK
Top 7 KPIs and metrics for mid-market executives
Download eBook
Fill out the form below to download the eBook.