5 reasons to get rid of your Excel budget template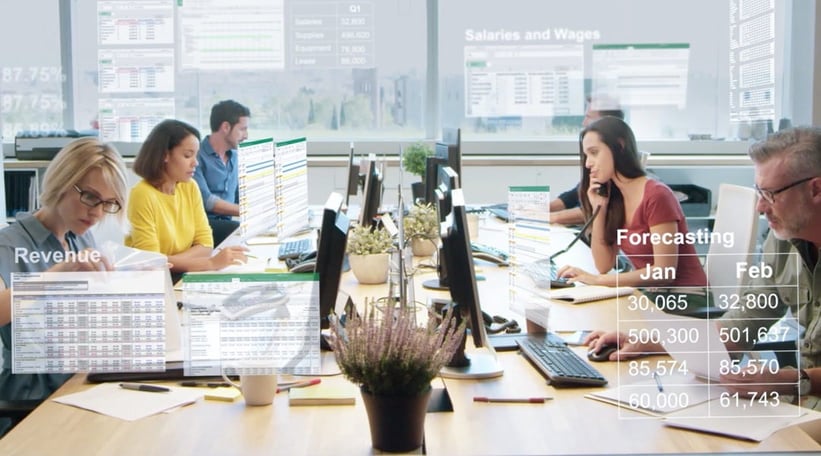 It's a familiar predicament for most business owners and their finance managers: once a year, you must collect, review, verify, correct, recheck, and save into a final spreadsheet file copious amounts of data. Business owners find themselves forced to redirect resources to this single task.If you're a mid-market business with limited resources that should be spent on ensuring customer satisfaction and generating profit, you may very well be losing a significant sum to the creation of a single spreadsheet. According to Ventana Research, "financial managers waste as much as 12 hours per month manually updating, revising, consolidating, modifying and correcting spreadsheets."
Doing away with spreadsheets doesn't have to be a risky decision that results in exactly what you were hoping to avoid in the first place— increased spending and wasted staff hours. By eliminating your budget spreadsheet and placing greater focus on productivity rather than process, you will:
1. Cultivate a collaborative environment
Spreadsheets are anything but inclusive. Every business has that team member who insists they're "not a numbers person." Business owners entrust their critical data to finance professionals who have the skills to create and interpret spreadsheets.
The rest of your people also turns to this single individual — or entire finance team — when tracking down specific numbers for a presentation. Some team members may even assume that understanding data is simply not his or her job. This is often because some professionals don't believe they could have much use for most of the data.
However, an automated budgeting solution can be a tool that invites everyone on your staff to better understand and utilize data. Replace Excel spreadsheets with a single, shared solution, and various departments within your organization may discover new synergies and shared purpose.
By swapping out your Excel spreadsheet with budgeting software, you will provide every team member accessible, meaningful data. The result? Some people may stop being intimidated by numbers and, rather, learn to appreciate data and capitalize on business intelligence.

2. Free up precious resources for more important tasks
Take some time to think back to your business's early days, when you sought to build a team of skilled professionals. You solicited resumes or reached out to headhunters and had a chance to assess every team member's qualifications. Each person you hired came to the table with skills you needed to launch, and eventually expand, your business.
When it's time to generate your annual budget, however, chances are your team is not putting their best skills to use. Instead, they're chasing down missing information, correcting information that should never have been incorrect in the first place, or even duplicating data you already have.
Confusion costs time and money. Automating this process means funnelling all of that information into a single budgeting solution that allows your team to focus on what they do best.
3. Include data from all departments
Your business data probably makes perfect sense to your finance team; however, in its current state, it may not mean much to the rest of your staff, especially if the data doesn't accurately reflect the whole of your business. For example, your sales and purchasing teams want to include information relevant to them.
By replacing your spreadsheet-heavy budget process with software, you'll be able to add sales and purchasing data to the dynamic tool. You can take advantage of the non-financial and operational data already in your ERP or Phocas environment, to do driver-based planning. Teams can re-forecast estimates during the budget period or prepare a rolling forecast to keep pace with changing market conditions.
4. Ensure your budget has a purpose
Budget data should go beyond outlining your business's challenges and achievements in numbers. Right now, using a traditional spreadsheet, you and your team are dedicating so many hours to creating a budget spreadsheet. You should expect a true return-on-investment.
Data must be actionable; it must help you and your team develop an action plan to improve performance, meet sales goals, improve customer satisfaction, and pinpoint ways to cultivate new business opportunities.
In addition, reliable, timely data has another critical purpose: it helps businesses establish and measure their KPIs. Each department has its own KPIs; as the business owner, it's critical to ensure your teams can monitor their KPIs with the correct data from your budget.
5. Establish a workflow that adapts to the remote work environment
Many businesses throughout the world are now accustomed to functioning remotely. For staffers to continue meeting performance goals, you must also ensure they have the most modern tools on their desktops. Cutting out the annual budget spreadsheet as the middleman between your team and the business intelligence they need to succeed will create a workflow that saves time and meets the expectations you, the business owner, set for your staff.
Instead of getting bogged down in the familiar yet cumbersome, Excel-based manual process, allow your business professionals to put their true skills and expertise to use generating profit.
To learn more about how you can begin the process of eliminating your budget template and replace it with a modern budgeting tool watch this on-demand webinar. It consists of a further explanation from Dan Harrison, chartered accountant and subject matter expert, a demo of the new software and comments from some of the beta customers involved in the development.