Ad hoc financial analysis and reporting for everyone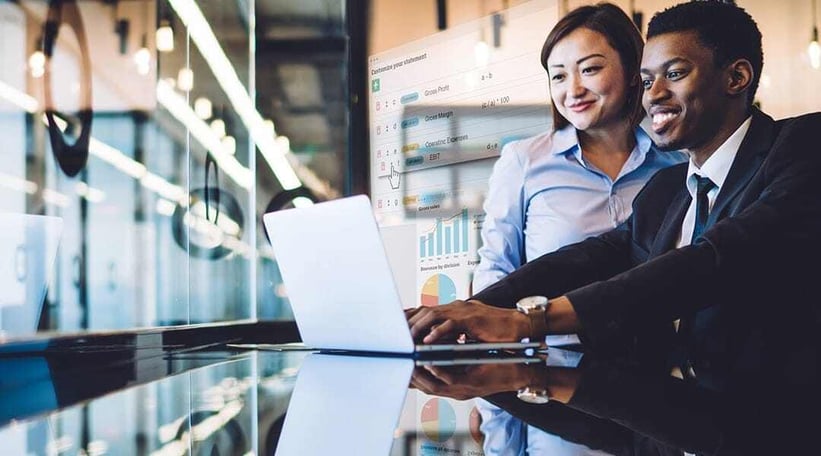 In many companies, the IT department creates a library of pre-built templates for generating static financial reports from the ERP. These reports reflect data in a standardized format and layout. Yet often a decision-maker requires more information or wants to drill down on specific data. In such cases, they have to come back to the finance team (or the IT team) who investigates the matter and generates more standardized static reports. Now with new software, it is possible to remove the middle person and carry out ad hoc financial analysis – at any time – to quickly solve a pressing issue.
Why static reporting slows you down?
In today's dynamic business environment, decisions makers face new challenges. They need consolidated data which they can drill down or through to uncover or diagnose the situation.
While standardized financial reports may fulfil the usual requirements, they can't handle sudden, first-time data requests swiftly. If the finance team is tied up with daily tasks and doesn't respond in time, it may unnecessarily delay getting back to the customer and making crucial decisions.
Organizations may lose out on opportunities to gain a competitive edge and serve their customers or take an advantage of the favourable circumstances. Ad-hoc financial analysis is a single solution to many problems.
What is ad hoc financial analysis?
Ad-hoc financial analysis means a review which hasn't been planned before but has become necessary to fulfil a particular need. It can include preparation of a financial report to:
Analyze particular data which hasn't been considered previously; or

Answer a specific business question which hasn't been asked before.
It lets you extract the reports yourself even without requiring technical or coding skills. Since rows, columns and elements of these reports are fully customizable, you can build dashboards, interactive maps, and other visualized tables to display and communicate your in-depth analysis.
How to create ad hoc financial reports
You can create ad-hoc reports in Phocas Financial Statements by:
Cloning an existing static report, make changes to it without affecting the original reports, and customize the report according to your requirements; or

On a blank reporting canvas, pull data from various data sources and present them as you want.
Ad-hoc financial reporting has two major benefits:
Drag-and-drop interface: Non-technical users don't have to run any kind of script or code to extract data. The drag-and-drop interface lets you create reports hassle-free.
Up-to-date data: Unlike a static reporting system where any adjustment/ alteration in data makes the current report outdated, the customized reports, offered by an ad-hoc financial reporting system, always reflects up-to-date data because it's connected to your ERP.
Ad hoc analysis of the income statement
The monthly income statement outlines a detailed and in-depth picture of the company's financial health.
However, sometimes, the decision-makers or users may ask for some specific numbers urgently. With ad hoc financial analysis, you can easily provide them as well as monitor ratios throughout the month. Two ratios that are worthwhile to monitor on an income statement dashboard are:
Gross Profit Margin Ratio and Net Profit Margin Ratio. Gross margin ratio represents the percentage of gross profit that the company earned for each dollar of sales. Gross profit is one of the most underused areas of the income statement. So by displaying the ratio in a dashboard that can be reviewed regularly and by calculating and comparing it to the net profit margin helps you understand the cost of doing business. If the ratio starts to vary and your margin falls it's an indication that an area of the business is not being managed well.
Ad hoc financial analysis is one of the many advantages of implementing data analytics and financial statements so that when decisions need to be made – from pricing to how much to reinvest in the business – the numbers are at your fingertips.
To find out more about Phocas financial statement analysis software, here's your free ebook :
Turbo charge your finance team to value-add.