Business Intelligence Software for Pronto ERP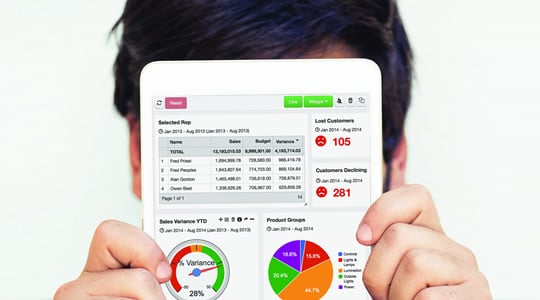 Pronto is a successful Australian built ERP system which is used by over 1,000 companies. Phocas is also an extremely successful Australian developed business intelligence tool which is used by over 1,000 companies worldwide.
More Phocas customers use Pronto than any other ERP system, and in the last year or two, the number of Pronto customers moving to Phocas has rapidly increased.
One reason for this is many Pronto customers are in the wholesale/distribution business and Phocas provides a quick and simple option for professionals in these industries to make sense of their data.
In the past, Pronto has promoted several reporting and analytics tools (including Microsoft Pro Clarity) before the introduction a couple of years ago of IBM Cognos as their main reporting platform. We understand that IBM Cognos has been embedded into Pronto and is now essentially the main Pronto reporting engine. As a result, anyone who upgrades to the latest version of Pronto may get IBM Cognos whether they like it or not!
Pronto and IBM Cognos
IBM Cognos, like Phocas, was featured in the world's largest business intelligence software survey, BARC BI Survey.
According to BARC's 2014 report, business intelligence software users rank Phocas as superior to IBM Cognos in numerous areas including Ease of Use, Customer Satisfaction and Performance. Further comparisons from BARC BI 2014 can be found in the image below.
Pronto and Phocas are both "best of breed' solutions that complement each other. Combining the two can lead to greater efficiency. As one of our Pronto customers described it - Phocas is like "shining a spotlight on your data". Here are a few ways Phocas can assist Pronto users
Go From Good to Great With Phocas
Ease of Use
There are many businesses already using Phocas alongside Pronto ERP. Some of these include the distributor Vic's Meats, the automotive parts supplier Cool Drive as well as the anti-ageing, wellness and MediSpa supplier True Solutions. These customers and more find the ease of use of Phocas+Pronto has allowed them to get more out of their Pronto ERP data.
Financial Module
Instead of resorting to using manual journals and ledgers, Phocas Software's exciting new Finance module creates an environment where analysing and exploring your financial data is simple.
Phocas for Finance allows you to quickly and easily run a:
P&L analysis including a full drill down to source transactions and analysis across Financial Years
Balance Sheet analysis including changes and trends in Asset & Liability balances
Detailed Cash Flow analysis between any 2 time periods
Consolidation of subsidiaries whether from the same or different ERPs
Comparison of different subsidiaries, branches or departments
Year on year comparisons without necessarily referring to Financial Years
Detailed analysis of debtor balances and debtor days outstanding
Dashboard analysis of KPIs such as profit, overhead/fixed cost analysis, break-even points, cost efficiencies, stock and debtor balance trends
Collaboration
According to Deloitte Access Economics, "a collaborative organization unlocks the potential, capacity and knowledge of every employee, thereby generating value, innovation and improving productivity in the workplace".
In the modern day competitive environment, being able to leverage and draw upon the unique skillsets in your business can lead to a competitive advantage. With Phocas, you can utilize our Dashboards to share your business insights with colleagues, seek continuous feedback by sharing a Favourite, and you can provide an outlet for your team to highlight opportunities and threats through our Collaboration tools.
No Lock Ins
If you decide to move to a new ERP system and you have Phocas, you will still have easy access to all of your data. Phocas is sold on a subscription basis which puts the onus on us to perform. Our customer retention rate is 97% and we strive to provide a leading customer experience.
Do you want to see Phocas in action with Pronto ERP? Watch the video below to find out more or contact us and I will show you some new business opportunities we can draw from your business data.