Business Intelligence vs Business Analytics - What's the Difference?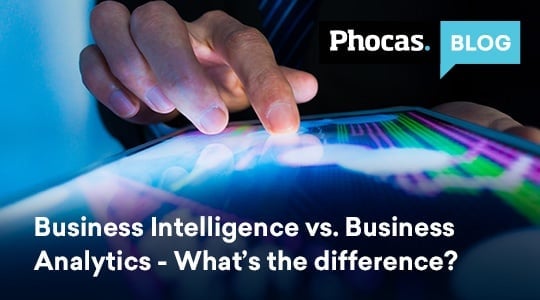 The terms Business Intelligence (BI) and Business Analytics (BA) appear to be interchangeable. So what does each term mean?
Ask industry leaders and you will find conflicting answers as each term has a different meaning depending on the individual's perspective. To truly understand the difference, it's useful to examine the traditional definition of each term.
Traditional Business Intelligence
Traditionally, business intelligence offers users access to insights into company performance by focusing on key performance indicators and metrics, enabling informed decision-making and business planning.
Traditional BI is also associated with executive dashboards and reporting. Dashboards provide managers with visual summaries about their organization in a variety of charts and graphs. In addition to providing real-time insights, BI evaluates a company's historical data from multiple sources. This historical data may range from one minute ago all the way back to the company's inception.
The ability to query historical and current data about a business' inner workings allows managers to ascertain the overall health of their company, identify solutions to problems, and develop long-term strategies. Because BI utilizes historical data, it is typically viewed as a "rearview" application.
Traditional Business Analytics
While traditional business intelligence allows a company to see what's happened, traditional business analytics provides a view of what's to come. BA "is comprised of solutions used to build analysis models and simulations to create scenarios, understand realities and predict future states". This predictive capability enables proactive planning. With this information, executives are able to refine business planning and shift resources to high performance products and services.
Next Generation Technology
Innovative business intelligence companies such as Phocas have surpassed the traditional definitions with cutting-edge BI platforms. These platforms have evolved into a union of traditional BI and BA capabilities, while including other advanced tools. These tools may include data mining, cloud storage capabilities, visual pattern discovery, and descriptive analytics. Today's advanced technology has eliminated the need for highly trained analysts as it is intuitively designed to be used by every department within the company.
For example, the sales department is able to identify customer buying patterns, isolate customers by profit, sales value and margin. Sales managers are able to compare sales over time, perform gap analysis, sales performance comparison, analyze trends, and implement forecasting.
By monitoring trends to determine customer preferences, a company can quickly make strategic marketing decisions to capitalize on recent developments. Inventory management can identify the need to reduce excess inventory, which also reduces the cost to store it. With innovative BI, the financial department is able to drill all the way down to individual transactions to get instant answers to revenue opportunities and cost concerns. Management is able to identify a myriad of issues from productivity to employee efficiency.
Because every department has essential data, next generation platforms are designed for collaboration. Integrating data from each domain is no longer a formidable task. Departments can have discussions to evaluate issues and identify opportunities from different perspectives. This collaboration can be extended to customers and suppliers. This empowers a company to be agile in real time. BI software such as Phocas is also fully mobile, offering real-time data to a mobile workforce. Executives are now able to access their data, dashboards and reports from anywhere using a smartphone or tablet.
The Answer
Circling back to the original question - What's the difference? The answer is that outdated terminology is inconsequential to an Executive who wants to reach next-level success. The question should be - Which platform will best help achieve this goal? For most businesses, leading BI vendors such as Phocas have rendered the debate over the differences obsolete.
To have a look at some of what Phocas has to offer, click the button below.

FEATURED EBOOK
Top 7 KPIs and metrics for mid-market executives
Download eBook
Fill out the form below to download the eBook.