Creating executive buy-in for a business intelligence purchase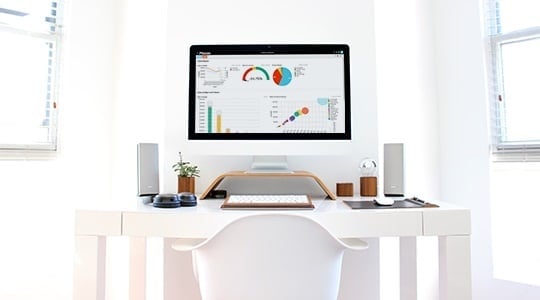 If you're reading this article, you've already crossed the hurdles of learning what a business intelligence (BI) solution is, why you need one, and you may have even done some research into which platform is right for you.
You don't need convincing, and it may seem like anyone who has access to Google could type in "how data affects my bottom line" and arrive at your same conclusion.
Yet a BI platform can be a costly purchase, and those who hold the purse strings may need a little more influencing to get on board. Here are a few of our top tips to create executive buy-in for a business intelligence purchase.
Calculate the cost of not purchasing BI
Your executive team responds well to numbers, so give them a shocking one. Take a look at the cost of the software your team may currently being using in lieu of business intelligence tools — spreadsheets, data storage, or other short-term fixes. Also, attempt an estimate at the amount of personnel time being spent manually performing processes that BI would automate. There may be a backlog of work for your IT department as well as cumbersome reporting from sales. With a few calculations, you should be able to arrive at an estimate of salaries lost to such inefficiencies.
Then add in the ROI
If there is one thing your executive team cares deeply about, it's revenue. You need to show them that the cost of implementing a BI solution will be far outpaced by the dollars it brings in the door. Think about all the lost personnel hours you calculated above. If your sales reps were free to use that time to close more deals, how much more revenue would they bring in the door every month? How much could your marketing team increase lead conversion if they had actionable data insights? If a new BI solution could aggregate data from your marketing automation system and CRM software at the same time, how much value could true, closed-loop analytics add to your bottom line? Ask those revenue-based questions and determine a real number that your executive team will find irresistible.
Find a team of allies
The lack of a BI platform at your business may be costing time and money in several departments. Find out who is most negatively affected by your lack of robust data insights or the cumbersome work involved with maintaining your data currently. Talk to the head of each affected department in order to gather a list of their biggest pain points, and work together to develop talking points on how a BI solution will solve each. Referencing your fellow stakeholders during your pitch will show your executive team that the cost of a BI solution will be spread across departments.
Get goal-centric
Your executive team holds your company's strategy and goals top of mind every day. What are they? How can BI software help them be reached faster and more efficiently? Every executive has a goal of bottom-line growth, so use case studies to demonstrate how BI will help you better understand and quickly act on important data. Another executive goal is to outpace the competition. Can you show which of your competitors are using BI solutions? Maybe there are case studies that demonstrate how BI has helped them succeed. You can also argue for BI software in terms of internal goals such as transparency. The right BI solution will make it easier to share KPIs with stakeholders across the company.
Take a test drive
Most reputable SaaS products will offer a free trial or live demonstration for customers to test their product. If it's not advertised on a platform, ask a rep about it. It will be hard for your executive team to turn down a free solution, even if it's temporary. And once you've got your BI platform up and running, you'll be able to present your executive team with real results when you make the case to subscribe after the trial.
Sure, BI is a no-brainer solution in your eyes, but in order to get go ahead from the budget holders you need to abandon your own perspective and think like your company's executives. With their goals in mind, and a few allies at your side, you'll win buy-in and get BI up and running in no time.
To learn some of the metrics executives should be measuring, download your free eBook on the Top 7 KPIs and Metrics a CEO Must Know and Measure by clicking the button below.
This is a guest post from Taylor Burke of TechnologyAdvice.com.
---