Optimize your sales processes quickly and easily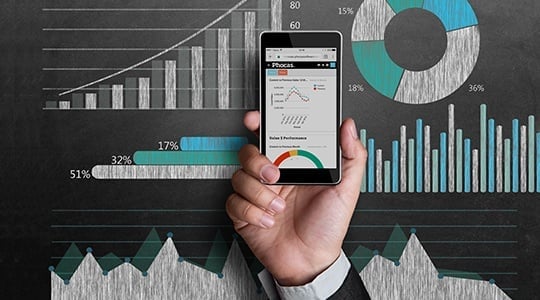 All sales managers, whether in retail, wholesale distribution or manufacturing, face the same pressure to reduce costs while increasing sales. Most sales teams are responsible for managing the sales of multiple product lines with a variety of products in each line.
Additionally, sales teams often have numerous of customer relationships to cultivate and maintain. At Phocas, we know sales managers seek new ways to optimize their sales process without having to invest a large amount of time analysing their data.
Identify why sales are down in particular branches
When sales are down in one or more particular branches, it can impact the overall profitability of your business. When this happens, there are a number of possible causes. For instance, a competitive wholesale distributor may be offering a bulk discount or free delivery for the purchase of 10 or more furnaces. Possibly another retail store is attracting customers by offering a deep discount on a popular brand of shoes and then cross-selling a high dollar handbag. Or perhaps, a new sales rep is not familiar with your entire product line and isn't making the most of their sales opportunities.
The easiest way to identify the problem is through the use of a quality business intelligence (BI) tool. Tools like Phocas gather all of your data from ERPs, CRMs, or other databases and data sources you have. Once your data is gathered into one location, your dashboard will reveal the reason your sales at a particular are down. BI removes the guesswork and the long wait for an IT generated custom report. Your dashboard enables you to quickly drill into the data to see how each product line is performing or how many products each sales rep is selling and more. Your BI allows you to easily identify why these two branches in particular are performing below expectation.
As John Goodrham, the Chief Financial Officer for CoolDrive and Phocas client said, "You can drill down into a product category and suddenly it jumps out that radiators are performing a lot better this year. You can query what factors are driving that. Is it location, sales rep, category or product? Or you run a sales rep report across product category and see you're down x % across a number of reps. There may be a pricing issue, but you know it's not driven by an individual rep."
Discover opportunities for extra revenue to meet this quarter's target
Discovering opportunities to increase sales revenue can be difficult for time-challenged sales teams. However, using a quality BI tool will reveal new cross- and upselling opportunities. For instance, by querying customer profiles you will have a clear picture of purchasing behaviour, which will illuminate which customers are buying which products, and whether they are buying the complementary products. For instance, a supermarket chain may be purchasing a lot of pasta, but very little sauce. In this case, your customer is likely buying sauce from another supplier. Armed with this information, you sales rep is able to meet with the customer to negotiate a win-win cross-selling agreement. And with mobile accessibility, this information is available on a phone or tablet, empowering your team to see the facts and adjust their sales approach on their way to a customer meeting.
Pinpoint how best roll out a new product line
Rolling out a new product line is risky since you have invested capital in inventory for which you have no established customer base. While marketing plays a key role in raising product awareness and demand, using your BI to analyse your sales data can increase the likelihood of a successful roll-out.
Your sales data contains a wealth of information on your customers and their buying habits and preferences. Querying this data enables you to identify the most promising customers to target in your marketing efforts for the roll out. The best customers are those who are already buying a similar item from you, as they are more likely to try the new product. For instance, if your new product line is more luxurious than your current line, you have an opportunity to up-sell it to customers purchasing the current line. By using your BI to capitalize on your sales data, you are able to easily design a high-impact roll out marketing campaign.
At Phocas, we know having all of the facts empowers you and your sales team to quickly and easily refine your sales processes, identify new area of revenue, and create the most effective marketing campaigns. To learn more about how to make the best use of your dashboard, download our free eBook: Dashboards and Scorecards.