Running a lean warehouse: How to get your inventory levels right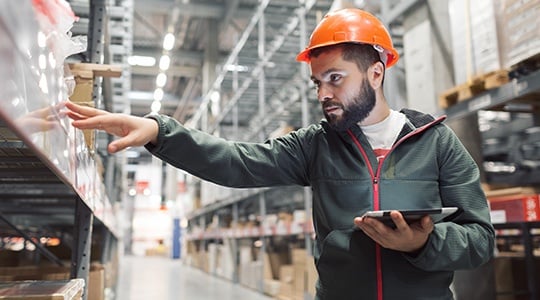 Due to the growing global market, warehouse, purchasing, and operations managers are under increased pressure to cut costs and increase efficiency. Today's managers have to control the flow of inventory within their organization, as well as the flow of information along the supply chain.
This blog will explore the key elements of effectively running a lean warehouse without the risk of losing profits due to understock.
Cut costs without slashing profits
Lean warehouse practices are based on the elimination of waste and refining operations to promote cost savings. Even small improvements will yield significant savings over time. Because inventory requires a substantial investment of a company's capital, it is essential that your inventory is sold quickly. Inventory that doesn't sell affects your cash flow and curtails your ability to reinvest in new income-generating stock. Worse, stock that doesn't sell becomes dead stock sitting in your warehouse. Overstocking takes up precious space and requires additional staff to maintain it. With lean inventory practices, your capital isn't wasted on stock that won't sell or the cost of maintaining unnecessary warehouse space.
Avoid poor DIFOT from understock
A challenge to creating a lean warehouse is the potential for understock. Stocking enough inventory to meet customer demand is essential to customer satisfaction. This requires your manager to monitor your delivery in full on time (DIFOT) statistics. While your manager may measure your own DIFOT, your customers are likely to also use the metric to measure your service. A poor DIFOT signals to customers that they cannot rely on your products being delivered when they need them. This results in poor customer satisfaction which can seriously impact customer loyalty. Unsatisfied customers will inevitably turn to a competitor who will provide the service they require.
To run lean inventory, this is what you must know
When implementing a lean warehouse strategy, measuring a set of Key Performance Indicators (KPIs) is the best way to set your warehouse up for success. KPIs may vary depending on the type of products or warehouse layout a company has, but there are a few metrics that will help any warehouse manager maintain appropriate stock levels.
Past sales in volume and frequency: Understanding your history enables you to better predict your future. With this KPI, you can see your absolute sales as well as their rate of change. Knowing the quantity and how often you sell a particular product can help you determine how much stock to maintain to meet customer demand.
Inventory turn and Stock on hand: You must know how much stock you have on hand and when those items expire in order to measure how well your organization is moving inventory.
Stock in months: When you know your sales volume and frequency and your current stock on hand, it's easy to calculate the number of months of supply you have on your shelves.
Your suppliers' lead times: This information is critical to stock management. If a supplier offers next day deliver on orders, maintaining a month's supply is an unnecessary expense. In contrast, if you have a supplier with a lead time of 100 days, maintaining only a month's supply would jeopardize your ability to meet your customers' needs. Knowing your suppliers' lead times enables you to resupply your stock to match your customers' demands.
Once you have your KPIs in place, you must continuously measure and make adjustments as needed. Managers who establish clear metrics are empowered to create a warehouse that saves money and improves your bottom line.
Effective lean inventory management with BI
Using spreadsheets to calculate the inventory metrics for hundreds of products is time consuming and prone to errors. One error in a single cell will invalidate your findings. As a matter of fact, it is estimated that for every 1000 letters or numbers entered into a spreadsheet, there are at least ten errors. Implementing a business intelligence (BI) solution eliminates this risk. With BI, you can see your data in real time and at a glance on your dashboard. This way you always have a clear and accurate picture of what's happening in your warehouse.
Get started: clear your dead stock and prevent more from accumulating
The first step to lean inventory management is to clean house by getting rid of the dead stock cluttering up your shelves. First, try to return any products to the supplier for credit or a cash refund. If you are unable to return the product, combine it with another product as a promotional offer. Another option is to put the product on clearance priced at or below cost. Finally, before disposing of food or sterile medical supplies with expiration date, or building materials that are no longer up to code, consider donating them to charity for a tax deduction. Once you've cleared out your dead stock, implement a top-end BI solution such as Phocas to prevent more from accumulating.
To learn more about the metrics you can measure in BI to steer your company towards success, click here or on the link below.