The History of Business Intelligence (the Present)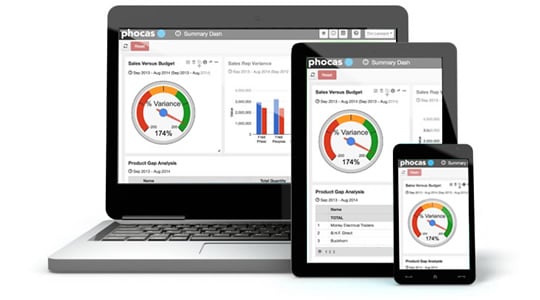 In this three part series, we discuss the Past, Present and Future of Business Intelligence. In part one, we discussed business intelligence as it was (the past). Today, in part two, we discuss the present.
Within the last five years, there has been a radical change in the use of business intelligence and in the tools available. There has been a shift towards creating business intelligence software that offers simplicity and ease of use for staff members across a company. In the process, a data driven executive, a Sales Manager or the Head of Marketing can start analyzing business data in minutes.
As more staff members are making data-driven decisions and making them quickly, the business benefits of using a business intelligence tool are greater. 'Data discovery' is the term used to describe the act of discovering opportunities that are hidden within the data of company business systems. Data discovery is not just about reports - it's about following your train of thought through all of your data including grids, visualizations and dashboards.
Another shift in business intelligence can be seen in the rapid decrease in cost. Business intelligence software is often significantly cheaper and it is now likely to be sold on a subscription base. Integrating a business intelligence tool no longer requires the use of expensive consultants and often no hardware is needed as BI is run in the 'cloud'. As a result, there are lower initial and ongoing costs.
For those who worked on business intelligence projects 10-15 years ago, you may be used to complex projects with long implementation times. Fast forward to today and business intelligence projects are often department led instead of IT led. As a result, BI software can be implemented and integrated with internal systems quicker than ever before. On one hand, this affords many benefits as more staff members across a business can have access to data and generate their own reports. On the other hand, this 'ease of access' can create governance issues as incorrect data may be used to justify business decisions.
The industry analyst Gartner asserts there is a growing concern regarding the benefits of self-service reporting (time and efficiency) as opposed to IT driven reporting with governance measures in place. Businesses will need to ensure they can take advantage of the benefits of easy access to data by implementing a governance structure that protects the business from data leaks, security breaches and inaccurate reporting.
To explore the present state of business intelligence in more detail, we turn to the industry analyst, BARC Research. Each year, BARC conducts the world's largest business intelligence user survey. In 2015, there were 3,267 respondents from users of 35 BI tools. According to BARC, when deciding on a business intelligence solution, it is important to consider:
Business benefits
How can the business benefit from the tool? In a recent blog, we discussed the business benefits of business intelligence software which includes:
Improved decision making (with a BI tool,

you can get a better insight as to whether decisions are likely to have a positive or negative impact)

Greater time efficiency (a

quality BI tool can help you be more efficient at report generation, finding new sales opportunities and identifying ways to reduce costs)

A better business focus (you and your staff can align the insights from a BI tool with key business objectives so everyone is on the same page).
In the below graph taken from BARC BI 15, Phocas Software has been ranked as the #1 vendor for 'Business Benefits' across all three regions (the Americas, Asia-Pacific and Europe as well as the Middle East and Africa) by users of business intelligence tools. This includes vendors with a higher market share such as Qlik and Tableau. The rankings for EMEA are listed below.
Price-to-value perception
Price-to-value perception is based on how users rate their BI tool in terms of the cost vs the value the tool brings to the organization. For many smaller and medium sized businesses, Phocas is a far more cost effective option than some of the more well-known BI vendors. Phocas is widely regarded in the industry for being easy to use and as a result, employees across a business can get full value out of the tool with limited training. BARC's price-to-value perception rating for the Americas region is listed below: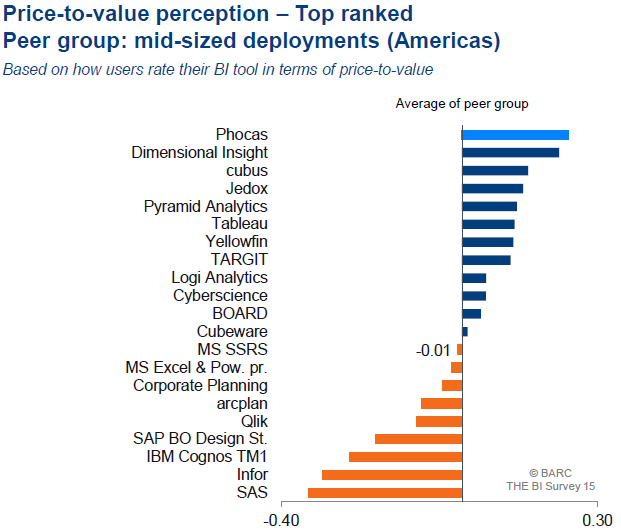 Customer satisfaction
At a high level, the Customer Satisfaction metric assesses how satisfied customers are with their business intelligence tool. In BARC BI 15, Phocas received the highest ranking globally for customer satisfaction. BARC assesses customer satisfaction on a combination of the 'Product satisfaction', 'Vendor support' and 'Implementer support' KPIs. Phocas has a 97% retention rate of customers and we aim to provide a seamless customer experience when support is needed. BARC's customer satisfaction ratings for the Asia-Pacific region are listed below: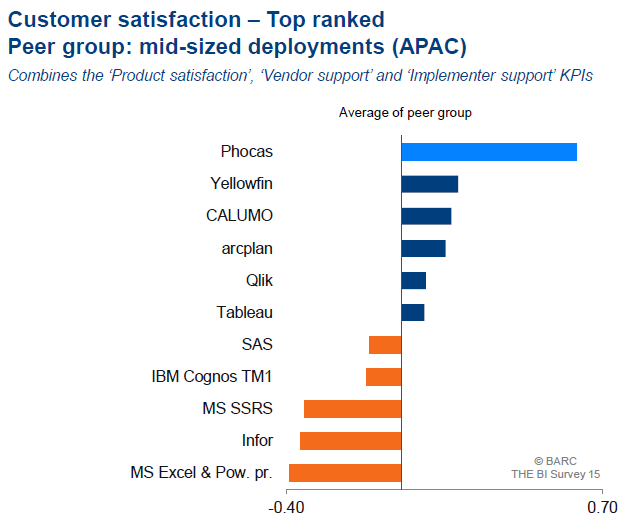 In addition to the above, other considerations and features that users are seeking in a business intelligence tool include:
Mobile Business Intelligence: Driven by the need to access data 'in the moment', there has been a strong adoption for Mobile Business Intelligence (Mobile BI). The ubiquity of smartphones and tablets has led to a strong demand for Mobile BI, particular since 2012. Being able to pull up key business metrics in front of a customer, in a meeting or away from the office has proven to be one of the biggest benefits of Mobile BI and adoption is set to increase.
Dashboards and data visualizations: Dashboards are visual displays of data which can be aligned to key performance indicators or be used to measure historical trends. Dashboards

can pull real-time information from a number of sources and enable

a decision maker to have a bird's eye view of business activity.
Project length: Many businesses in need of a business intelligence solution do not have large time or resources to spend on a BI project. As a result, there is an increasing demand for a quick implementation. In 2015, implementing a leading BI solution such as Phocas into a business can be done in a matter of days.
Join us in part 3 as we explore the future of business intelligence and discuss where the industry might be headed.
FEATURED EBOOK
Top 7 KPIs and metrics for mid-market executives
Download eBook
Fill out the form below to download the eBook.