Why you should look for BI that can provide cross-business benefits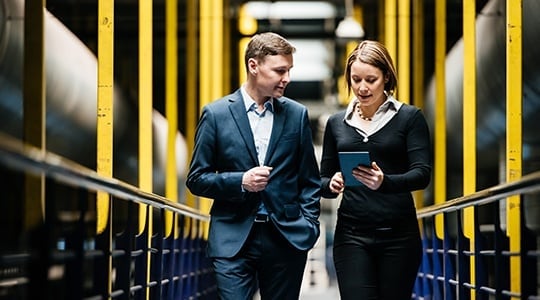 Business Intelligence (BI) has become an established resource for executive decision-making. Companies often utilize a BI solution in a single department like sales or purchasing. However, with advancements in technology, some BI solutions are designed to offer cross-business benefits. These solutions are easier to manage and can yield a higher return on investment.
What are cross-business benefits for business intelligence?
Single-serve BI solutions are designed for specific usability within a department. For example, the dashboard for sales solution can pull the data from the CRM. With this data, a sales manager can monitor and evaluate metrics such as the performance of individual reps, customer purchasing patterns, and pipeline activity. Yet, these solutions cannot be used for the benefit of other departments because they aren't designed to measure the relevant metrics. Fortunately, as technology has improved BI solutions with cross-business benefits have been developed. Providers of these solutions do not require a company to implement a solution for each department. Instead, the customer can implement the solutions of their choice.
A cross-business solution provides a clear picture of several departments such sales, marketing, purchasing and inventory, and finance. Your sales team can discover things like sales trends, customer buying patterns and experiences. Your marketing department can analyze campaign outcomes and promotional success to optimize marketing strategies and produce a better ROI on marketing dollars. Inventory and purchasing managers can monitor inventory-to-purchase ratios, stock turns, and GMROI by manufacturer, product, branch and more. With insight into the performance of several departments, executives can create the most effective overarching strategies for growth and success.
How can a solution for multiple job roles be useful for my business?
In addition to clear, company-wide insight, implementing a cross-business solution offers other significant advantages:
It is scalable.

This solution will grow alongside your business. After seeing the benefits of implementing a solution in one department, many executives see the utility in incorporating solutions in other departments. Scaling this solution is simple as it only requires only a call to the vendor to expand.

It is easier to manage. Having one solution simplifies your data management. With a cross-business solution, your data is stored in one central location. Instead of pulling data from disparate sources, users have access to one source of the truth. This makes learning to use the solution easier for your employees. And increases security as you can restrict user access by job role.
It provides a greater ROI. BI systems with cross-business benefits cost less than separate systems because they are easy to scale. Finding an experienced vendor who will help you make the most of your solution will ensure your see the optimal ROI.
Are BI solutions with cross-business benefits too generic to be useful?
Executives may fear that a cross-business solution may be too generic to address the needs of their specific industry. A mid-size food and beverage wholesaler won't have the same requirements as an international consultancy business. Therefore, it is important to find a vendor who understand your needs. For instance, Phocas has nearly 20-years of experience working with wholesale, manufacturing, and retail businesses. This can assure executives that we understand the different analytical needs within business that produce and/or sell products like food items, consumer goods, building materials, medical devices and much more. As a matter of fact, Phocas has thousands of customers across North America, the UK, Europe and Australia. We are veterans in helping manufacturing, distribution and retail customers turn their company data into results.
Click here or on the button below to learn more about which metrics you could track with business intelligence in order to cut costs and increase sales for your business.
FEATURED EBOOK
Top 7 KPIs and metrics for mid-market executives
Download eBook
Fill out the form below to download the eBook.