Established BI solutions vs. in-house development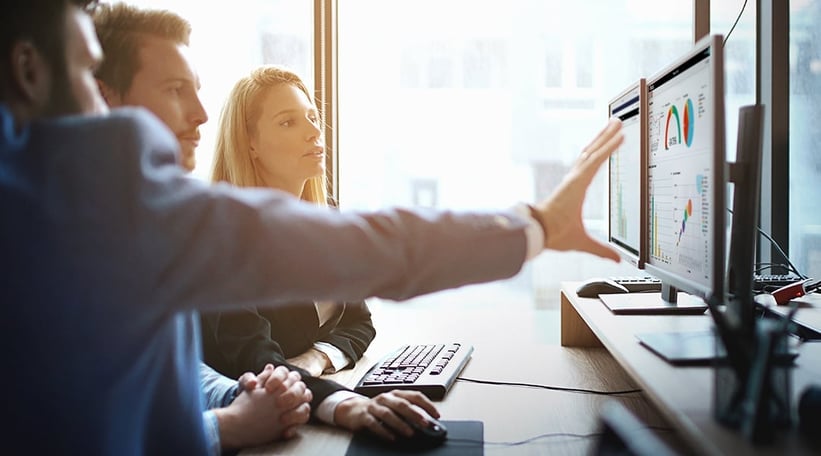 Management teams are no longer questioning whether or not to dig into the data; rather it's which is the best tool to use for their businesses: an established, dedicated data analytics solution or software developed in-house? IT managers usually lead the project to find the best solution for the ERP and tech stack. As everyone is being asked to do more with less, have you considered the resources, usability, scalability and cost associated with each path?
Resources
A highly skilled IT team with advanced technical skills that range from coding to design is necessary to develop an in-house solution. Data analytics is a complex science, and it reaches into every aspect of your business. Your team must have the expertise to create a solution capable of handling all of the needs of your team, from the remote finance. You also need to understand how to integrate your software with the other systems and solutions in your infrastructure. This means that whatever you build needs to accommodate a variety of reporting requirements and integrate seamlessly with other software solutions. The more sophisticated the business, the more sophisticated the software needs to be, and the greater potential for troublesome bugs and glitches.
Another factor to consider is the amount of time your IT team will need to develop the solution and whether your team has the skills or the people power needed to make it happen. Their time spent on development impacts the overall cost of the project, as well as the ability to meet the other IT needs of your business.
In addition, building an in-house solution is not a one-time project. Rather, it will require support for upgrades and patches to keep the software up-to-date and functional. It may require you allocate or hire skilled IT members for ongoing maintenance and improvement.
You need to ask yourself:
Is the cost of hiring the extra development talent to build and support the software going to cost more than investing in an established solution?
What happens if the person or team that built the solution leaves the company and you can't fix unforeseen problems?
Can you afford external consultants who lack familiarity with your business to fix the homegrown software?
An established data analytics solution has already eliminated much of the concerns described above. It is upgraded regularly to ensure you have the best technology to remain competitive, and the developers have already worked through any integration concerns. Upgrades, maintenance and support in many cases will be included in the software agreement, and will not cost you any time or additional resources. An established BI solution such as Phocas can be used by anyone, and requires very little IT management.
About three years ago, Sistema Plastics added Epicor Data Analytics (EDA) powered by Phocas. The CTO, Greg Heeley says:
"As a global business, EDA makes life a lot easier for us, we didn't have to provide internal resources to build out our own BI solution for the business – either from the point of view of hardware or software or security. We don't have to worry about the ingress into the system and to have to get that data. EDA has done it for us."
Usability
Meaningful insights can be hard to extract from raw data, which makes using the data for profitable business decision-making difficult and time-consuming. Many in-house BI tools simply lack reporting, query and dashboard functionality, or if they do have these features, they require a trained expert to use them effectively.
Given the importance of data today, analytics must be accessible and easy to use for everyone across the organization. Sales teams need to review customer purchases, track win-loss rate and research cross-sell or upselling opportunities. Finance teams needs access to data for planning, budgeting and forecasting product while executives want to see high-level sales figures, inventory data and performance across products, locations and teams. Each area of the business has a different need for the information, yet in order for your BI solution to be effective and embraced universally across the business, it has to be easy to use. In the past, what the IT team viewed as intuitive no longer works today. With Phocas, users of all skill level can pull reports, analyze information and use data to make more informed business decisions.
Established business intelligence solutions come in many shapes and sizes, with a variety of targeted industries and users. Investing in a BI solution that has a proven track record working with businesses retailers. We have years of experience supporting these industries and have integrated what we've learned into our BI technology. Phocas is immediately relevant out of the box for most of our customers yet flexible enough to meet the diverse and custom needs of all types and sizes of businesses.
Scalability
Most businesses that start using their data to make data-driven decisions experience a number of benefits, from better visibility into sales and inventory to revenue growth. As the business grows and more people and departments embrace data analytics, you will need a solution that can grow with you.
Homegrown software built for businesses at certain stages of their growth can lack scalability because they were designed to meet specific needs. The lack of flexibility and scalability makes upgrades difficult. Because technology is constantly evolving, you may have challenges integrating with new platforms and aggregating critical data from different sources and silos. Although homegrown software may work well for a while, maintaining it could be time-consuming and expensive as you build patches, updates and workarounds that at best may preserve your solution for a little while longer.
Jonathon McCoy, IT Manager at WD-40 decided to buy Epicor Data Analytics powered by Phocas because it had the ability to immediately connect to its ERP and the database structures and views were done.
"If we had built our own solution from the ground up, it would always be a challenge to merge the sales and financials. What we like about EDA is the long-term potential of having many different functions like sales, marketing, and finance in one data analytics solution."
Many established BI solutions that have helped companies achieve growth over a number of years are built for scalability and have the flexibility to adapt to changing business needs. Phocas is delivered via cloud software-as-a-service (SaaS), private cloud or on premise. Regardless of how it is deployed, adding users and modules is, Phocas has already built a number of modules for different areas of the business, requiring only a simple implementation for your business to reap the benefits.
Cost
Initially it may seem cheaper to develop a solution in-house, as you may have already have IT staff with the skills to create the software. Developing an in-house solution certainly ensures that your IT team contributes and add value to the business. However, the equation may be more complex than it first appears.
Many businesses find that choosing an established BI solution is not only easier, it is also less expensive. At Phocas, we have seen customers build in-house solutions, only to approach us a year or two later because the in-house tool wasn't what they expected or needed.
Whether a custom-made, in-house application was created to access big data, manage agile business functions or perform rudimentary tasks, it could be starting to bog down your organization. Phocas is an affordable and painless BI solution to help you instantly tap into your data from across the your business. The insights and intelligence to shape your business going forward is contained in your raw data. Phocas makes data analytics universally accessible to your entire team while delivering powerful queries, reports and dashboards that help identify problems and uncover new opportunities.