The key to improved business performance in a new financial year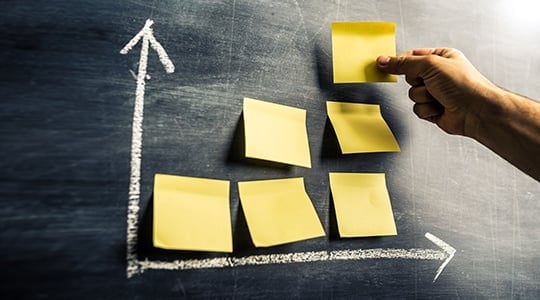 As we are about to enter a new financial year in some markets, it is an opportune time for businesses to reflect on their achievements and on the difficulties of the past year.
A financial year is a period used by businesses for accounting and budgeting purposes, as well as for annual financial reporting. These annual reports must be carefully prepared and published, so it is absolutely critical that businesses are prepared before the year's end.
The Australian financial year starts on 1 July and ends on 30 June of the following year. In the UK, the government runs their financial year from 1 April to 31 March. For UK businesses, the financial year begins on 6 April and ends on 5 April. In the US, the financial year is typically called the fiscal year. The federal government's fiscal year begins on 1 October. Yet, state governments and businesses in many US jurisdictions are able to choose their own fiscal year.
Starting the new financial year with the best tools in place allows executives to look forward to making improvements across their business.
As businesses continue to increase in pace, data creation, and the ability to communicate instantly with anyone in the world; the willingness to embrace data analytics will make or break companies in the years to come. In today's blog, we will discuss six reasons you must get on the BI bandwagon as you look to the future.
Reason #1
Business intelligence provides a 360-view of the entire company. Many businesses house their data in multiple locations, such as ERPs, CRMs, and spreadsheets. BI collects the data from your internal and external sources, gathers it in one location, and prepares it for your analysis. Now executives and managers can query the data, generate real-time reports, and use visualizations to identify inefficiencies and opportunities.
Reason #2
With Phocas, it's easy to get up and running. The self-service feature controls user access at the administrative level. You decide what access to allow and what to restrict at all levels: data sources, dashboards, and other features. Because Phocas is an intuitive solution, staff with minimal technical experience can learn to use it in very little time. By providing instant access to real-time, relevant data, your employees are able to eliminate the time spent waiting for IT-generated reports. Now the sales manager is able to query the data to follow their chain of thought, uncover trends, discover opportunities, and identify problems in the early stage; dramatically increasing revenue within the first month of use.
Reason #3
The implementation of BI dramatically frees up the time of your IT team by shifting the demands for reports away from the department. Phocas customers report a 70% decrease in IT-generated reports requests and a 300% increase in reporting speed. By providing BI reporting to every department, your IT team can focus on more critical concerns, such as security.
Reason #4
BI takes much of the guesswork out of many business processes and enables you to increase their efficiency. For instance, your sales staff can query the data to identify new sales opportunities quickly and easily. Managers can see where sales are declining and drill down to uncover the root cause. Operations managers can now measure stock turns per item, product group, or brand. By identifying slow moving stock, your manager can take steps to prevent slow moving stock from becoming dead stock. In this example, your marketing teams can use these stock insights to develop a promotional campaign to move stagnant products. Your marketing team can also analyze your customers' buying patterns and create targeted marketing campaigns. BI can also enable your marketing team to evaluate the success of their campaigns.
Reason #5
BI improves management. With BI, an executive can identify how to make the best use of their staff. The underlying reasons a sales rep is underperforming can be identified and remedied. Using KPIs is the most effective tool to evaluate employee management. In the example of sales, the data may reveal that a sales team is not on track to reach their quarterly sales target. By drilling down beneath the numbers, the team may discover that sales across an entire region or industry are down. With continued investigation, they see that a specific sales rep has been selling only low-profit items and no high-profit items in a specific product category. Taking this report to this rep may reveal the rep wasn't aware this specific high-profit item was a product they should concentrate on selling. Having all of the information opens the door for constructive communication among managers and team members. Without it, the only feedback available is that the rep was performing poorly.
Reason #6
The costs of operating without BI are more impactful than the investment. As more companies turn to BI to gain insight into their business and customers, the companies that do not use BI may be edged out of today's competitive marketplace. Because Phocas has years of experience in helping customers in retail, manufacturing and wholesale distribution, we truly understand the needs of our customers. We provide solutions that fit each customer's unique needs. Because we care about our customers, we have developed a dedicated customer success team who ensures each customer gets the most out of Phocas, and we provide all of the training resources they may need. Our loyal customers are reflected by our 97% retention rate.
To learn more about how Phocas presents insights that can be drilled down for underlying information, click the box below to download our free eBook, 'Dashboards and Scorecards.'