What is overstock and how to avoid it?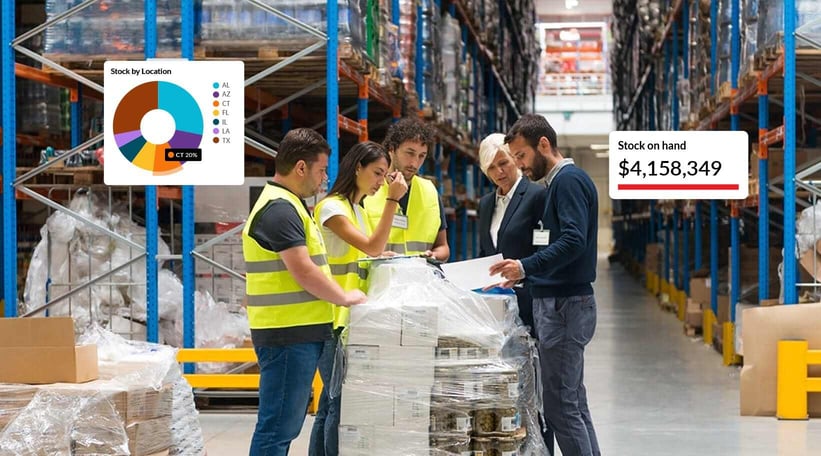 Lean warehouse management is key to the success of businesses that make, move or sell products. Conversely, poor inventory control results in overstock problems including theft, expiration, obsolescence, and diminished returns. Overstock means having too much stock in a warehouse that has not sold which increases storage costs and reduces working capital. To improve the management of your business and keep stock under control, it is worthwhile to manage inventory all in one system, creating a single source of truth for inventory management.
How to avoid overstock
Most companies who manage loads of inventory will practice an inventory management technique. First-in, First-out (FIFO) is popular because it works on the premise that the oldest inventory is shipped first. The FIFO flow concept is a logical one for a business to follow, since selling off the oldest goods first reduces the risk of inventory obsolescence. FIFO requires an organized warehouse, but it brings results.
Set minimum and maximum inventory levels
Minimum inventory levels represents a level of stock that is normal to have on hand to prepare you for a variety of situations. Minimum levels are the most important, since maximum levels may be affected by seasonality or promotions. When your inventory stock falls below the predetermined minimum levels, you know it's time to order more. Ideally, you'll typically order the quantity that will get you back at minimum levels. The levels will vary by product and are based on how quickly the item sells and how long it takes to get it back in stock. Setting minimum levels requires setting up KPIs in the software, so you understand what these levels should be, and how they might change throughout the year. Once you know what they are, you can set up alerts in the business intelligence solution so you can automate the process of ordering new stock.
Use a single source of truth for inventory management
Companies need to leverage all inventory data so this means connecting data from the warehouse via radio frequency scanners or equivalent so the data represents what the warehouse guys are picking and pulling and what inventory has arrived. It is necessary to also include all the transactions from the ERP – what has been ordered and what has been paid for, so that anyone across the organization can find and see it. A single source of truth will allow all you people to make confident decisions about inventory and maintain strong relationships with suppliers.
A suitable inventory management software guarantees simple and efficient management, which helps maintain the balance of the stock and achieve higher profitability. Inventory audits can also be conducted on a regular basis with inventory management software to prevent overstock scenarios and to keep your inventory forecast accurate.
Case study: Caprice Australia
Homewares supplier, Caprice uses Phocas business intelligence (BI) software to make better inventory management choices.
Before Phocas was implemented, Caprice was using ad hoc reports to extract data from its ERP, and trying to upload information to Microsoft Excel.
Caprice also provides browser-based access of Phocas to a number of retail customers who are now able to check stock availability for themselves by viewing inventory and purchasing data. This is of enormous benefit to Caprice since it has reduced the number of phone enquiries about stock delivery.
But the benefits, in terms of monitoring sales and inventory management are most striking says Managing Director, Harvey Lewis. "It gives me and my managers the ability to quickly get a handle on information such as high-volume selling items, margins, sales by customer and prioritising of customers and products. We can actually get down to the level of asking why a particular customer hasn't bought anything from us over a period and go back to see what's happening." He estimates overall annual savings to the business of at least A$500,000 which is achieved by reducing the amount of reporting staff and stock that wasn't selling.
To find out more about using Phocas inventory management software , download this eBook, How to avoid the costs associated with over or understocking