5 simple steps for Sales Managers to create the ultimate sales team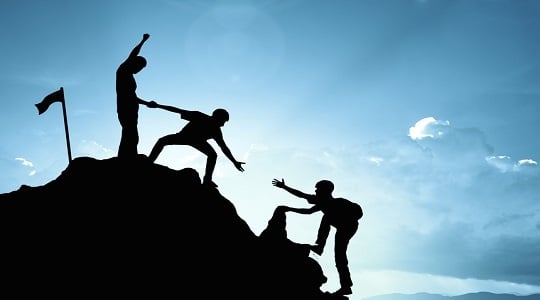 A productive sales team is the engine that drives a company's performance and, ultimately, profit. Since sales has such a direct impact on company growth, maximizing a sales team's effectiveness is a top priority for most Sales Managers. In this blog, we cover five simple steps that Sales Managers can take to build the ultimate sales team.
Step 1: Establish a good hiring process
The first step to building a great sales team is establishing a vetting process to identify candidates who match your company's unique needs and selling style. Use the interview to test potential hires by crafting questions that assess essential characteristics such as communication skills, team skills, resiliency and adaptability. These traits are the foundation for a great salesperson.
Next, be specific and realistic with applicants when it comes to performance expectations, any training offered, sales tools provided, the territory, and the specifics of your compensation plan to avoid any misunderstanding down the road.
Lastly, cast a wide net by utilizing a variety of recruitment strategies including recruiting events, staff referrals, advertising, digital optimization and external recruiters.
Step 2: Induct and train appropriately
To build a winning sales team, put everyone through a comprehensive sales training that teaches your team how to succeed. Offer a high-quality training program that focuses on building skills through real world applications. To keep your team's skills up-to-date, implement regular reinforcement training such as roleplaying, shadowing and attain books that reflect your company's selling style.
Step 3: Have metrics in place
To build the ultimate sales team, it is critical to define your sales goals and expectations. Have key performance indicators (KPI's) and metrics in place that your team understands and follows. Without realistic or SMART KPI's or metrics, there is no accountability. Examples of performance measurement include a ratio of cost of sales to revenue, meeting conversion rates, and forecasted vs. actual sales. It is important to keep in mind that during a sales slump, focusing solely on results can be discouraging. During these times, it is helpful to measure sales activity such as the number of contacts and prospects that have been followed up with.
Step 4: Give your team the right tools
Great tools that boost the productivity of your team are well worth the investment in the long run. Business Intelligence software is one essential tool for a winning sales team. Business intelligence enables your team to identify the top and bottom customers, compare sales over time, perform gap analysis, trend analysis, and forecasting.
Industry leading Business Intelligence such as Phocas doesn't require knowledge of Excel or complex ERP systems. The software collects data from your financial, customer, and supply chain records and provides real-time reporting through the dashboard or graphical view of your sales. Your team can quickly identify which products or services are selling, which are not, sales by location, and who is responsible.
Step 5: Celebrate the wins together
Celebrating wins is a great way to unify the team, build momentum, and inspire your team to keep up the good work. Celebrate small wins with a weekly success email, a gift card or a meal at an expensive restaurant. For special wins, consider an after-hours get together or let your team go home early. A sales team that feels appreciated is motivated toward continued growth.
FEATURED EBOOK
Top 7 KPIs and metrics for mid-market executives
Download eBook
Fill out the form below to download the eBook.