7 keys to a successful business intelligence strategy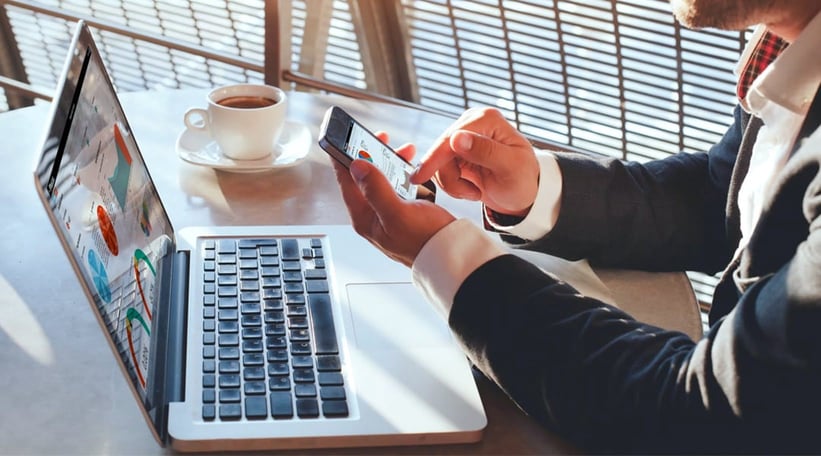 A business intelligence strategy is designed to give you the information you need and in a way that's actionable on many levels. To be data-driven you'll need to access, view and collaborate with your data from anywhere. To ensure that your business intelligence strategy is successful you need to consider what data is important to analyse to what metrics are meaningful to your teams.
1. Create a company-wide business intelligence strategy
Because BI has the potential to bring decision-making to every layer of the organisation, in the earliest project stages a sound business intelligence strategy must be laid that anticipates and scopes the needs of all relevant business areas. These should include executive, finance, sales, purchasing and logistics, IT, marketing and any others?
2. Build slowly
Think big but start small. Define each segment of the project and most importantly, align it to a specific business requirement. We recommend an iterative process to build your team's knowledge and determine the data they want to analyse coming in from each designated source (ERP, CRM, AR/AP) and to determine the KPIs that are useful.
3. Achieve a whole of business view
Your business probably tracks a huge amount of information. Sometimes counts as simple as what product is on the shelves, and how long it takes it to get there, can feel overwhelming. While handling all of it can seem like a headache, the right business intelligence strategy can turn that information into data that drives decisions. That's what Sydney Automotive Parts and Equipment found when it invested in a business intelligence solution.
With a business intelligence strategy, SAPE turned their information overload into new business opportunities. They were able to bring together data sets from different areas—sales, supply chain, and product lines—and drill into the information to increase revenue. SAPE makes sales increases simply by using their data to avoid situations where crash repairers ran out of their products. The combination of disparate data sources into one BI system—a single source of truth—turned data into money.
4. Get fast access to your data
If you've got an idea, and need information to back it up, fast, nothing slows you down like having to deconstruct a spreadsheet. That's where dashboards and data visualizations come in.
The right dashboard in a business intelligence strategy and can take the information and turn it into actionable data you can get at a glance. For instance, rather than having to search for areas, or individual employees, and then compare them against each other, you can put both factors on a dashboard.
With a dashboard, the information you want is already in front of you. The legwork of having to dig into Excel is replaced by a few clicks of the mouse, and the time from question to insight drops considerably. Your energy and attention is focused on the analysis, rather than the busy work manipulating spreadsheets.
5.Capitalize on real-time data
The core purpose of Shoe retailer, Number One Shoes and Hannah's retailers BI strategy is to give each store manager and their team really good visibility of performance throughout the day. This is carried on user-friendly KPI dashboards. Management were keen for stores to be able to see an update every 10 to 15 minutes on how many sales they had completed , the average value per transaction, how many items are in the sale and whether it included an up-sell item such as shoe polish.
The BI strategy provides frontline team members, supervisors and middle managers ownership of their performance. When front line employees understand their individual and team results, it helps to empower them. It can also create some healthy competition between teams that work in different stores and regions.
6.Collaborate
Cloud functionality isn't the only feature of BI software that will connect you. With collaborative capabilities, like those you'll find in Phocas' BI solution, your work will have the benefit of your entire team's input. Collaborative business intelligence gets you on the same page as your colleagues, and even lets you post questions and comments on the work they've done. Better yet, you won't be tracking down the information you need from disparate emails, spreadsheets, and reports. You'll have the information you need in front of you, and in the same place where you can build on that knowledge with other people. Phocas modelled its collaborative features on social media to create familiarity and ease-of-use.
7.Let the business intelligence strategy build competitive advantage
To make better decisions, it requires a clear overview of your company's operational and financial picture. Once you have one view of the facts, you are empowered to make strategic decisions on how to cut wasteful spending and increase operational efficiency.
But what a good business intelligence strategy does is provide you with a competitive advantage.
Most executives have a pretty sound idea of the overall shape of their business. However, many find that after they implement a BI strategy they discover new information. Having all of the information allows you to take advantage of unidentified opportunities and to address unrecognized problems before they have a serious impact.
Phocas customers report finding trends they did not know existed. For instance, Michael Smith, Director of Operations at Johnston Companies said, " I had found items that didn't have the margin I was expecting, customers that didn't have the profitability I was expecting and vendors that weren't performing the way I expected. I realized that we were onto something that would be very impactful to our business."