BI success for MAM customers using Phocas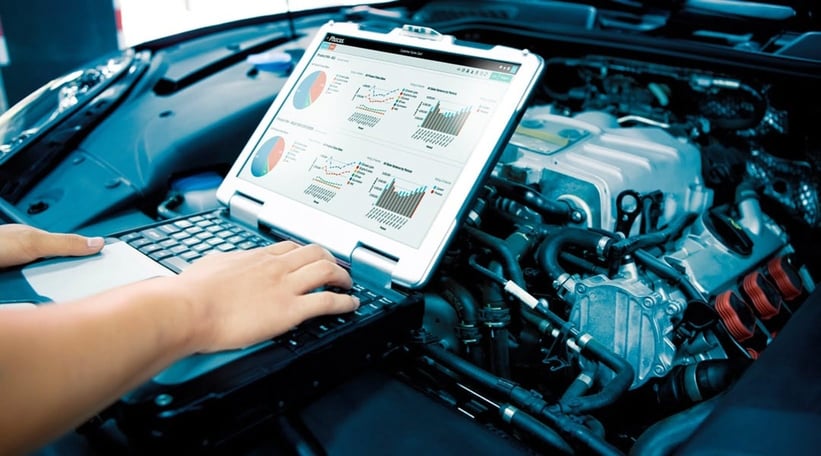 For automotive businesses, the ability to track and drill into your live data offers an unparalleled advantage over competitors. However, many businesses struggle to access the data sitting in their internal systems.
Strategy& (PwC) explained that despite the automotive industry enjoying a period of relatively strong growth and profitability, there are still considerable uncertainties about the future. "The most immediate challenge is the unevenness of the global markets," the report found. For suppliers, this means it's important to invest in data management to be able to "evaluate the opportunities in expanding their manufacturing footprint."
Here at Phocas, we have over 200 automotive customers globally using business intelligence (BI) to unlock the data they have sitting in their internal systems. In 2015, MAM Software partnered with Phocas to offer customers more reporting power and deeper insights from their data. And best of all, the customers seem pretty happy about it. Here are some of their success stories:
You don't need to be a technical genius to run this thing
Using MAM alongside a bespoke in-house software, European Exhaust and Catalysts (Eurocats) thought they had everything they needed when it came to data analytics software. The only problem was their users required technical knowledge and skill to get the most out of the system.
Director of Sales, Duncan Richards explained most of Eurocats' sales team did not possess the necessary skills to be able to navigate the system which meant he had to do a lot of pre-work to ensure they were accessing the right information. Being the UKs largest manufacturer of approved aftermarket catalytic converters supplying Europe and beyond, this was precious time needed elsewhere.
Since implementing Phocas, Richards said it has significantly reduced the need for traditional reports as "they become obsolete." For Eurocats, the ability to stop declining sales has been valuable, and although it's difficult to put an actual number on it, the amount of time saved has been priceless.
"For any company to be ahead of the game, the data is crucial. Phocas provides up-to-date information to allow you to drive customers forward and drive your business forward. It does what it says on the tin – we are well pleased with it," Richards concluded.
To read more on how Phocas has helped Eurocats, click here.
Complex reporting made simple and easy
With over 60,000 automotive parts and supplies to keep track of, Bennett Auto Supply needs sharp data insights and up-to-date reports. The retail and distribution business has 34 stores serving both individual customers and service centres around Florida. Bennett were using EMI+, and another BI tool called sales-i alongside their MAM ERP. Frustrated with the inability to bring in tables and databases outside of MAM to see correlations, for example, between payroll and sales reports, they turned to Phocas.
General Counsel, Justin Bennett said he can now correlate data to understand the fluctuations of the business and craft reports that he can present in sales meetings. "Sometimes when you focus too narrowly you miss the bigger picture, like what are the month's sales, or the year's sales. We look to see how trends are going and with Phocas, we can leave out new stores from those reports because they have higher expenses and lower revenues that affect accuracy of overall profit."
To read more on how Phocas has helped Bennett Auto Supply, click here.
Detailed sales analysis, served on a platter
One of just 32 authorized Bosch Diesel Centres in the UK, TT Automotive offer unparalleled expertise and range when it comes to diesel systems. Catering for both national and local customers from their headquarters in Leicestershire, they've built a customer base of over 20,000 independent garages, diesel workshops, motor factors, electrical specialists, and fleet companies.
TT Automotive were one of the first MAM Autopart customers to bolt on Phocas. Why? Because as MD Chris Paxman explained, detailed sales analysis was a weakness in the business before introducing Phocas. "We used to run MAM's EMI, then EMI+ software which extracted out end-of-day data and tried to present it back as a sales analysis tool but frankly, it was cumbersome and limited."
Since bolting on the best of breed data analytics to MAM, they can now see in detail what's selling, what's not selling while breaking the data into product ranges, groups, specific parts, customers or geographical/rep code. "All the data is stored securely and being web based it can be easily and quickly retrieved," Paxman said. "We deal in mostly exchange diesel products so being able to strip out surcharge/core data is a God send."
To read more on how Phocas has helped TT Automotive, click here.
If you're in the automotive industry, we invite you to download our new eBook - 'The key KPIs and metrics automotive businesses must know and measure'. Click the image below to download your copy.