[eBook] How sales leaders can use data to sell more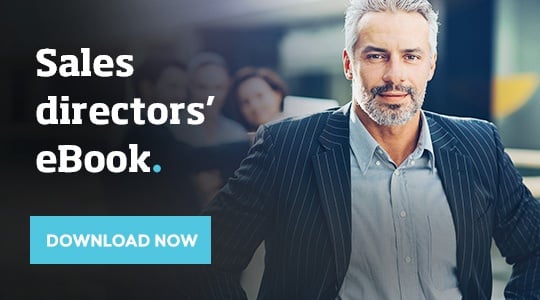 For many sales leaders, the promising returns of big data have yet to materialize. The move towards a more analytical approach to sales has often been met with frustrating policies, disappointing results and underperforming technology.
NB: This is an excerpt from our eBook: 'How sales leaders are using data to sell more'. To download the full eBook, click here.
Approaches promising better data, better access to KPIs and better information to increase sales, have too often delivered cumbersome processes, poor data, slow response, and limited access. Companies using spreadsheets for data analysis, relying on IT for reporting and or continuing to patch an in-house ERP or homegrown reporting tool aggravate the pains of analytics.
We all know the limitations of spreadsheets, the time it takes to get reports from overwhelmed IT departments and the bottleneck that are outdated and ineffective ERP systems. We feel the pain when customers turn to more data-driven competitors, when we can't access quality data or when our analytics process is slowing us down. We also know that product, customer and sales team performance data contains actionable intelligence that can help our businesses hit sales targets and meet customer expectations. It's important that we do not allow negative past experiences or false starts to derail a business practice that can have a significant impact on our business success.
With increasing competition and decreasing margins, the ability to mine value from your business data has never been more important. As you deploy the right policies and tools, you will empower users of all skill levels to engage in business intelligence and give them the greatest chance of sales success.
This guide will discuss the challenges that our customers' sales leaders have experienced with data analytics and how the right approach to business intelligence can relieve pain points while advancing your business.
Where does it hurt?
The common pains with data analytics
Aberdeen Group once asked members of its business intelligence community the following question about their analytical capabilities, "Where does it hurt?"
Few people disagree with the value or importance of data. In fact, one study of 450 senior U.S. executives found that 70% rated sales and marketing analytics as very or extremely important.
"86% of survey respondents say their company has recently put in place — or plans to implement — improvements to sales and marketing analytics; 52% report that their organizations are spending heavily on such technology or are undertaking targeted investments to make key functional improvements."
We all need to make smarter, faster decisions, and data is key to making it happen.
Unfortunately, many sales leaders continue to struggle with the planning and execution of their analytics, impacting their ability to be effective.
In response to "where does it hurt?" these are the common responses we have heard:
Takes too much time
It is taking too long to get access to data, get information from the ERP, get reports from the IT department, and manipulate data from spreadsheets.
According to Aberdeen, 59% of its BI community needs business data within a day of business activity to make timely decisions. Unfortunately, the average user only obtains information within the decision window 65% of the time. Sales professionals need quick access to data in order to react to changing market conditions and to customers who are bombarded with competitive offers. They need BI tools that make it easy to find data and quickly deliver actionable intelligence.
Software is too complicated
Most sales professionals will only use something if it is easy to use.
Make a process difficult, limit access to certain mobile devices or complicate data analysis with a variety of cumbersome steps and there is a good chance that they will not use it. This is especially true when it comes to technology. Software applications that are designed so everyone will be comfortable using them enjoy more engagement from all levels of users. Make it challenging, and the IT department may be adding another task to their to-do list. The common sentiment is, "It shouldn't be this difficult."
This has been a preview of our new eBook - How sales leaders are using data to sell more'. To download the full eBook, click on the image below.
FEATURED EBOOK
Top 7 KPIs and metrics for mid-market executives
Download eBook
Fill out the form below to download the eBook.