How to automate financial statements in minutes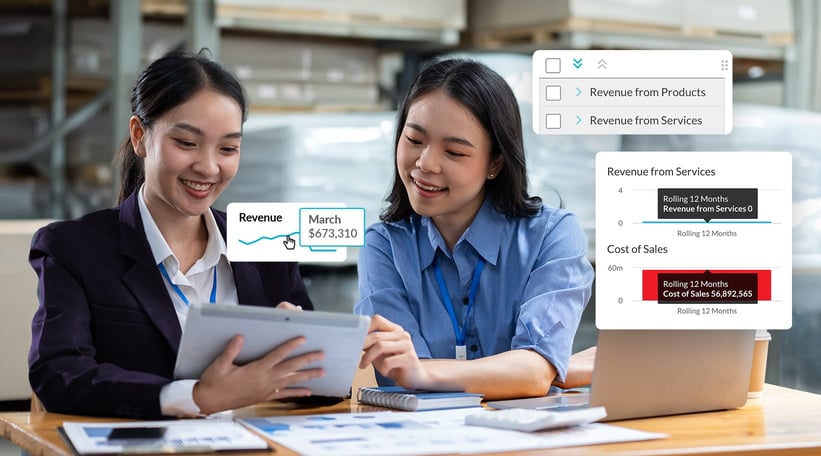 What does the month-end look like in your business? Does the finance team spend a lot of time pulling data from your enterprise resource planning (ERP) system into spreadsheets so they can manipulate it into the standardised format? Is there a lot of wasted effort, double-checking and renaming? For many, the process of preparing the data is a huge time waster and takes a lot away from analyzing the data. A modern finance solution allows the accounting department to quickly customize and automate financial statements like the income or profit and loss statement and balance sheet in minutes.
How to create or clone a financial statement
A finance team using Phocas data analytics plus financial statements can create multiple versions of a profit and loss/income (P&L) statement, balance sheet or cashflow statement for different functions or divisions within a business effortlessly.
The benefit of using this technology means an accountant only needs to build the report once and then it automatically updates throughout the month to provide a real time view of financial performance.
In the example above, a P&L template is displayed to demonstrate how easy it is to clone or recreate it for another entity. If you click on mode you can see some other examples of P&L statements that have been created – one for the retail business and one for management.
To create a new P&L statement, click on statements and then new. In this example, a P&L for the board is created so it is named Board P&L and the type is set to P&L. The user accesses the standard P&L template which can be adjusted to suit the audience within a business.
How to add a custom calculation to the financial statement

In the example above, we show how an EBITDA calculation can be added to the standard P&L statement in Phocas data analytics and financial statements. We do this by taking out the interest, taxation and deprecation costs from operating expenses so we can successfully automate the calculation.
To start we click on Statements, then click on the profit and loss we are going to edit and then the green button, called 'group'. We create a new group called interest, taxation and deprecation. Then we assign all the relevant interest, taxation and deprecation to this group. Now we are ready to add the EBITDA calculation to the P&L. We then make the calculation of gross profit – expenses (c)-(d). Then we need to rearrange the P&L to align the highlighted expenses and new calculation correctly by dragging and dropping.
The last task is to update the net profit calculation which is now EBITDA + revenue – expenses - interest, taxation and deprecation costs or (k)+(f)-(g)-(j). Once the new calculation is done, it is saved which automatically tells the database to rebuild to reflect the change. The time to build the database depends on its size. Your can watch the database updating looking at the button in the top right corner. When the button is blue is building and when it changes colour to green; it is complete. When you reset the P&L, you can see the new layout and calculations are included.
Ideally, your financial statements solution will work in tandem with your business intelligence software and ERP to facilitate the sourcing and management of data. Phocas Financial Statements, for example, is an add-on to Phocas business intelligence software and integrates with a variety of top ERP systems such as Infor, Epicor, Microsoft, MYOB, Oracle and SAP.
To find out more about automating your financial statements, download this ebook, Modern Financial Planning and Reporting.