A new award reinforces the Phocas culture is our superpower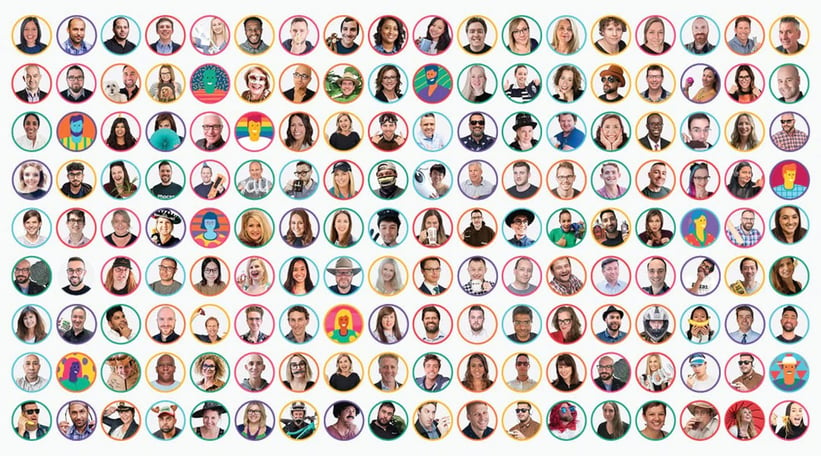 Phocas received a Human Synergistics sustainability award this week for maintaining a 'constructive' culture over a five-year period of significant growth and change.
Our 2021 results reflect that people continue to perform well, we are successfully innovating product, are delighting our customers and better supporting one another, compared to when the culture survey was done two years ago.
The Phocas CEO, Myles Glashier also credits the Phocas culture as instrumental for the software business to secure AU $45 million in equity funds this year.
"Culture is our superpower, it helps us to consistently achieve great results." said Myles.
The whole team are excited about the future and want to actively contribute to the company's strategic plans. It is reassuring that our people deeply understand our strategy and their role in bringing it to life," said Myles.
"We've worked hard on our internal communication and have always been transparent. We like to be open about everything in the business, from financial performance to future plans, which people love," said Myles.
Karen Hailwood, Chief People Officer at Phocas engaged Human Synergistics to measure the Phocas culture five years ago. The baseline results in 2016 were strong and Phocas has continued to improve in two subsequent measurements, culminating in the Transformation Award in 2019 and the Sustainability Award this year.
Human Synergistics is a third party culture measurement company that uses an Organizational Culture Inventory (OCI) method to gauge the attributes of organizational culture most closely related to the behavior and performance of the workforce. The measure reveals what a workforce collectively believe is expected of them and how those behavioral norms influence their engagement and effectiveness. The OCI tool is based on 50 years of research and is used globally.
"It's best to think of the OCI culture measure as "a health check" on the behaviour of Phocas people, and how we have learned to get ahead and get along together as individuals and as teams.
Recipients of Human Synergistics sustainability award need to demonstrate consistency when measured over time in achieving higher scores on the four constructive cultural styles (above the 50th percentile) and lower scores (below the 50th percentile) on the eight defensive cultural styles. Our results have improved every measure since 2016 and indicate that the Phocas culture is highly constructive and in great shape." said Karen.
"It's best to think of the OCI culture measure as a health check. Our results indicate that the Phocas culture is in great shape.

Karen Hailwood

, Chief People Officer, Phocas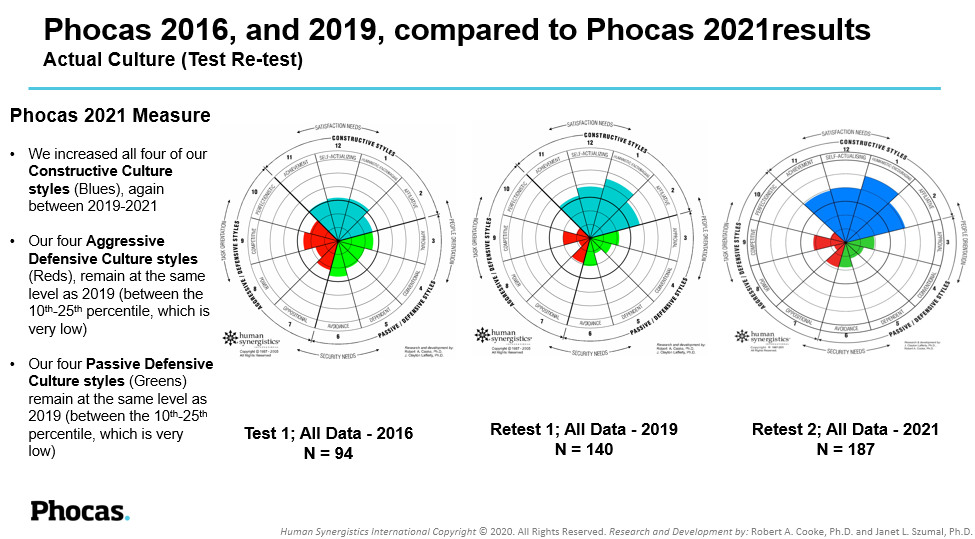 Phocas drives the constructive styles in four ways. The first is by articulating a clear and simple vision, a set of values we can all align with, clear strategy and having healthy stretch goals for people to execute against each year. The second is to drive high self-actualization by being a place where people can truly be themselves, reach their potential, are trusted, have fun and get enjoyment from their work. The third is to foster a highly encouraging style where people share knowledge, are supportive of one another and provide coaching, feedback and mentoring. Phocas people can regularly access learning, development and growth opportunities. The fourth is our passion for building strong and lasting relationships inside and out of the company.
In the 2021 measure a series of supplementary questions around diversity and inclusion were added to the study and these results were also positive:
People feel they belong at Phocas

People can be themselves at Phocas

People feel Phocas provides an environment supporting free and open expressions of ideas, opinions and beliefs

People feel comfortable talking about their backgrounds and cultural experiences
"Phocas is growing rapidly, and we have some great positions currently available across all the regions. If you are looking for a great culture that is driven by clear values. Check them out on our website," said Karen.
To learn more about what job opportunities are currently available at Phocas click here.