Phocas software ranks in Capterra's top business intelligence tools of 2021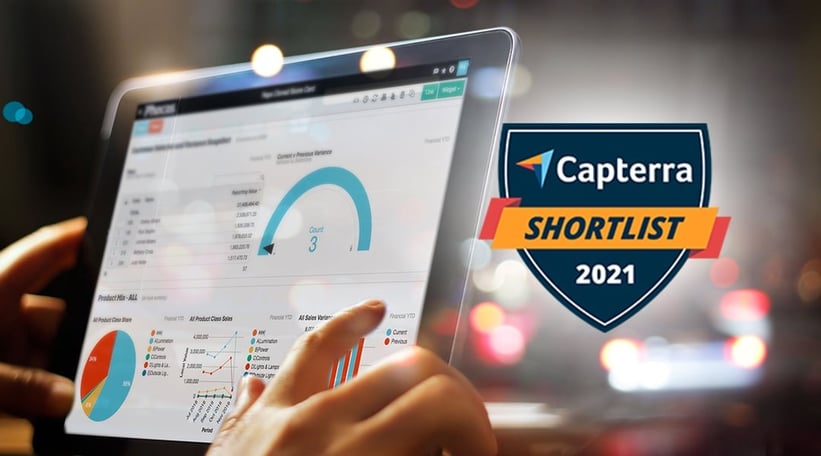 An impressive 50/50 satisfaction rating from our customers has secured Phocas a place in Capterra's newly released Business Intelligence Shortlist Software Report. Phocas is considered one of the top 20 most useful BI Products for 2021 from over 500 products on the market.
Phocas is recognised as an emerging favourite and is placed in the bottom right-hand quadrant. Emerging favourites are products that rate highly in satisfaction (sometimes even higher than top performers, which is exactly what happened in the case of Phocas) but aren't as well known. As Phocas is designed to service specific industries, we often don't have the online reach of the more generic BI brands.
Capterra analyzed the 552 products in its business intelligence directory, then it eliminated products that didn't meet its criteria for functionality and reviews. From there they took the highest rated and most popular products and plotted them on the chart below.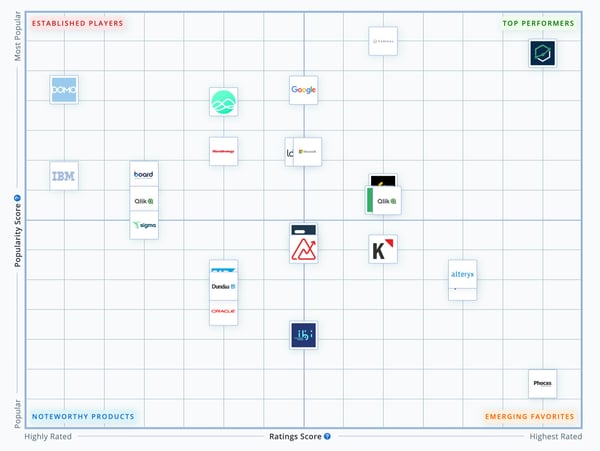 The Capterra shortlist methodology
The Capterra Shortlist methodology scores vendors on two dimensions: User Ratings and Popularity.
The Ratings component is plotted on the X-axis and considers the overall user ratings of products based on reviews written in the last 24 months. Users rate products on a scale of 1 star (lowest) to 5 stars (highest).

The Popularity component is plotted on the Y-axis and considers average monthly search volume for a standardized set of keywords for each product, as derived by a proprietary search methodology. This is a measure of user interest and relevance used as a proxy for popularity.
Products are represented, included, and/or scored solely based on user ratings and popularity data and independent of any relationship that Capterra has with vendors.
Myles Glaisher, CEO of Phocas says it's what customers say about us that really matters.
"A perfect score for usefulness and value is something we appreciate. Our customers mean everything to us, so to have them all rank us 5/5 is terrific."

Myles Glashier, CEO Phocas
"To get through 2020, Phocas customers turned to their data to diagnose what was happening to their business. Our simple to use solutions helped business people to deal with ongoing change and allowed everyone in the business to know what was going on. Phocas gives leaders the confidence to run a more digital, efficient and flexible business where they can respond quickly to new opportunities and challenges," explains Myles.
What do the customers say about Phocas?
Shirley, Financial Controller, Retail
The ease of obtaining information in a usable way, and the speed at which we can get analysis of the data has been a game changer for our business! The dashboards are key for our teams and the alerts take the day-to-day thinking out of my hands.
Vinod, Commercial Administration Manager, Wholesale Distribution
Phocas provided an ideal solution for producing the same views of information for different job roles using the permissions in the background. This reduced our dependence on Excel reporting by around 60%.
Susan, IT Controller, Logistics and Supply Chain
I couldn't do my job without it! Quick and easy to get the reports you need. Dashboards with summaries that you can drill down into.
Why technology and data are key business assets?
The pandemic forced many IT managers and CEOs to reconsider the company's tech stack and accelerate digitization strategies to remain operational and competitive. Customer behavior also changed, and will continue to shift but the rise in the use of digital services will remain. Companies will need to ensure that digital channels are strong to succeed.
Demand is also taking time to stabilize, so business managers also need up to date information about business performance. As you manoeuvre an uneven recovery across your business, you need accurate data to determine the impact of decisions of financial performance in real time.
As more workforces operate from home, companies also need to provide the right tools and training to drive high productivity and motivation levels. Running agile and remote workforces can be successful, but set targets and review each quarter to determine what's working and not.
Disclaimer: The Capterra Shortlist report constitutes the subjective opinions of individual end-user reviews, ratings, and data applied against a documented methodology; they neither represent the views of, nor constitute an endorsement by, Capterra or its affiliates.