3 key ways to improve customer satisfaction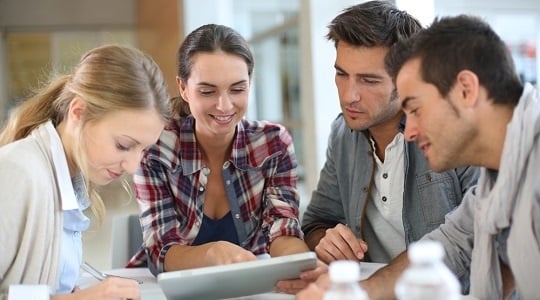 Customer loyalty is created by ensuring customer satisfaction. Customers who are pleased by exceptional customer service will share their experience with others. This can lead to increased profitability and excellent opportunities for positive word-of-mouth marketing. Today's blog will outline three ways businesses can improve customer satisfaction.
Service levels
The consequence of inefficiency is lost time, and time is a resource we can't replace. Therefore, it is critical to be considerate of your customers' time. Delivery in full, on time (DIFOT) is a metric that works to accomplish this goal. DIFOT tracks the number of shipments delivered on time, and containing all products ordered.
When your customers receive what they ordered on the day requested, they come to trust that they can depend on you to always provide the products they need. Conversely, when your customers receive their orders in multiple shipments because of back-orders, it may cause them to run out of the product, resulting in lost sales. This of course does not instil confidence in your business. Not to mention that sending products in multiple shipments also increases your shipping and handling costs.
While most ERP systems can measure this metric, the type of reporting an ERP provides is static. A business intelligence (BI) solution provides a dynamic reporting system. With BI, your employees can drill down to gain actionable insights into what's driving the metric. For example, is there a product that is always in back-order? Or does a customer have an unreasonably short delivery time in their contract? With BI these kinds of insights are only a single button click away.
Feeling like a valued customer
Feeling valued builds and sustains customer loyalty. Your sales team plays a vital role in building this type of relationship with your customers, and begins with your reps being prepared for their sales meetings.
Before a rep meets with a new customer, it is critical the rep has done their research. This includes knowing the customer's name, becoming familiar with the customer's type of business, and knowing their purchasing history. However, the reality is that sales reps are often on the go, and have little time to perform a detailed review of purchasing history from an ERP system. With BI solutions like Phocas, however, sales reps can prepare from any mobile device in just a few clicks. One particular Phocas customer has even paired Phocas with Amazon's Alexa to prepare for a sales meeting while on the road.
Once in the meeting, your rep should give the customer their undivided attention. By actively listening when the customer speaks and asking follow-up questions, your customer feels they are valued and that the rep understands their needs. With Phocas on hand, your rep can identify cross- and upsell options to best meet those needs, as well as show the customer their purchasing history to negotiate mutually beneficial deals.
When a customer does not feel valued, and receives a better offer from a competitor, they may stop buying from you. In these instances, there is often a window of time in which you can remedy the problem before they can be considered a 'dead' customer. With Phocas, you can set up dashboards to monitor declining customers, and intervene before it is too late. Send them an email or pay them a visit to find out how you can better service them, and put together an appropriate offer.
Receiving good offers and rebates
Once you've invested in building a strong relationship with your customer and earned their loyalty, it is important to reinforce it. For example, you might establish loyalty reward program for your best customers such as offering a special discount or promotion. Likewise, you might offer free bonus products after a certain number of purchases. Offering long-term, or highly profitable, customers something special will show them they are important and keep them coming back.
Customers appreciate getting valuable offers. Many suppliers provide these valuable offers through rebates programs. These programs are mutually beneficial as they effectively provide a lower price for the customer, while increasing sales for the supplier. However, because rebates programs are complex, it can be difficult to analyze and forecast the program's profitability.
To resolve this issue, we have developed Phocas Rebates. Phocas Rebates is easy-to-use, and provides intuitive analysis for a clear picture of your program's profitability. For instance, your sales department might realize a customer is a certain number of items away from gaining the rebate on the next tier. This information can be used to get the customer to increase their next order and receive the rebate. It's a win-win as the customer receives a better offer, while your sales have increased. Without a Rebates analytics solution, it can be nearly impossible to gain such insights through traditional business reporting, and completely impossible to do so in an agile way.
To learn more about other sales metrics you should know and measure, click here or on the button below to download our free eBook.
FEATURED EBOOK
Top 7 KPIs and metrics for mid-market executives
Download eBook
Fill out the form below to download the eBook.