Top 10 financial analysis blogs of 2021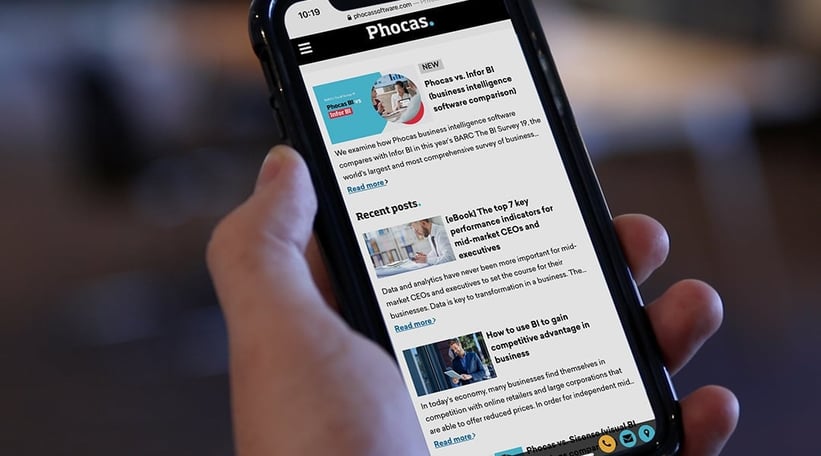 The Phocas business intelligence blog was created to provide free advice about data and add value to the way business people approach data problems or tasks. Now the scope of the blog has extended to include financial analysis, budgeting and forecasting and planning tips. The extra topic areas coincide with the creation of new Phocas solutions to help people understand the past, operate better today and plan well for the future.
We hope that by reading our blog articles, you find some helpful advice about data and financial analysis to build efficiencies and learn more about your people and customers.
The top 10 financial analysis blogs of 2021
The blog analytics tell us that in 2021, our readers have come to Phocas blog often to read our traditional business intelligence stories as well as more articles about how technology is making life easier for the finance department. Here are 10 blogs that have caught people's attention.
Business KPIs: 5 important characteristics to be effective
Many business people are questioning what they are measuring: is the KPI indicative of the business model, is it enough and is understood by all? This blog gives handy some tips to reference if you're reassessing measurement.
How can financial analytics enhance decision-making
As finance team are preparing reports more regularly and from multiple locations, it's proving essential for a busines to have a single source of truth of information. This blog explains how all stakeholders interact with the same database and everyone is making consistent and accurate decisions.
Five tips for effective business management in the hybrid workplace
As many companies shifted their operations to flexible and remote working, we had to make some changes in how we communication, share data and stay connected.
What is a data analytics pricing model?
Every company must have a model to price its goods - it's a method to form the best price for a product or service.. Your pricing model is a fundamental task shared between the marketing and accounting teams as pricing can increase sales, drop margins or send customers to your competitors.
5 ways to eliminate spreadsheet dependency with a new budgeting tool
For most finance teams, spreadsheets are the go-to resource for determining how well a business is performing. Yet they are not always the right tool for the job as is often the case with budgeting. Phocas launched a new budgeting and forecasting tool in 2021 and by the interest in this blog, many finance professionals are looking for new ways to budget.
Phocas raises $45m in capital raise
It was big news for Phocas and our community when we announced new funding. This article was first published in The Australian Financial Review and explains how the funds from Ellerston Capital and One Ventures are going to fuel product development, customer service and employ new experts.
Dynamic vs static financial reporting: key differences
In a dynamic report, the data is interactive. This way, any figure can be investigated, and answers can be found quickly so you can make fast decisions. A static report only captures the status of the business at the time it was created. So, even the data available through static reporting is limited in its utility to strategize and make decisions.
How to automate financial statements in minutes
What does the month-end look like in your business? Is there a lot of wasted effort, double checking and renaming? For many, the process of preparing the data is a huge time waster and takes a lot away from analyzing the data. A modern finance solution allows the accounting department to quickly customize and automate financial statements like the income or profit and loss statement and balance sheet in minutes.
Financial data visualizations - how they help businesspeople communicate
Visuals – yes please! Financial data visualizations involve the visual representation of all information in the balance sheet, profit and loss and cashflow statements so the finance team can easily analyze the information and share the trends, exceptions and opportunities. Financial data visualizations transform static month-end statements into a more meaningful story that more people in a business can understand.
What is an interactive dashboard?
Interactive dashboards help companies to combine their financial and operational data in a single platform to control corporate functions and processes and measure key performance indicators. A dashboard should be customizable so you can structure your analysis results in a dynamic and interactive way. It's best if you're able to customize your diagrams, tables, and graphics according to your own needs and create overall business dashboards.
We hope you have had a productive year despite all the external pressure and change, and we look forward to sharing more new and exciting content with you in 2022.
Want to know the about Phocas financial planning and analysis, download your free copy here.