Why IT managers recommend business intelligence software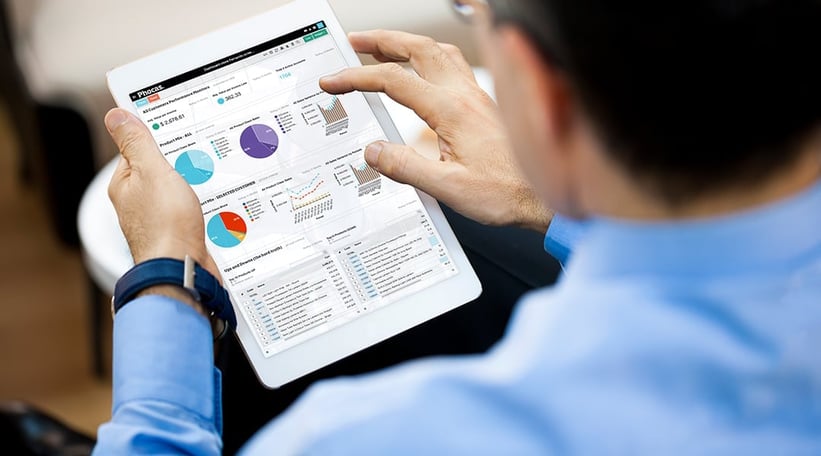 Advancements in technology have changed the role of the IT department from that of a cost center to a strategic asset. Modern IT managers are developing strategies that match a company's vision and goals. Using business intelligence (BI) software to identify which business processes are inefficient and costly enables the IT department to improve company performance and fast-track transformation.
Business intelligence software helps understand individual performance
Managers can use BI to track employee performance, increase motivation and develop a winning team. For instance, sales managers can use KPIs to determine the top and bottom performing reps. With this information, managers can implement strategies to improve performance, provide encouragement and coaching and reward top performers for their contributions. When employees feel supported and valued, they become engaged, are loyal and happy.
The executive team of Number One Shoes and Hannah's retail wanted to improve performance transparency across the store network. In 2018, the company deployed Phocas BI to give staff, managers, and executives better visibility and insights into performance.
"Phocas helps Number One Shoes to visualize performance on a user-friendly KPI dashboard. The core purpose of the tool was to give each store manager and their team really good understanding of performance throughout the day. We were keen for them to be able to see an update every 10 to 15 minutes on how many sales they had completed up to that point, the average value per transaction, how many items are in that sale and whether it included an up-sell items," said Menno Veeneklaas, the General Operating Partner at the parent company, Allegro Funds.
Phocas provides frontline team members, supervisors and managers ownership of their performance. In Veeneklaas' experience, when employees understand their individual and team performance, it empowers them.
Business intelligence software helps free up time to be strategic
Providing employees with individual access to data enables them to answer their own questions. For instance, self-serve business intelligence software like Phocas allow users to generate reports on the fly. Traditionally, IT generated reports can take a couple of days. By the time team members receive the report, the data is often obsolete. With BI, data is accessible in real-time, from any mobile device. The ability to see what customers are buying, and what they are not, will lead to more revenue opportunities over time.
Access to data can show employees how to streamline tasks and save time. This gives them the freedom to be more strategic in their job roles. Whether creating innovative marketing campaigns, developing sales techniques, or streamlining the warehouse, a data-driven environment offers a sense of purpose and accomplishment beyond renumeration.
Insco, a wholesale HVAC/Refrigeration distribution company has 37 branches across Texas and Oklahoma. Insco understands that in today's marketplace, the ability to leverage its data was critical to maintaining the edge over their competitors. As such, they adopted Epicor Data Analytics (EDA), the white-labeled version of Phocas.
Chris Brasher, Insco's business analytics manager, explained, "The company looks at the same data, but it's much easier and faster to consume the information in EDA. EDA was deployed so all skill levels can access company data and help them to do their jobs better. Our team members can answer their own questions rather than wait for a data analyst to build them something. For instance, some users rely on a dashboard to get all their key information, whereas some experienced people use EDA exclusively for queries. The breadth of use is everything and in between."
Business intelligence software helps drive efficiencies
BI software like Phocas enables companies to drive efficiency, increase revenue, and lower costs without increasing headcount. In just a few clicks, sales reps are able to quickly identify missed sales opportunities. With real-time data and self-serve reporting, reps can target their sales efforts rather than rely on the traditional spray and stick method. Reps can also make the most of their customer sales meetings by accessing reports on their tablets or other mobile devices.
The much-loved brand WD-40™ is so popular it is used in 176 countries. To manage company growth and meet their aggressive sales target by 2015, WD-40™ has chosen Epicor Data Analytics (EDA) to help them achieve its pan-European strategy.
"We want to grow efficiently without adding too much headcount. So, as a business, we need to scale-up and be more efficient and find automated ways of doing things," said IT manager Jonathan McCoy. "The sales growth will come from WD-40's current markets, and we need better data to take advantage of the opportunities and optimize around our product, customers, and channels," McCoy concluded.
Business intelligence software allows companies to be proactive
The name Sistema means 'system' in Italian and signifies the company's systematic approach to manufacturing. Sistema is a leading manufacturer of food storage containers and most of its customers are repeat buyers because Sistema is obsessed with product innovation.
In early 2018, Sistema adopted Epicor data analytics powered by Phocas. Sistema uses EDA to measure production metrics and find ways to improve efficiency. The solution also helps Sistema manage inventory so they can run a lean warehouse. And EDA is used to monitor operating efficiencies and measure performance on the shop floor. Reports are created for daily production meetings so Sistema has a clear view of any potential issues with production.
As Sistema's Chief Technology Officer, Greg Heeley explained, "EDA has allowed us to link staffing levels to productivity and machine running time. Previously we knew ten machines weren't running. That's it. This did not explain the 'why' in the story. The real reason that machines were down is that we didn't have enough staff on that day to attend to them. The payroll data has provided another layer of supplementary information. EDA allows us to do systematic, proactive analysis rather than be reactionary so there is some balance around our analysis."
Heeley finds EDA simple to use, and the team creates dashboards easily at both an operational and executive level.
Phocas' self-service business intelligence offers self-sufficiency to people who need answers while significantly reducing the demand on IT to produce reports.
To learn more about how to build the case for data analytics for IT managers , click here.