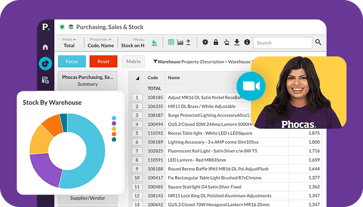 Get a demo
Find out how our platform gives you the visibility you need to get more done.
Get your demo today
What is the definition of a KPI?
Key Performance Indicators
, or KPIs, are business values that measure the performance of a business. They are used to help you track your progress and ensure your company is working towards your overall plan and hitting your targets along the way. The KPIs you choose to measure should match your strategy as well as your industry. As your strategy evolves and your business grows, so will your KPIs. And with a clear picture of what's happening across your business, you can keep an eye on your numbers and make ongoing improvements.
What types of KPIs are used in business?
It can be difficult to know which factors are driving your company's success without access to reliable data. Regularly monitoring whether your business performance is improving, or deteriorating, is critical to your ability to make data-driven business decisions. Choosing the right KPIs depends on your job role, industry and strategic objectives.
Executives want to see and understand the big picture, and then have the option to dive into the details. Leaders want to track performance across all areas of the business, from marketing and inventory, to sales, and perhaps most importantly, finance. Below is a list of commonly monitored KPIs by department.
Sales pipeline - what are the current sales opportunities, and the potential revenue from those sales
Sales revenue - allows you to measure the profitability of the business
Forecast accuracy - ensures your sales team is reaching its predicted targets, or at least, getting closer
Sales funnel leakage - know where the holes are in your sales funnel
Win vs. loss rate - better understand why leads buy or don't your products or services
Cross-sell and upsell - identify how to generate more sales from existing customers
Win rate - understand how many leads or sales opportunities are converting to customers.
Revenue vs. forecast - track actual revenues against forecast figures to know whether financial targets are too aggressive or whether you underestimated demand
Asset turnover ratio - analyze whether you are using your assets efficiently to produce revenue
Days sales outstanding - calculate how long it takes to collect cash from debtors
Days payable outstanding - calculate the average time it takes a company to pay its invoices from suppliers and vendors
Inventory turnover - track how fast you are selling existing stock and replacing it with new stock
Stock on hand - better plan inventory of raw materials so you can keep production moving
Inventory days formula - Inventory days formula is equivalent to the average number of days each item or SKU (stock keeping unit) is in the warehouse. Inventory days is an important inventory metric that measures how long a product is in storage before being sold
Demand forecasting - use sales data and customer buying habits to better understand what your product demand will be in the future
On-time orders - measure your ability to complete orders on time
Delivery in full on time - fundamental measure to analyze the performance of your supply chain
What is the difference between KPIs and metrics?
Metrics are quantifiable measures that help businesses track progress. In most cases, metrics track a tactical business activity, which is an important to understanding the difference between
KPIs and metrics
. While Key Performance Indicators are metrics, not every metric is critical. KPIs are connected to the business strategy and the overall success of the business.
What industries benefit from KPIs?
Every industry can benefit from measuring KPIs. They are critical to helping companies measure the successes and failures of their business, providing the validation they need to make decisions that can keep the business moving forward or change course towards a more profitable future.
Manufacturing - Manufacturers and the decision-makers that run them understand the value of data and are turning to BI strategies that help them easily measure sales manufacturing KPIs so they can carry out ongoing improvements.. Leaders need to know how decisions on production runs, purchasing and the supply chain impact their financial KPIs faster than traditional reporting allows so they are looking to BI to provide this insight.
Wholesale - Tracking and analyzing KPIs can be extremely difficult and tedious for wholesalers and suppliers as data sources grow, and especially if you have thousands of SKUs (stock keeping unit) in your product portfolio. Wholesale suppliers understand the value of data and inventory KPIs help manage cashflow and ensures a healthy stock turnover and customers gets products when they need them.
Retail - The retail industry is reassessing its business model with a focus on convenience and experience as well as sustainability. Executives and leaders from all areas of the business need to track KPIs so they can turn data into insights, and insights into action to be profitable into the future.
How do I know what are the best KPIs for my business?
What you decide to measure should depend on the goals and objectives of your business. Your KPIs will include financial, and operational metrics, as well as relevant sales and marketing data. For KPIs to be effective, it's important to know the overall strategy of the business and then establish your KPIs to measure your performance against that benchmark. Consider the following as you develop KPIs for your business.
What are the priorities of the business? Your KPIs should reflect the company's strategic goals and the risks facing the organization.
What are the desired outcomes of tracking KPIs? Once you know what you can achieve as a business from having baseline and cumulative figures across product, people and customers, you can use the performance tracking to guide and motivate your team members.
Are the KPIs specific and relevant? The KPIs need to be meaningful to your executives, managers and team members and their roles.
Do they reflect the changes your organization may experience due to seasonality, competition, government policy and the environment in which your business operates?
The most effective way to manage the ongoing data your business is generating, aggregating and analyzing is using KPIs as signposts that keep the company going in the right direction.   
What software helps measure KPIs?
Executives and leaders across your business need to be able to turn data into insights, and insights into action. Companies that can link and measure non-financial as well as financial data are often more likely to get strong results and for this to happen, they need access to powerful, industry-specific analytical solutions. The software consolidates all the data sources and then that helps them identify trends with built-in KPIs; find out what products are selling, to who and where; and uncover opportunities to expand, contract, review and refine. A data analytics solution makes it easy to interpret and visualize the information, so changes can be made and business people can act on the trends and anomalies.
What is a KPI dashboard?
Business managers wade through a massive amount of information generated from data sources and silos across the business. Business intelligence software such as Phocas, converts the raw data into dynamic and interactive dashboards that makes it easy to follow their train of thought, drill down into the underlying information and find out what is driving the high-level, visual chart, graph or table on the surface. The
KPI dashboard
becomes your single source of truth to track your KPIs and quickly monitor your business performance.
How KPIs increase ROI?
Key performance indicators help people evaluate actual performance against objectives, so they know what levers to pull toreach their goals.. In today's competitive and challenging business climate, data analyticsis an effective way to accurately undertand your data.. Not only will monitoring KPIs help you know how to fix the various areas of your business, it will also help you compete more effectively. Many companies get their KPIs wrong, measuring too much, not enough or simply copying what others are doing. KPIs are most effective if they are measuring data points that are simple, actionable, and perhaps most important, relevant to your business.
Tracking the right KPIs can lead to a variety of positive benefits to your organization, from empowering team members and boosting employee morale, to improving forecasting and decision making, and increasing company success.
Pitfalls of not using KPIs
All companies are looking for ways to keep current customers happy, achieve and maintain their competitive advantage and grow their business. This is becoming increasingly more difficult to do for companies that are not tracking KPIs with business intelligence.
Without BI and KPIs, it can be difficult to accurately track inventory, leading to poor inventory margin, overstock and deadstock.
Companies that don't track customer purchasing habits may lead to customer slippage. Even if new sales are coming in, the inability to see what customers are not buying, may result in lower revenues and bottom line.
Having an inaccurate idea of customer profitability can result in significant, inexplicable costs. Without knowing your actual bottom line, it's nearly impossible to develop effective strategies for business growth. 
Companies that don't monitor KPIs are also hurting their workforce. KPIs provide goals and motivation. A team without direction will undoubtedly result in less confidence in leadership, a decrease in job satisfaction, and reduced productivity, which will ultimately impact the bottom line.
Key characteristics of a KPI
Setting business KPIs is one of the easiest ways to remain competitive. For KPIs to be effective, managers and executives must consider what they need to know and then set business KPIs to measure the success of their specific strategy. The right KPIs will have several of the following characteristics in common:
Relevant - Is it specific to a team or strategy within the organization?
Simple - Does the KPI prompt decisions instead of questions?
Aligned - Do they complement the overall strategic goals of the business?
Actionable - Do team members know how to achieve an effective outcome?
Measurable - Can you produce qualitative and quantitative measures to determine the outcome?
How to manage KPI measurement and benchmarking across a business?
Many data analytics tools are trying to be everything to everyone, giving users the "ability" to measure everything without much guidance. When it comes to understanding data and tracking performance, simplicity is critical, especially if you want people across your business to be accountable for their areas and roles.
We know that too much data can be overwhelming and difficult to manage, unless of course, it's aggregated in a single source of truth with the flexibility to quickly track and measure the KPI measurement and benchmarking that matters to your business.
Many business goals are focused around three core areas: improving the customer experience, supporting company growth and enhancing profitability. Use these goals to establish KPIs that help your business to focus on improving in every area. Customer experience is tied directly to their orders so tracking "delivery in full, on time," will allow you to gauge whether customers are getting their full orders when promised. Company growth is directly tied to product sales, so tracking "customers in decline" will allow your sales team to focus on how to grow sales from existing customers and prevent greater losses. And in order to move the needle on profitability, your warehouse can monitor "deadstock," and work to reduce dead inventory to free up cash for more profitable investments.
Phocas provides an intuitive data analytics solution that your entire team can use, allowing users of all skill levels to become more discerning about tracking KPIs and more responsible for helping to achieve your business goals.
What KPI tools are available for industries?
Phocas was built from the ground up make business intelligence easy to use and readily available to everyone in the organization. While it offers powerful sales analytics and reporting, companies are using Phocas to take advantage of their data to track a variety of relevant KPIs across IT, HR, marketing, logistics and finance.
Phocas is used on the road and in the office to analyze a variety of data points. The data analytics software turns raw data into interactive charts and graphs to help your teams track KPIs and make informed decisions, from how to arrange products in the warehouse to whether it's time to move underperforming products to dead stock. Human resources professionals use Phocas to test people against their productivity with KPIs such as dollars generated per hour, while general managers use Phocas so they see what happened yesterday or last month, and compare it to today and previous months. 
Phocas' KPIs Features
Phocas has nearly 20 years of experience helping companies achieve success by tracking and measuring business performance. Phocas comes out-of-the-box ready to integrate with hundreds of systems and solutions, including leading CRM and marketing tools, and ERP systems, and with built-in features that are easy to use and customize to your specific industry and business needs.
Phocas' fully customizable dashboards and reporting capabilities lead to new discoveries and opportunities that can help guide your business strategy and drive success.
Meaningful reporting and clear tracking of KPI performance
Phocas Dashboards provide easy-to-understand visual representation of your information from across your company and can be pre-loaded with your KPIs and targets so that you can quickly see how a product is selling, track an underperforming customer, monitor a sales team contest, compare revenues against forecasts, track profit margins by location, analyze stock on hand, review customer retention rates and monitor your growth trajectory. When KPIs are supported with accurate, timely and complete data, you can focus your attention on the right things. You will have the validation you need to dedicate sales, marketing, IT, logistics and financial resources to the opportunities that can help you stand out from the crowd.
Case Studies
Manufacturing
Sistema, leading manufacturer of food storage containers owned by Newell Brands, makes a clever product that people want to buy repeatedly. The company is obsessed about innovatively making the product to ensure ongoing global competitiveness. 
"Adding business intelligence is all part of Sistema's continual improvement process. There is a finite point where we can't make a plastic container any faster. We are using EDA (powered by Phocas) to find efficiencies elsewhere such as increasing the speed of our back-end databases and to enforce greater data control," explained Chief Technology Officer, Greg Heeley
Sistema finds EDA simple to use, and the team creates dashboards easily at both an operational and executive level.
Wholesale distribution
Locksmith Supply Company (LSC) is a thriving 93-year-old security hardware distributor for the locksmith industry. To manage the 20,000 lines of stock and serve customers well, the owners made a strategic decision to harness business data and turn it into useful information.
"No matter what department we're working with, everyone has something to do with Phocas. The sales have hourly updates, HR has people metrics, purchasing has purchases, inventory control has snapshots throughout the month and the finance team has the entire financial statements module including our AR collections and AP," said Data Engineer Gordon Howell. "The level of transparency and the accessibility that all of our staff can get from Phocas is business critical."
Understand the past, operate better today, and plan well for the future
Whether you want to get your data organized for your team or you're looking to combine business intelligence capabilities with financial reporting, planning and analytics… We can guide you. Let's see if we can help.