7 top sales KPIs for manufacturing teams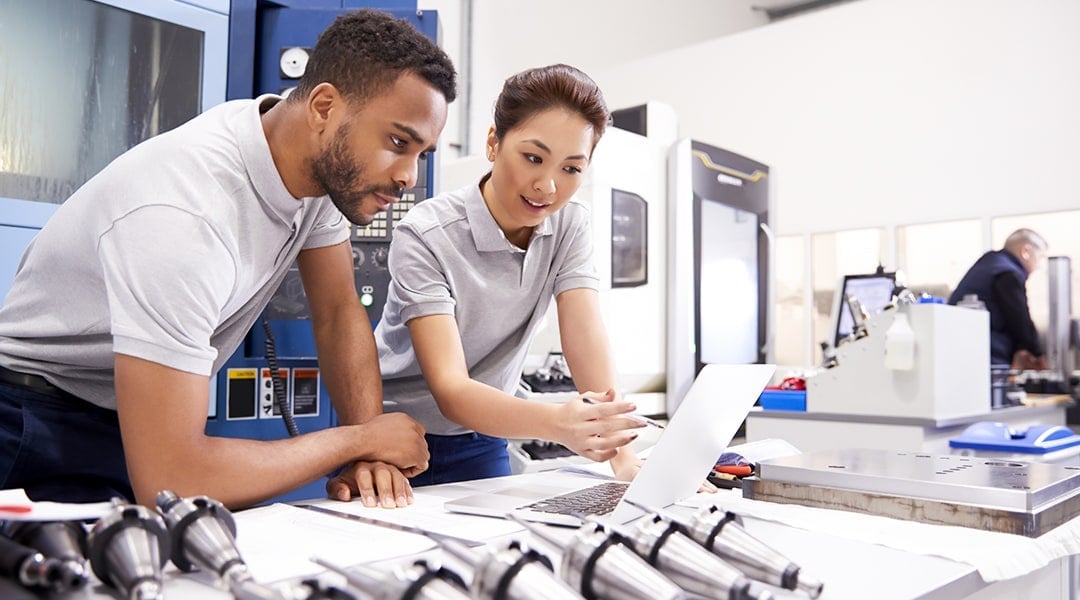 Sales professionals working in manufacturing know customer behaviour is changing and is continuing to evolve. Manufacturers need to be more flexible and personalized, which means innovation and business agility are essential.Many manufacturing companies are well established and have been around more than 50 years but are often operating on out-of-date legacy systems. From working with manufacturers globally, we know much of the recent tech spending has been around the factory floor to improve product line efficiencies rather than adopting digital technologies for sales, marketing, and supply chain management. In the wake of global disruption from covid-19 manufacturers are now rethinking and reviewing the most suitable sales and product technology for their industry so they can automate laborious tasks and get back to serving the customer.
As a sales leader, you need to look at the data you are generating, review your access to information and answer these questions.
How easy is it to generate reports from our ERP data?
Is this data helping you direct your team and understand the challenges your customers face?
Can you have meaningful conversations with customers because your data is accurate?
Can you compare purchasing trends from month-to-month and drill into product types?
Data is an asset in your manufacturing business. New technology will help your sales team be productive from anywhere, take the pressure off the IT department and collate data into reports and dashboards.
The case for modernizing the sales function in your manufacturing business
Transforming your sales team to be more data-driven will allow everyone to make more accurate and strategic decisions. Siloed departmental data is common, so the start of the sales reinvention journey is to invest in the right platform to enable real-time visibility that delivers insights you need to run and analyze your business. You can then easily determine whether sales are being affected by industry, geography or at a customer level. Data visibility allows for the design of an optimal sales model. When you have all the data you need (both financial and operational) you can then decide on the right mix of inside and outside sales processes and design your sales strategy by vertical.
A common struggle, for sales team of all sizes, is keeping data organized. New solutions are often implemented without consideration of whether they're compatible with existing software. This lack of organization leads to confusion and, subsequently, poor data transparency. Sales teams benefit from planning what to measure from the outset and then by setting and maintaining data rules for ongoing accuracy. Transforming your sales team is not easy: it's an arduous and individualized journey where success is contingent upon the commitment of employees, data quality and technology. The good news, there are industry-specific data tools for manufacturers that are compatible with existing systems that are built for the everyday user with built-in templates, dashboards and KPIs.
Top sales KPIs
Sales team working in manufacturing are feeling the pressure to reach sales targets and retain customers. These issues are amplified by ongoing instability between trading nations, closed borders and high transportation costs, delivery delays and changes to customer preferences. The combination of factors is resulting in smaller margins and constant scrutiny of sales performance. This is why KPIs and metrics are so important to the modern manufacturing business. Having data at your fingertips that you and your team can use will make it easier to track valuable data points so you can make real-time, educated decisions, and improve your sales performance and productivity. What you measure depends on what your sales team is trying to achieve, but there are several sales KPIs that are very useful to keep a team on track.
To find out more about what sales KPIs to measure in manufacturing download the free eBook: Top 7 Sales KPIs for manufacturing teams.
FEATURED EBOOK
Top 7 sales KPIs for manufacturing teams
Download eBook
Fill out the form below to download the eBook.