Five benefits of business intelligence reporting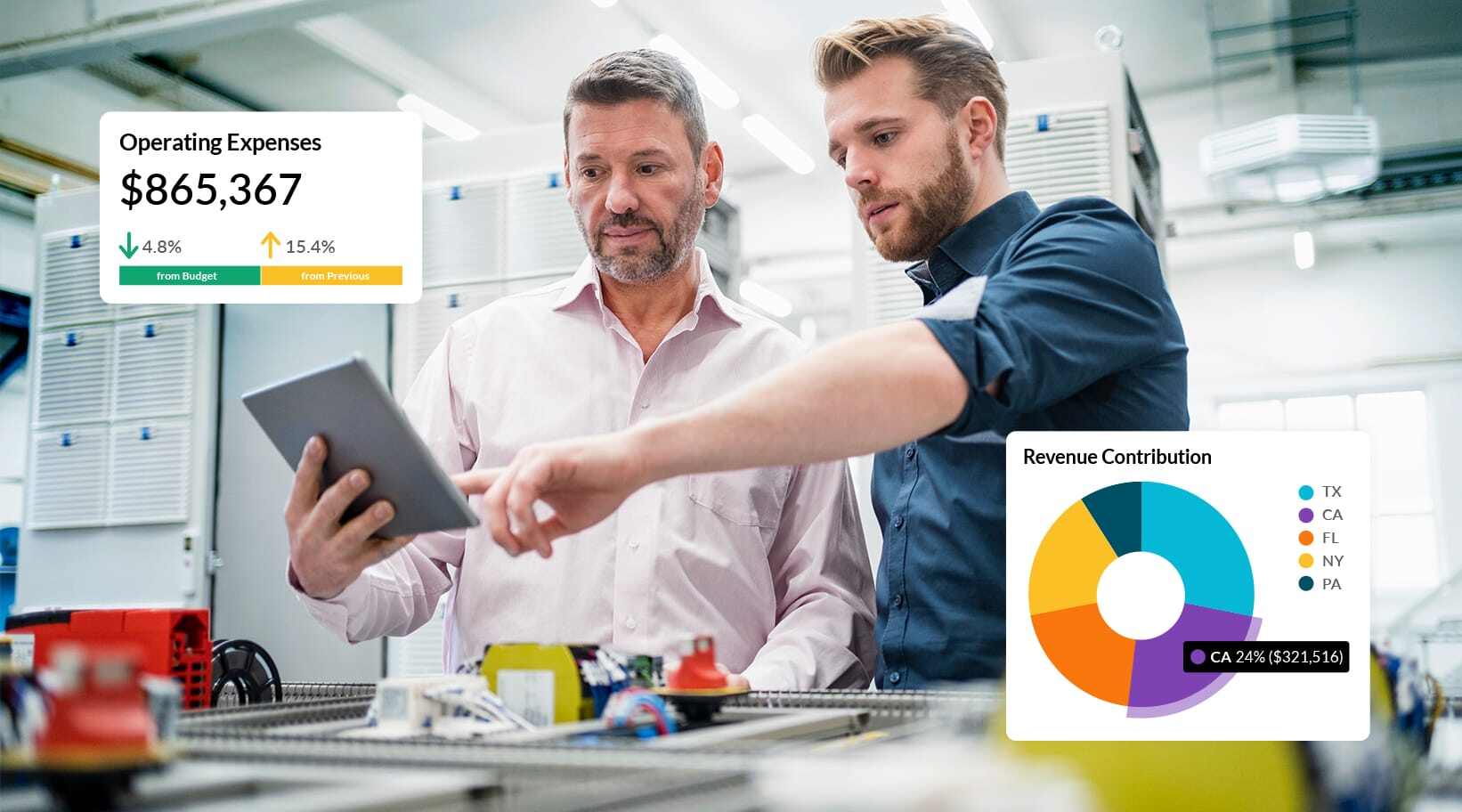 In a digital world, the ability to collect and collate pertinent business data from multiple sources - then extract relevant information - is the key to improved business performance. As business becomes more data-driven, reporting is evolving too. Rather than wait for IT generated reports, business intelligence (BI) reporting presents information in real-time, and in a way that is digestible to end users. Today, BI reporting is essential to empower executives with the information they need to make business decisions on the fly.
In this post, we'll discuss five key benefits of business intelligence reporting practices.
1: Business intelligence reporting can be used in any industry or department
From manufacturer, to distributor, or retail industries, to the warehouse, finance, or sales department, BI reporting can be customized to meet your needs. For instance, production managers on the shop floor can track cycle time, time to make changeover and throughput per hour, shift or day.
Managers can also use BI reporting to track the information relevant to their departments. Sales teams can monitor group and individual activity and determine whether they are reaching objectives such as increasing size of order or managing cost-to-serve. The finance department can use BI reporting to add analytic features to the P& L statements and drill into each set of numbers in the ledger. Whatever your industry or department, BI reporting can provide the actionable intelligence you need to improve your performance.
2: Business intelligence reporting for cost optimization
Cost optimization is another key benefit of business intelligence reporting. With BI reporting, your managers can measure your costs and savings. Detailed reports help your inventory department anticipate and adapt to inventory trends, eliminate bottlenecks, and improve operational efficiencies. Inventory mangers are able to see what's selling and what isn't and track changes in seasonal or cyclical cycles.
This ensures your company can meet market demand and avoid costly mistakes such as deadstock, and being resilient when unforeseen disruptions occur. In addition to reducing costs, your sales department can use BI reporting to know which customers are buying which products at each location. Understanding customer buying behavior and preferences allows your team to optimize pricing strategies rather than focusing on sales volume alone.
3

: Business intelligence reporting helps Increase workflow speed
It's difficult to predict the myriad of possible disruptions such as a delay in the supply chain and loss of supply. Companies must have the agility to respond efficiently when disruptions inevitably occur. If the market shifts or your company confronts an obstacle, BI reporting provides the information you need to pivot quickly. However, managers and employees are often stuck waiting for a comprehensive report from experienced data analysts. The process can take awhile, slowing down the workflow. When the report is ready, more information may be needed, which causes further delays.
With BI reporting, your data is funnelled into a centralized data source for instant, accurate analysis. Even non-technical users can generate reports on the spot, dramatically increasing workflow speed. And, because we absorb visual information much faster than we do text, workflow can be significantly increased by using the visualizations available with BI reporting.
4

:

Business intelligence reporting gives you confidence in decision-making
Executives and managers must make strategic decisions that can have a significant impact on the company. Many executives still rely on hard-won experience and gut instinct to make important decisions. However, BI reporting eliminates the need to depend on intuition alone. Whether you are trying to streamline your warehouse, create a targeted marketing campaign, or optimize costs, BI reporting enables stakeholders to quickly make decisions and set actionable milestones informed by the facts.
5. Business intelligence reporting is instant
BI dashboards are intuitive, visual, and enable you to spot trends, and discover game-changing insights with ease. Dashboards can be customized based on the exact needs, goals, and preferences of each user. All users can create, analyze, and run reports at any time, from any device, without the help of IT. This on-the-spot reporting give users the insights they need to work with confidence. Users can create alerts on the specific key performance indicators (KPIs) they want to track. If inventory falls below a certain number, for example, an email alert will be sent, ensuring you are always informed and the situation assessed.
This new data-driven business world doesn't have to be overwhelming. With the right BI solution in place, you can view critical company information in just a few clicks.
Now that you have more insights into the benefits of BI reporting , why not have a closer look at the specific dashboards and scorecards available by downloading this free ebook, Executive Dashboards.
FEATURED EBOOK
Top 7 KPIs and metrics for mid-market executives
Download eBook
Fill out the form below to download the eBook.