How to promote interdepartmental communication using business intelligence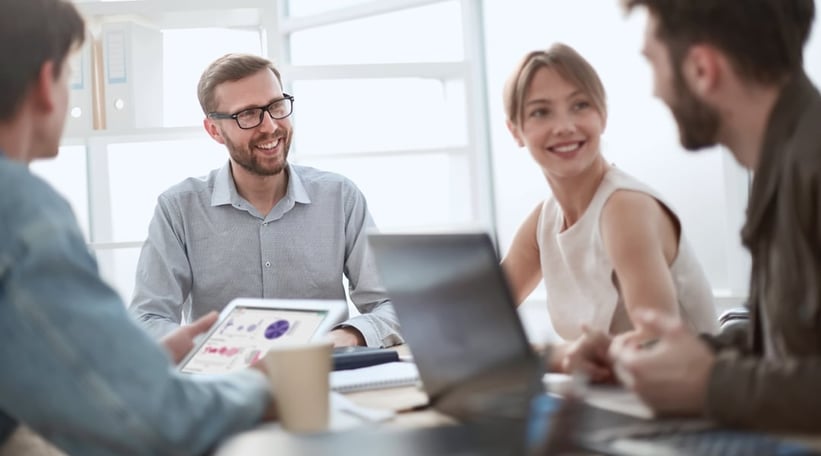 Interdepartmental communication is the backbone of achieving company success. Companies with effective interdepartmental communications are three and a half times more likely to significantly outperform industry peers. This blog will explore four ways to improve interdepartmental communication to achieve organizational goals using business intelligence software.
Step 1 - Set common goals
Physical separation is a primary cause of poor communication between departments and different groups. Teams may rarely interact with other department employees because there is little reason to do so, unless there is a problem. Some employees may only build strong relationships within their department, and only mingle with other staff during lunch or other social occasions.
By creating common goals across departments, teams have an incentive to collaborate and achieve overarching company goals. As your employees collaborate, trust is built and strong relationships are formed. Creating projects that require departments to work together to achieve a common goal which are underpinned and measured with business intelligence software can be effective. It is critical that collaboration doesn't just occur at the managerial level - involvement should come from staff at all levels to facilitate effective interdepartmental communication. Once these relationships have been fostered and trust is built sharing data, the channels of communication remain open and people come to one another for advice.
Step 2 - Celebrate wins
As a manager, you are in a position to encourage and praise your team members, and celebrate team wins. Work with other department managers to host celebrations for little to big wins. A dashboard for projects, sales or productivity is a means to determine when the celebration is required and it can be anything from a handshake to a cake. You can also explain to the business how the teams collaborated to achieve the win and how various KPIs were met.
For example, your marketing department may collaborate with your sales team to identify customer buying habits and create a targeted marketing campaign. Likewise, your inventory team may have collaborated with your purchasing department to ensure appropriate stock levels. Recognizing the work of both teams fosters a culture of co-operation over competition.
Step 3 - Ensure your business technology facilitates communication
Provide systems that encourage communication. Emails are one tool, but text-only contact can lead to miscommunication. Instead, implement systems that everyone can access from anywhere. The collaboration feature in Phocas business intelligence is a great example. Departments can assess problems and opportunities from their unique perspective and share their ideas in a group discussion. The collaboration feature is designed with a social media framework in mind to encourage employee engagement and communication regardless of where the person is based.
Step 4 - Give your employees a single source of truth
We all see the world through our own eyes, and like individuals, every department has a unique perspective. Failure to see a situation through another person's eyes is often the reason for a breakdown in communication. In a company, an inventory manager may believe they need to maintain a certain stock level. But if the sales department fails to mention the acquisition of a new account, stock levels will fall short.
By providing your employees with access to relevant company data, they can quickly assess the situation and make decisions based on the facts instead of a limited perspective. In the example above, the inventory manager can check for changes to customer data and adjust stock levels accordingly. Likewise, the finance department may identify a low profit margin for a particular customer and ask the sales department to consider adjusting the product mix they are selling. The saying "it takes a village to raise a child" could also be applied to growing a healthy company. To be successful, every department must have a vested interest in its overall well-being and business intelligence.