How can you increase sales for your business?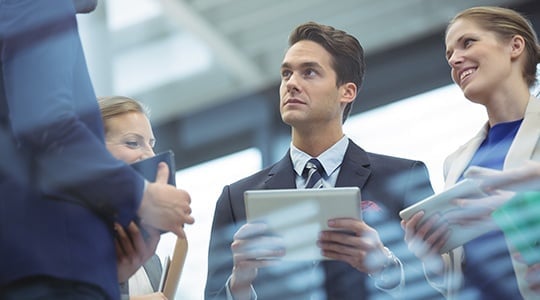 Sales teams are strapped for time. No one on the team can afford to invest hours on a sale that doesn't pan out. Whether your team is struggling to meet targets and achieve KPIs, or you want to grow your business beyond current goals, today's blog will discuss ways to sell more in less time.
Provide value – don't push the sale
In today's highly competitive marketplace, brand loyalty is at an all-time low. This means customers will more readily switch suppliers if they are unhappy with your service, your prices, or the quality of your products. Therefore, investing the time to cultivate a relationship with your prospective customers will save time and effort in the end. When a sales rep approaches a sales meeting with the intention to just close the sale, customers may feel pressured into a decision. Instead, show the customer that your goal is to help them find the best solution for their unique needs by showing an understanding of their business. Because in the end, when your customer is successful so are you.
Know your prospects and customers
The key to helping your customer is to ensure you fully understand their needs. Your salesperson should learn everything they can about a prospective customer before the sales meeting. Their research should include the prospect's target market, brand positioning, and company size. This way you can also identify the purchasing history of similar companies that are already customers. Armed with this information, your salesperson will be able to suggest the most appropriate product combinations for the prospective customer's specific needs, demonstrating your commitment to help the prospect succeed.
Before meeting an established customer, it is equally important to understand their purchasing history. Look for an increase or decline in purchases, and examine their product mix to see if it meets their needs or whether it could be improved. It may be they would benefit from a new cross-selling offer, or perhaps you can upsell a product that would better meet their needs. Perhaps the customer isn't aware of your full product range, and you can put together an offer including additional products that is mutually beneficial?
Because this level of detailed analysis takes time to generate through a traditional ERP system, this research can take more time than your sales staff may have available. With a business intelligence solution like Phocas, however, this level of insight is just a click away. This way your sales rep saves valuable time, while having a better chance of making the sale.
Ensure your bucket isn't leaky
The leaky bucket theory is the idea that your company is a bucket, and customers in decline are drops of water 'leaking' from your bucket. Many companies focus on customer acquisition to replace lost customers. Yet, customer retention costs far less in time and money than acquisition.
The most effective way to save a declining customer is to quickly identify declining purchasing values, for example within a month. With quick identification, your sales team can intervene before a customer is completely lost.
However, it can take several days to receive an IT generated report. This may cause your sales team to rely on gut feeling rather than data about a customer's status. While a killer gut instinct is the result of years of experience, it can be prone to miscalculations or omissions. Therefore, it is vital that your team has the facts, and received these in a manner that is quick and easy to understand.
With Phocas, your team has the ability to customize a dashboard with a widget that continuously displays the number of customers in decline. A click on the widget will reveal which customers are declining, and a click on a customer will reveal their purchasing history, including products, value, volume and more. In a matter of minutes, your sales team can see the data it would take days and multiple reports to identify through ERP reporting. Better still, these reports can be customized so that each rep only sees data relevant to their accounts. This way it is easy to stay on track, and identify action items that are of great benefit to your business.
Find cross-sell opportunities
Using your existing data to identify new cross-selling opportunities is a quick way to increase sales. With business intelligence you can see customers who are buying one type of product but not its complement. For example, business intelligence like Phocas enables your sales team to see when customer is buying pasta but not any sauce. This complete visibility into your customers' buying habits will save your sales team valuable time by providing insights they might otherwise have to go looking in the dark for.
Is Phocas a good solution for your business?
Not all business intelligence solutions are created equally. Some solutions are created for specific users. Phocas specializes in the needs of wholesale distributors, manufacturers, and retailers. We have designed Phocas to be easy to use for people with little technical experience, while not missing out of any of the complexity that more advances users might like. Phocas can be used on a computer or on any mobile device. Thousands of businesses worldwide use Phocas to increase revenue while decreasing costs, as evidenced in BARC's annual BI Survey, the world's largest independent review of business intelligence solutions.