How to build a better BI solution through a culture of learning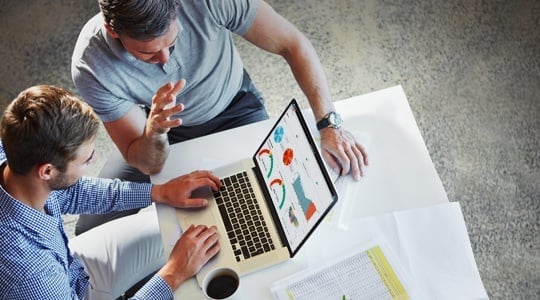 Partnering with our customers is how we develop practical features from the ground up that suit non-technical people.
Once solely the domain of the IT department and technical elite, Phocas has unshackled business intelligence (BI), delivering data and analytical capabilities to everyone from purchasing to sales to finance. Staying close to our customers' businesses is the cornerstone of this user-centered approach to BI. Partnering with our customers is how we develop practical features from the ground up that suit non-technical people.
A Phocas workshop
Recently, Phocas' US customer success and support team facilitated a training workshop with Echo Group, Inc. a leading provider of sales and support for the wholesale electric supply markets in Iowa, Nebraska, South Dakota and Minnesota.
Echo Group has used Phocas for six years. The goal of the workshop was to not only provide the Echo team with traditional classroom user training but to share ideas, identify ways to enhance business process and maximize the electrical wholesaler's investment in Phocas.
The Phocas team - Erin Cullen, Bill Allen, and Ryan Thym - journeyed to Council Bluffs, Iowa to participate in Echo Group's annual training conference. In addition to providing two days of formalized classroom instruction, the Phocas team met with each of Echo Group's department heads to review business processes and refine workflows.
Of particular interest to Echo, was how to further maximize the integration of their sales and inventory data with Phocas. Utilizing KPI driven dashboards, Echo wanted to refine its sales and inventory management approach, specifically identifying sales team management enhancements by analyzing sales margins, and tracking purchasing cycles to capitalize on seasonal trends.
In this effort, the Phocas team rolled up its sleeves and logged into the Echo Group's systems as temporary users to provide insight on how to better organize data and enhance workflows while experiencing Phocas from the user's viewpoint. This collaborative approach builds better relationships while working within a team construct, further stoking the fire that fuels Phocas' culture of learning and improvements for the customer.
Mutual benefits
From the Phocas perspective, this workshop was a win-win situation. "Anytime you have the opportunity to work with a customer in their environment, seeing firsthand how each department uses the software and how these efforts contribute to the success of the organization as a whole, you can't help but gain valuable insights," says Cullen, a veteran training consultant, who added, "when learning is mutual and Phocas shares usage tips with customers like the Echo Group, while deepening our industry knowledge in parallel, a meaningful partnership is forged."
Echo was also thrilled with the workshop and the opportunity to connect with the Phocas team onsite. Tom Falter, an advocate of Phocas and head of Echo's Business Intel. & Strategic Ops department, said, "It was a pleasure to see everyone mesh and engage in the solving of improvement challenges." Falter sees Phocas' approach to connecting with customers as a blueprint for success, "it's important to treat the vendor/customer relationship as a partnership, to bounce ideas off each other, ultimately, in this case, it's a substantial advantage for our company, and Phocas because it leads to a better BI solution ideally suited for our work processes."
Creating a culture of learning at Phocas requires not only empowering employees but customers as well. Developing a feedback mechanism, where a customer can talk with a trusted advisor is vital to enhancing both a customer's workflow and overall business. Accomplishing this awesome task of delivering a BI solution starts first with the relationship we create, and maintain with our customers.
If your organization would like to schedule a business process/training workshop with the Phocas Customer Success Team, please contact support in the United States, UK/Europe or Australia/New Zealand.
If you're interested in learning about Phocas, click here to book a free online demonstration of Phocas for your business.
---