How to combat information overload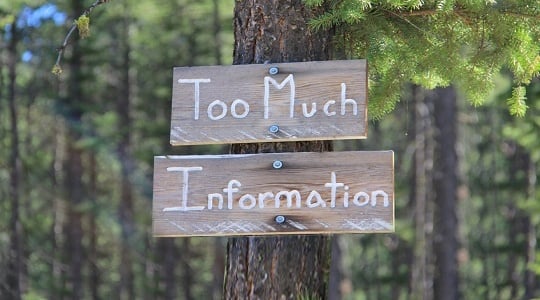 How many emails do you get each day? How many newsfeeds do you read? And what about the number of spreadsheets you need to review daily?
Sure, when you run a business in this modern, technological world, it is inevitable that you'll get bombarded with information, whether you want, let alone need, it.
But here's the thing: you always have a choice with how you handle it all.
So, to combat information overload – and make sane choices – we offer you these four savvy tips. They'll help you to focus on what's important – and ignore what's not – so you can succeed at your job.
1. Create smart email habits
When you check emails, it may feel like you're working, but that's simply self-deception – what you're really doing is procrastinating. Harsh, but true. For example, if you're checking email every five minutes, it means you're checking it at least 100 times in a workday!
So, to stay focused on the real work, consider:
not checking email first thing in the morning – it'll overload you with information before your day even starts, taking your mind off your priorities
turning off email notifications on your devices and computer – and setting the manual, instead of push or fetch, function, to be in control
only checking email in 2–3 shifts each day, where you read and respond to urgent emails (see tip 2)
sticking to a time limit each shift – usually no more than 30 minutes
unsubscribing from e-newsletters that are no longer helpful (see tip 3)
setting up a folder to funnel 'non-urgent but important' emails to deal with on a later shift
during an email shift, deleting those emails that don't fit into the 'urgent' and 'non-urgent/important' categories.
2. Set daily goals – but not too many
You set annual and perhaps even quarterly business goals, but you also need specific daily goals to stay on track with your business priorities and objectives.
The trick is, however, not to just have these goals in your head, but to also write them down – perhaps the night before or first thing in the morning. This'll help you to concentrate and think clearly.
Only list a few goals, though. Usually 3 tasks are enough. This number is realistic and also leaves space in the day to handle impromptu situations that are urgent and critical to business needs.
This means that when you get interrupted – by emails, a colleague's request, a meeting, etc. – you can check your list and put things into perspective before deciding what to do next.
3. Select and filter information wisely
You can't consume everything. You can't keep up with everything. It's humanly impossible. So don't even try. Because if you do, you won't get any actual work done.
So, here are some tricks that'll help you filter information wisely:
cut down on information coming your way – you don't need to read every magazine, every newsletter, every spreadsheet, every website to keep up. Simply keep a handful of credible and reliable favorites, and unsubscribe the rest
spend only as much time on the information as it is worth – i.e. if you start reading something and quickly realize it's not directly useful, then quit pursuing it
use an RSS reader (like Google Reader) or a news aggregation service (like Google Currents and Flipboard) to control the content you read
make a call on when you've read enough – there's a tipping point where it's simply too much and you're now procrastinating.
4. Set up efficient systems
Just like creating smart email and information-filtering tactics, you can do the same with your business data. Because if you need to review stacks of data on an Excel spreadsheet to simply find (over and over again) what you're looking for, then that's information overload in itself!
To overcome this dilemma, use savvy software to dissect and focus on data that counts – and avoid technology that just adds to the overload.
Take Phocas Software for instance. It'll let you create a dashboard with important metrics you want to see – and ignore what's not valuable. You can also easily set up specific key metrics related to each department, like marketing and sales.
With Phocas Software you can also access the same data – same dashboards, favourites, etc. – on your smart devices as those you've set up on your computer. This means you won't waste time relooking for the same data or having to ask staff for information when you're out of the office.
Don't just take our word for it. Many executives believe that Phocas Software allows them to easily focus on what matters, saving them time and money.
To help you focus on the right information, download our free eBook that outlines the key metrics every executive must know and measure by clicking on the button below.
FEATURED EBOOK
Top 7 KPIs and metrics for mid-market executives
Download eBook
Fill out the form below to download the eBook.