Improve interdepartmental communication with dynamic financial reporting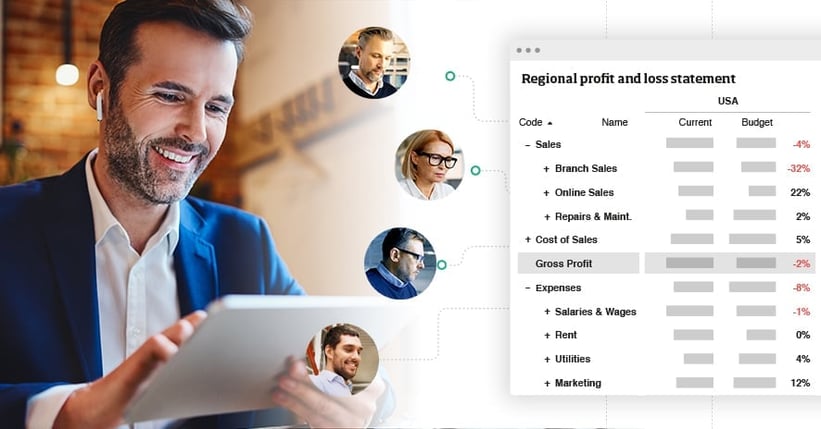 Departmentalization has its benefits — department members can align their skillsets, concentrate on specific tasks and become experts within the company. But to tackle the multifaceted challenges that modern businesses face, to be successful these departments need to work together and coordinate their approach.
According to research by Project.co, eight out of 10 individuals believe their business's communication capabilities are weak. Communicating well within a department can be a challenge, but doing so across departments can feel outright impossible sometimes. That's why it's crucial that businesses focus on improving interdepartmental communication around financial reporting, which is so often the primary way that department leaders take the pulse of the broader business.
Data analytics with inbuilt dynamic financial reporting can function as a holistic digital backbone for all divisions. Dynamic financial reporting improves interdepartmental communication and allows everyone to work from the same data and monitor their departmental financial performance. Thereby improving interdepartmental communication.
Dynamic reporting is the future
Modern leaders both understand that rapid change is the only constant in the modern business landscape and that adopting the right technology is key to keeping pace with that rapid change. Static reporting hampers a business' ability to remain agile in the face of emerging challenges — that's why business leaders are seeking out financial reporting tools that support dynamic reporting and clearly communicate critical financial KPIs to all parts of the business.
In a dynamic report, the data is interactive. This way, stakeholders can investigate any figure, find answers quickly and share anomalies or opportunities with different departments.
Interdepartmental communication challenges
Productivity in the workplace or at home can be compromised by losing or missing important files sent via email, forcing employees to repeat information or go over tasks subsequent times. When companies are using static reporting tools, the information is often old or out of date. As a consequence, meetings based on static reports can be a waste of time or result in more work because the financial department hasn't communicated timely, up-to-date information. In order to answer questions about different time periods of data sets, team members need to reach out to the IT or finance team to create more reports, causing further delays and raising the risk of additional communication issues.
Another common communication challenge that departments run into is information overload. When financial statements contain too much, often irrelevant information, stakeholders become overwhelmed bypassing the reports for the data they need. As a result, it becomes difficult to make decisions and take action.
Many audiences want a high-level understanding of the situation and don't require the detail. Dynamic reporting tools enable you to tailor the data to your different audiences, ensuring that different teams only view the data they need.
How to improve interdepartmental communication
There are many great software tools, methodologies and ways of working that can improve the flow of information. Interdepartmental communication can be facilitated by dynamic financial reporting because the overall numbers of a business are common ground for all employees. Running a successful business is the sum of many parts, but ultimately the success is based on performance and longevity. To adapt to change and be efficient, all people in businesses need access to accurate and timely data.
For a long time, the financial numbers were the domain of the accounting team. Using software that enables sharing profit, loss and variance with other departments means more people can engage and invest in the development of a team's performance. Furthermore, having access to the business's financial data shows leaders the outcomes of their strategies, making them more accountable for the execution of a strategy and demonstrating what works and what doesn't.
Facilitating interdepartmental communication isn't easy, but it's not an impossible task — especially with the right tools to support you. We designed Phocas Financial Statements to overcome these challenges by ingesting vital information from large transactional systems and presenting that data through an interface where business users can access and understand it in a way that makes the information user friendly. Everyone works from the same data, and financial leaders can create dynamic reports for different needs. Ultimately, Phocas Financial Statements helps people to visualize margins quickly, look at the stock on hand or cashflow and help make useful decisions – improving interdepartmental communication and collaboration.
To find out more about the Phocas financial solution, watch this 35-minute video that includes an explanation from an in-house expert, a quick demo showcasing how it works and some feedback from early adopters.