The top KPIs for CEOs and executives in 2022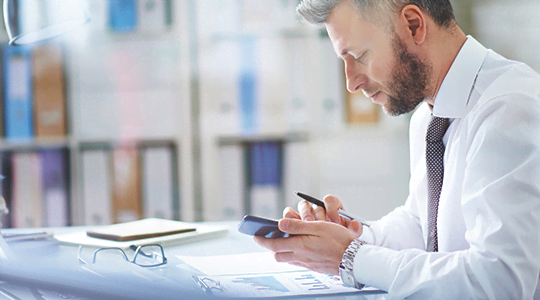 Data and analytics have never been more important for mid-market CEOs and executives to set the course for their businesses. Data is key to transformation in a business. The true value of your data is how your people use data insights and how it impacts decision-making.
NB: This is an excerpt from our eBook: 'The top 7 key performance indicators for mid-market CEOs and Executives'. To download the full eBook, click here.
Given the challenging year, pressure on profits and product margins, and the constant need to change, data and KPIs provide the evidence that CEOs and their executive teams need to make the best strategic decisions for their companies.
Information aggregated from various departments, branches and systems will provide a clear picture of your business performance and what needs to happen next.
In KPMG's 2020 Global CEO Outlook Report (Covid-19 special edition), business leaders were interviewed in February and then again in July and August. It was found many are betting on major dimensions of digital transformation and the majority have seen this accelerate during the lockdown. The survey finds that the COVID-19 crisis has shaken CEO confidence in global economic growth. Today, around one-third (32 percent) say they are less confident now about prospects for global growth over the next 3 years than they were at the start of the year. However, this loss of confidence is not as dramatic when CEOs consider what the future holds for their own companies, with only 17 percent less confident today. They are clearly more confident in mastering their own company's fortunes, where they have more control and levers of influence.
Confidence in company growth but not global growth
CEOs are more confident in their own businesses' growth prospects over the coming 3 years. In part, this is because they have greater control over the levers that will determine this. One of the most critical levers they can control here, and a major growth driver, is digital acceleration. With commerce increasingly taking place online because of factors such as physical distancing, companies are having to rethink what customers want and how to deliver. We found that 75 percent of CEOs say the pandemic has accelerated the creation of a seamless digital customer experience, with over 1 in 5 (22 percent) of those saying progress "has sharply accelerated, putting us years in advance of where we expected to be".
Greater supply chain risk
Supply chain risk has accelerated up the agenda from its ninth-placed position at the beginning of the year – it now occupies second place as a major strategic threat. Even before COVID-19, supply chain risk was in the spotlight as a result of increasing volatility, be it trade tensions or extreme climate-driven events. However, the pandemic has brought this issue into even sharper relief, as organizations desperately sought to maintain supply chain continuity in the midst of worldwide lockdowns.
Purpose-driven is best
At the beginning of the year, KPMG found that most CEOs were seeing the primary objective of their organization shift from pure profit to also consider their purpose in society. Less than a quarter (23 percent) saw the organization's overall objective in narrow 'managing for shareholder value' terms, with 54 percent taking a broader, purpose-driven approach focused on multiple stakeholders. Furthermore, one in five (22 percent) say that their primary objective is to improve society.
More recently, purpose has helped CEOs understand what needs to be done to meet the needs of stakeholders during the crisis, from employees to communities.
The need to be more data-driven
As more companies turn to data to help their business, it's clear that for any analytical initiatives to be successful, the CEO must be actively involved.
A study by McKinsey & Company found that "senior leader involvement and organizational structure plays a critical role in how effective (or not) a company's use of analytics are."
The study found that "44% of high-performing companies said that most initiatives are sponsored by the CEO; only 16% of low-performing organizations make that claim." Overall, the survey found that company leaders are "less involved in analytics efforts than they are in digital activities."
Companies are investing billions in big data and analytics, but many projects and programs are failing to meet expectations. If you're like many CEOs', you don't trust your data or how your teams are using it. For this to change, you must be engaged in the business intelligence (BI) initiatives of your company.
Your involvement, in addition to defining and leading the strategic direction of your company's analytics programs, should include monitoring several key performance indicators (KPIs). These will provide you with a clear picture of your business performance, from manufacturing to sales to revenue goals.
Identifying the key KPIs - what is the key
With this background, the next questions are, what KPIs should you be regularly monitoring on your analytics dashboard? Do you know your company's critical success factors? Does your leadership team?
As an executive, you need to know things such as:
Is our product or service quality where it needs to be?
Are we performing well financially?
Where are our opportunities and challenges?
Are our customers happy?
Ultimately what you decide to measure will depend on the goals and objectives of your business. Your KPIs can include financial, and operational metrics, as well as relevant sales and marketing data. As CEO, you set the expectations and establish the measurements that will help you steer the business. You need to work collaboratively with your c-suite and the individuals directly responsible for the analytics reporting to develop the KPIs that will help you monitor the health of your organization.
Your KPIs should:
Articulate the most important priorities of the board, reflecting the board's strategic goals and concerns about risks facing the organization
Highlight both the desired outcomes, as well as the way you can achieve these outcomes
Use language that is meaningful to you and your board of directors and anyone coming into any of these roles in the future
Be revised on a regular basis (ideally quarterly) to reflect changes in the organization, government policy and the environment in which the organization operates.
Here is a list of the top seven KPIs that you should be reviewing regularly:
This has been a preview of our eBook on the 'Top 7 key performance indicators for mid-market executives'. To learn more, download the full eBook here or click the image below.
FEATURED EBOOK
Top 7 KPIs and metrics for mid-market executives
Download eBook
Fill out the form below to download the eBook.