How real-time dashboards keep managers on target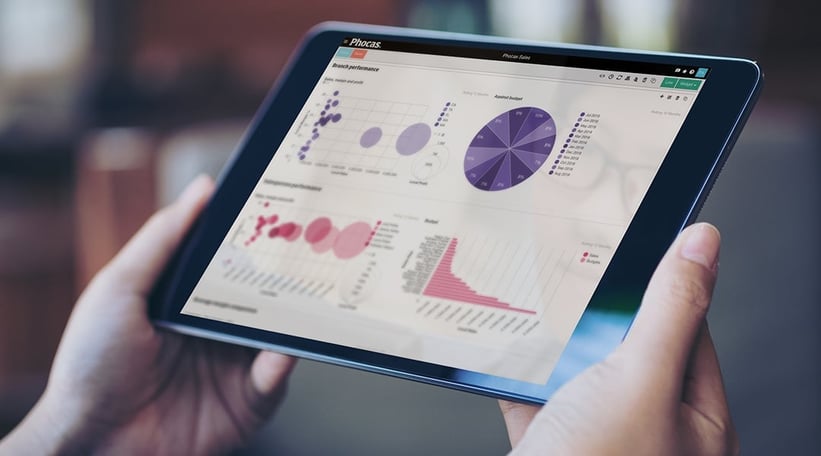 A real-time dashboard provides up to the minute insight into the performance of numerous business processes from production to delivery. Every department of a company has specific performance metrics that can be monitored to ensure the company is operating at peak performance. Integrating these metrics into a dashboard allows users to spot a problem quickly so you can get right back on track or respond to exactly what your customers need.
Paul Magee, co-founder and Chairman of Phocas Software, says a real-time dashboard functions much like the dashboard in your car. Your car's dashboard shows you where you're trying to go, knows how far you've gone and whether you have the resources to reach your destination. A dashboard's warning lights tell you when there are problems that might interfere with your ability to get to where you're going. You don't drive your car without a dashboard and many executives don't operate their businesses without dashboards either.
Dashboards you can dive into
Dynamic and interactive dashboards provide a visual, fact-based overview of the business indicators that are important to you. This type of dashboard helps you can see at a glance how your business is performing. When a discrepancy arises, you can drill down into the underlying data to see what's driving the information on the surface. For instance, you may see an aberration in your sales figures on your dashboard. With a widget for sales reps, you can select the widget and drill down to view all of the metrics for your individual reps. Or you can compare sales metrics from different time periods such as Current vs Previous Sales. Now you can pinpoint what's affecting your sales figures and send your rep a recommendation for immediate action.
Types of metrics for each division
Using a custom dashboard, each division of your company can monitor the metrics relevant to their department. For instance, your marketing team can measure the performance of marketing campaigns, your sales department can monitor new opportunities, and executives can keep an eye on your big picture financial metrics.
Based on the importance of hitting sales targets, your sales department should be heavily data-driven. A sales division dashboard can track things like the number of new customers, new contracts, and closing calls. Your individual sales reps can create their own dashboard to track their sales calls, proposals, and closed deals. A dashboard that brings together your team's data is a great way to improve team performance by ensuring everyone knows where they stand based on the goals you've set. Some important sales metrics to monitor include:
Sales growth:

Sales growth analysis allows you to set and forecast realistic revenue objectives.

Average Profit Margin:

Measures the average profit generated from the sale of a specific product or product category.

Average Purchase Value:

Measure the average sales value of each transaction.

Product performance:

Rank products based on revenue performance.
Sales and marketing teams should work together to achieve their shared goal of increasing revenue for the company. With a sales and marketing dashboard, your marketing team can compare sales and marketing data to determine what campaigns are ultimately generating the most sales, for example, or actively track the progress of different marketing channels used by your team. Key metrics for marketing teams include:
Incremental Sales:

Shows if your marketing campaign increased sales revenue.

End Action Rate:

Measures the effectiveness of your marketing campaigns by monitoring the last action taken by your audience.

Return on Marketing Investment (ROI):

Measures the ability of a marketing campaign to generate new revenue.

Customer Lifetime Value (LTV):

Measures the amount of gross profit that is generated from a customer over the entire time they do business with a company.

Customer Acquisition Cost (CAC):

Measures the total capital cost to gain a new customer.

Lifetime Value to Customer Acquisition Cost (LTV:CAC):

Measures the relationship between the lifetime value of a customer and the cost of acquiring that customer.
Executive dashboards provide critical information at a glance so you can make decisions faster, swiftly move through meetings, and quickly determine which priorities need your focus. Your dashboard can provide a roadmap for ongoing company improvement and financial management. The following metrics are key to monitoring the fiscal health of your business:
Working Capital:

Measures your company's financial health by analyzing readily available assets.

Debt to Equity Ratio:

Measures how your company is funding growth and how effectively you are using investments.

Current Ratio:

Measures the ability of your company to pay all of your financial obligations within the year.
Check out our ultimate guide to data visualization tools.
What is a real-time dashboard?
A real-time dashboard displays live, up-to-the-minute data so you can make critical business decisions based on the facts. Up-to-the-minute information will ensure that everyone involved in important decision-making has clear, accurate and most current information available. Phocas customers can see real-time data across dashboards by turning on the automatic button and widgets flash when new data comes through such as a sale.
A real-time dashboard ensures your most important goals and metrics are front and center at all times. Front and center metrics offer several benefits. First, all users whether individuals, teams or departments, have their most important performance metrics available at a glance. For example, a real-time marketing dashboard might display KPIs that also impact the sales department such as website page views, landing page conversion rates, visitor-to-lead conversion rates, website sessions and more, all at-a-glance. This way, your marketing team has the information they need to make adjustments to campaigns based on the most current sales and marketing data.
Real-time dashboards save time with automated reporting. Rather than waiting for someone to generate and analyze a report, automated reports provide clear and accurate information you need to get started on a new project. Since the data is up-to-date, strategic decision-making is faster and provides executives with the flexibility to proactively address potential issues before they become a problem to be solved. Also, when everyone is on the same page, both internal and external communications improve. This is due to the ability to create and share reports between departments.