What is Business intelligence (BI) and its application?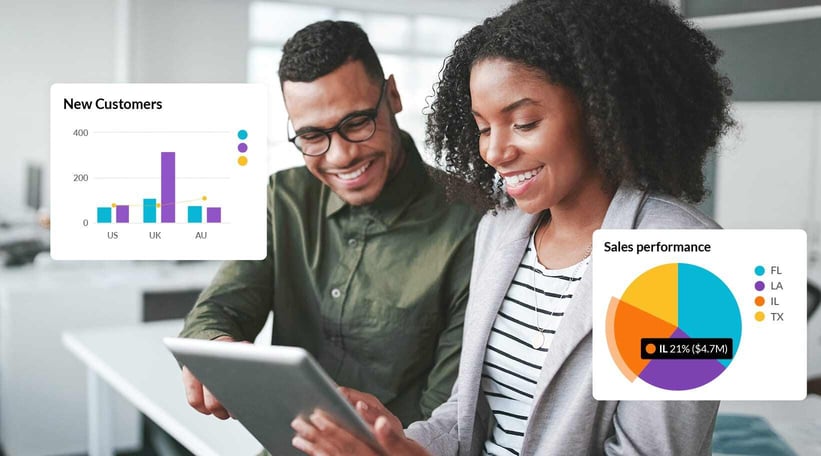 Business intelligence (BI) uses software to convert reams of information into bite-sized insights to inform decision-making. The software receives data from a company's ERP system and other data sets via a sync tool or API. The BI tool then analyzes the data sets and presents findings in reports and dashboards. The purpose of BI is to help people in an organization obtain an easy to understand summary of how a business is tracking, so they can address areas of concern or opportunity.
Dashboards are common BI tools
Reporting is a central part of business intelligence, and the dashboard is the standard tool providing a summary on a page. Dashboards are applications built into the software that pull information into charts and graphs based on what the user wants to review.

Dashboards provide a way for people to examine data to understand trends by clicking into the underlying detail. The dashboard does a lot of the heavy lifting by consolidating and streamlining the effort and time required to search for, merge and query the data.

A sales manager who wants to manage the sales function better can use BI capabilities. ICU Medical is a global medical devices and accessories company selling medical devices for oncology, vascular therapy and critical care. The company has thousands of products in its portfolio, so uses industry-specific business intelligence software to track its sales performance.

Vinod Devarapalli is the commercial administration manager at ICU Medical and uses a business intelligence tool to build dashboards to determine the most profitable customers, low margin customers and declining customers. ICU uses its data to make strategic and tactical decisions. The access to consolidated data allows more people in the business to step-up.

"Mobile BI dashboards help the sales team and the regional sales team to make quick decisions on the go rather than having a boardroom meeting and pulling the information out so we can check with the finance team." says Vinod.

The potential use for BI extends beyond the typical business performance metrics of improved sales and reduced costs, especially when a business analyzes numerous data sources — from CRM to Google Analytics — to improve the understanding and stratification of customers.
Self service business intelligence
IT professionals and data scientists have been the primary users of BI applications. However, BI tools have evolved to be more intuitive, enabling a large number of everyday users across a variety of departments to harness the tools.
Nearly all BI companies have one common goal: keeping the user experience simple. This reduction in builds, steps, and clicks does not mean the technology is any less sophisticated — in fact, it's just the opposite. In relation to business intelligence, self-service solutions enable everyday users of all skill levels to independently access, query and analyze company data.
Some organizations also have administrators who manage access across a business, ensuring the user experience suits the job role and data integrity is maintained. Dependable self-service vendors will manage the ingress of the data into the business intelligence solution, security and upgrades, so companies manage how they want to see and review the data.

The future of business intelligence
The global pandemic has caused far-reaching impacts across the business world. More leaders are considering ways to better use technology and data to proactively enable data-driven decision-making across all aspects of their operations. The future of BI is high adoption of the tools across an entire organisation especially in the finance function, who have tended to remain separate from the rest of the business to protect the integrity of the numbers.
Now, the Phocas Financial Statements solution takes critical financial information from a company's ERP system and puts it directly into a data analytics environment to makes it easier to access, analyze and use for reporting.
The finance team can customize profit and loss statements, balance sheets and cash flow documents. These reports are also dynamic allowing all users to slice and dice transactional data, track performance and share without affecting the general ledger.
This financial solution backed by data analytics brings the finance team into the modern world of democratized, user friendly, cloud-based data analytics for better business intelligence and performance management.
To learn more about business intelligence for for the finance function, watch this 35 minute video that includes an explanation from an in-house expert, a quick demo showcasing how it works and some feedback from early adopters.