What is Business Intelligence (BI) and BI software?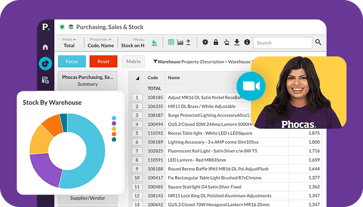 Get a demo
Find out how our platform gives you the visibility you need to get more done.
Get your demo today
Why is business intelligence important? How is it different from traditional reporting?
'Without data you're just another person with an opinion'. W. Edwards Deming
Data is vital to everyone's work. Its value is in helping people know more so you can be efficient and strategic. Business intelligence (BI) is the processes and tools you need to not only collect raw business data, but turn it into into actions and allow people across your organization to track key performance indicators, quickly analyze performance and use the information to make more informed business decisions. Unlike static spreadsheet based-reporting, BI reporting provides a complete picture of how your business is performing, making data dynamic, on-demand and visual. Generating accurate, relevant and timely reports is critical if your business is to be agile in competitive and volatile marketplaces.
Five key BI terms and why you need to understand them
Investing in business intelligence has been among the top priorities for business leaders for the past several years. Companies continue to work to treat their growing volumes of business data as important assets while developing strategies that emphasize the importance of data and analytics in their business outcomes. As you look at BI and how it can help your business consider the following terms and phrases, which will be critical to understanding as you make your software selection.
Platform: a standard for the hardware of a computer system, which determines which kinds of software it can run. For example, Phocas can be delivered via cloud Software-as-a-Service (SaaS), private cloud or on-premise. Most businesses today have a remote or mobile workforce so access anytime and from anywhere will be important.
Application Programming Interface (API): is code that allows two software programs to communicate with each other. Your company likely has a variety of systems and software solutions that are generating data. All of this data needs to be aggregated and analyzed to create an accurate picture of performance. Select a solution that can integrated seamlessly across all your systems into a single source of truth.
Ad hoc query: the ability to create a one-off, 'on-demand' report from BI software that answers a specific business question. Putting reporting in the hands of the people who are making decisions for your company will save significant time and frustration. The ability for users to query when and how they want will empower them to find answers to their questions and conduct reporting that works for them and their roles.
Dashboards: a graphical summary of various pieces of important information, typically used to give an overview of business performance. Phocas dashboards allow you to see at a glance how your business is performing with an option to dive deeper into the underlying data sitting behind interactive charts, graphs and tables.
Interactive visualization: technology that empowers users to explore of data via the manipulation of charts, graphs and tables with the color, brightness, size, shape and motion of visual objects representing raw data being analyzed. These products provide an array of visualization options that go beyond those of pie, bar and line charts, including heat and tree maps, geographic maps, scatter plots and other special-purpose visuals. Visualizations make it easy to understand and read data so you can find answers and opportunities, as well as track trends and identify challenges before they impact the bottom line.
Business intelligence vs. spreadsheets: What does your business need?
For some people, particularly financial professionals, spreadsheets are everything that they know when it comes to business intelligence. While spreadsheets are a great way to organize information, they are not a BI solution. Spreadsheets are susceptible to human errors, difficult to troubleshoot, are not intuitive to the average business user and don't enhance the speed of decision-making. There is little room for data discovery in spreadsheets and as spreadsheets are modified and shared, the more likely sensitive data becomes compromised and your information is at risk.
BI solutions, on the other hand, are living breathing systems that present real-time data. With BI, people can see what is happening with a particular product, customer, or region right now, as well as last week or last month. You can also do more with data in BI systems than spreadsheets, including ad hoc search and manipulation, allowing people to drill deep into a single transaction, customer histories and product supply issues.
When it comes to accurate, real-time data analysis, spreadsheets simply aren't robust. You need surface-level information. You need data that is secure, current and actionable that allows you to do more.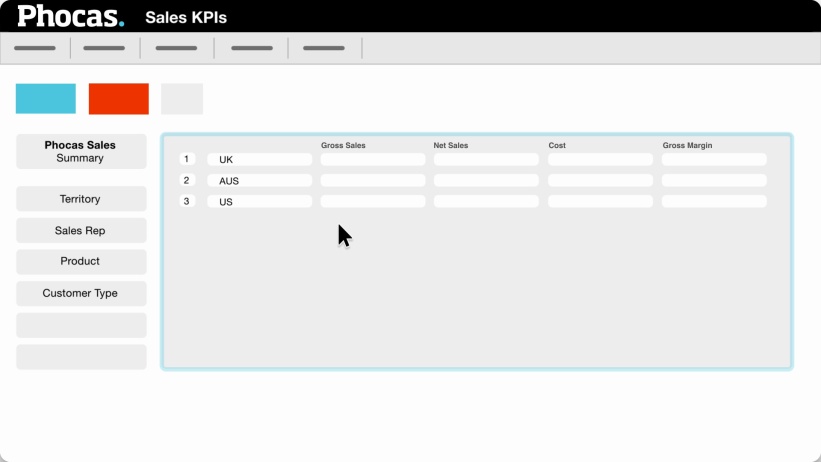 How does BI software improve business performance?
As the speed of business continues to increase, the willingness to embrace business intelligence will make or break companies in the years to come.
BI enhances the ability to lead teams and internal analytical capabilities and eliminates the "gut-feel" approach to decision making. When your data is organized into one view of the truth, it can be used to uncover new opportunities, evaluate outcomes, and predict future trends. As you empower your team with fact-based insights, they can do more to move the business forward, plan and predict performance improvement and outcomes, improve customer loyalty and continually create competitive advantages.
BI software use cases, what can you use it for?
Companies that want to compete effectively and profitably in today's marketplace need data to make faster, more informed decisions. This mindset will require BI software to be completely embedded in operations and the culture of the business. Below are several key uses cases for BI software:
Track key performance indicators to understand and improve the execution of business strategies
Identify and analyze data to more effectively predict trends and future issues
Integrate data sources and silos from across the company to improve collaboration and provide a more complete picture of business operations
Give access to BI software to those responsible for guiding your business so they can accelerate and improve business decision-making
Optimize business processes to increase productivity and efficiency
Analyze customer data to improve marketing and sales programs
Give executives and leaders the information they need to improve strategic planning
What are the benefits of BI software?
Companies are generating volumes of data every day from a variety of different systems. The right BI solution makes it easier for your team to use your company information to draw actionable insights. BI software converts your raw data into usable information, empowering your teams with the ability to make data-driven decisions.
Harnessing the analytical capabilities of BI software will help you to maximize the opportunities for your organization, compare sales across businesses or regions, address inventory and logistics challenges, analyze budgets and use data to keep you in front of your competition.
What are the key benefits of BI software?
Faster access to data - a lot can happen in a few hours, let alone a few days, so your teams need access to up-to-date information so they can make more educated, faster decisions.
Increase customer acquisition and retention - the right information at the right time can be the difference between lost sales and building a loyal customer. Empowering your team with access to accurate data can result in more meaningful conversations that lead to stronger customer relationships.
Measure the effectiveness of campaigns and process optimizations - use BI software to design, monitor and evaluate the success of marketing campaigns so you can adjust your marketing efforts based on real-time insights.
Discover new revenue-generating opportunities - BI software helps to reveal trends and new sales opportunities based on actual customer data.
More stock moving off the shelves - As raw data is converted to visual graphs, charts and tables, you will have a clear picture of product selling patterns, helping you to more effectively plan purchasing activities, reduce excess inventory and adjust pricing to increase profit margins.
What industries use BI Software?
You don't have to look very far to see how important data has become to our world. Companies use BI software to help them maximize their efficiencies, reduce costs and respond to market uncertainty. Data is the support companies need to make more strategic decisions and to effectively compete, pursue growth opportunities and move their companies forward.
Global brands use BI software to help establish and meet useful metrics to guide international revenue growth. Read the WD-40 case study.
Electric components distributors use BI software to serve as the single source of metrics and goals and to "constantly push what is possible" so it gets the most products to customers as fast as possible. Read the USESI case study.
BI software can help international food storage container companies to measure production metrics, find efficiency improvements and manage inventory. Read the Sistema case study.
What type of training and implementation is required to use BI software?
Training and the implementation process are two factors of a BI software solution that are often directly connected to the complexity of the software. Training is important for any software, but the easier the software is to use, the less training should be required for users to feel comfortable. On the other hand, software that is challenging to use may require hours of on-site training, an internal trainer for ongoing support and a team of people to manage the day-to-day use. As you consider a BI software solution, discuss the scope of training required to get up and running on the software. Also, does the software provider offer online, self-guided training and an online community of users to provide peer support?
The importance of a good implementation process
Deploying any software system can be a major event, so as you prepare to select a BI solution, make sure you have a clear vision in mind for what the software can do for your business. Once you are comfortable with the feature sets, review the implementation timeline and the process to go live with clean data. While enterprise software solutions are notorious for long implementation timelines, many other products are not. . The right BI software will integrate seamlessly with your existing infrastructure or will have the APIs necessary to make the process less complex. A smooth implementation process could be the difference between a fast ROI or a disengaged team who are deterred by the timeline and unclear and a slow pathway towards adoption.
How does BI software complement an ERP?
In the course of daily operations, businesses generate a great deal of information that can be used for a variety of benefits, such as increasing customer loyalty and profit margins. This data is often aggregated in a central ERP system and includes information about sales, marketing, products, inventory, financials, employees and more.
While your ERP can generate reports, it is not a system that everyone can access and use. Working with ERP systems and data often requires IT support or trained internal champions, while the process of requesting and receiving reports can take time. BI works with your ERP system to serve as a single source of truth for all your business data. BI takes the information that is managed in the ERP and combines it with data from CRM, marketing, operations and other departments to create a more comprehensive and holistic picture of your business. The information is then converted into easy-to-understand charts, graphs and tables.
Executives, managers and front-line teams can access and analyze a shared understanding of information that drives the business while tracking metrics that are important to individual roles and responsibilities.
How can BI software improve decision-making?
Using a fact-based, real-time, singular version of the truth can empower companies to achieve and maintain a competitive edge, giving people immediate access to crucial information to make fast and educated decisions.
BI software provides a single source of truth by unifying all the data from all the systems and silos generating information for the business. Pulling the data from these key systems creates a clearer and more concise picture of the business performance, giving people more confidence in the numbers and how they use the information to shape the future of their businesses.
BI software also helps measure key performance indicators and other metrics in a meaningful way, comparing and contrasting everything from customer buying habits and inventory to marketing campaigns and sales and supplier performance. With this level of understanding, and the ability to drill deep into granular levels of the data, you will be armed with the information you need to act quickly and effectively.
Pitfalls of not using BI software?
In today's fast-paced marketplace, many companies are seeking ways to achieve and maintain their competitive advantage. A variety of systems, processes and departments are generating and gathering volumes of data every day. If you can't organize and access this information, then it will be difficult to tap into this business intelligence goldmine.
Team members and departments that can't access and analyze your business data are more likely to continue to use legacy systems and out-dated business practices. This will slow down decision-making and or force people to make important decisions based on gut feel. This could put you at a further disadvantage to competitors that have embraced a data-driven mindset.
In addition, when data is siloed across your business, it negatively impacts collaboration, creating friction over different data sources. Better data leads to better decision-making, so what your team needs is a single source of truth that provides a complete picture of business operations and analytics so they can do their jobs more efficiently and have more time to develop new ideas.
Instead of spending hours working with spreadsheets, waiting on IT an internal expert to deliver reports, BI simplifies the process of aggregating and analyzing your data.
Key features of BI software
The key features of BI software can be summarized in the following areas:
Self-service - No more waiting for IT, empower users to easily analyze data and create reports and dashboards when required
Decentralize data reporting and analysis - Puts the power of data analysis and reporting into the hands of all people making decisions
Scalable cloud infrastructure - Flexible solution that scales to meet your data, reporting, infrastructure and business needs.
Visualization - Converts raw data into interactive charts, graphs and tables that make it easy to find opportunities and trends and uncover challenges.
Data consolidation - Integrates with hundreds of data-producing systems and solutions to pull information into a single source of truth
What to look for in BI software
BI is key to making the most of your business data, and to empowering your people with the information they need to guide your business. That said, not all BI solutions are built equal, and not all BI solutions vendors know your industry. A software solution that is built for your industry or can be tailored to your specific needs will go a long way towards giving you the confidence that it will work for you in the long-term.
It's no secret that people avoid things that are complicated, and this is especially true when it comes to software. You want a BI solution that people will use, so look for something that is easy to use. The right solution will let your team access and analyze the data themselves, develop ad-hoc reports, and give them the confidence to make decisions.
Understand your requirements for BI and avoid investing in software that requires a team to manage it. The reason to implement a BI solution is to actually empower your users with information so they can make better decisions. Putting a gatekeeper or selecting a solution that requires an internal expert, could deter what you are trying to achieve with BI.
Look for a BI solution that has content and KPIs built-it. This will reduce the time it takes to start using the software, making the software immediately valuable to your business and people. And finally, make sure the BI solution is flexible and scalable, allowing you to add users and modules as your business and BI needs grow.
Why choose Phocas?
Brief Overview of Phocas
Phocas is self-service data analytics, enabling people of all skill levels to perform analysis and generate reports. Phocas keeps the user experience simple, converting raw data into visual dashboards that people can drill into and make informed decisions.
Phocas is easy to use. It doesn't take long for customers to start using Phocas BI software and find value in their data. Phocas eliminates the bottlenecks of reporting and data analysis putting these capabilities into the hands of people that need them the most. Phocas also makes users feel good about data by making something notoriously complex accessible and convenient to all. Phocas understands how important data is to everyone's role today, so the BI software is developed for the everyday.
"The sales reps are not making more calls a day; rather they are using data to determine where they should spend their time to make more money," said Metcalf.

"For example, a sales rep can go to his customer base and look into a product category and find it makes up 60 percent of his total sales. He also finds that the company is selling this product to only half of its accounts. This is an opportunity. He can now do a sales call that actually targets that category. It seems so logical, but sometimes when you run 100-plus accounts and have thousands of products to manage, this information can slip through the gaps."

Dawn Metcalf, President, Midway Dental Supply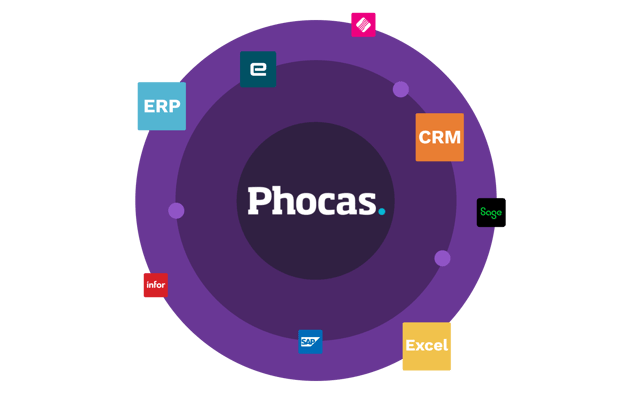 Pain points resolved in business performance management
The ability to turn raw information into actionable intelligence is crucial to understanding how to better serve customers and streamline processes, reduce costs and improve profit margins. Companies that do not use BI are at risk of making decisions based on inconsistent data, or outdated data resulting from inefficient processes. BI software resolves a number of pain points in managing your business performance, including:
Automatically tracking performance indicators - Once you set up your BI software and identify what you want to track, the software does the rest. No more guessing about performance; rather raw data is converted into easy-to-understand charts, graphics and tables that are constantly updated with data sets from systems across your business.
Siloed business performance data - BI software pulls data from systems all over your business, eliminating information residing on disparate databases or network hard drives. Aggregating all your data in a single source of truth means your users have a comprehensive picture of your business performance.
Simplifying performance management - BI software automatically captures data into visual dashboards, allowing your users to see both top-level performance data, and then dive deeper into more granular, transaction-level details. Everything is in one place to simplify how you are tracking KPIs and trends.
Simplifying trend analysis and issue identification - Data displayed in BI software dashboards in graphs, charts and tables make it easy to identify trends, uncover opportunities and resolve issues before they make an impact on your business.
Phocas' Business Intelligence features
Over the last several years, Phocas has finished among the top-ranked companies in the largest annual survey of BI software users. Phocas was built from the ground up to make business intelligence accessible to everyone across the enterprise, regardless of skill level. Phocas is software tailored for business users and designed to be quickly deployed, and easy to learn and use. Within a short period of time, Phocas users are building visualizations and dashboards, drilling down into deeper levels of data, filtering and even administering the solution. Phocas has nearly 20 years of experience helping businesses achieve success, much of that driven because people can access easy-to-understand and user-friendly dashboards so they can begin making data-driven decisions almost immediately.
Phocas provides a consistent user experience centered around simplicity, usability and performance. From day one with Phocas, users get tracking and reporting on essential KPIs and metrics that are specific to role and industry. But users can also add custom measures, dimensions, dashboards and scorecards to meet the unique reporting needs of their business.
Phocas offers a number of competitive advantages over other products on the market. They can be summarized in the following areas:
Intuitive user experience (UX) - Phocas offers a familiar layout and design that makes users feel immediately comfortable working the software
Fast implementation - Phocas quickly and seamlessly connects with hundreds of systems and solutions, including leading CRM and marketing tools, and ERP systems
Ease of use - No more waiting for IT, easily analyze data and create reports and dashboards
Data visualization - Phocas converts raw data into colorful charts, graphs and tables.
Dashboards - Users can set up as many dashboards as they want with the content that matters to them and their roles. Phocas dashboards aggregate a number of KPIs and content to provide a quick view of various performance metrics.
Scalable - Flexible solution that scales to meet your data, reporting and infrastructure needs. Phocas grows as your business grows.
Performance - Phocas is fast, providing instant access to data analytics and processing queries and running reports quickly
Cloud-based solution - Phocas goes where your users need it, and provides convenient access across a variety of platforms so they can review dashboards and run reports when they need to.
What value does Phocas BI add?
ICU Medical
ICU Medical, a leading global medical devices and accessories company, has thousands of products in its portfolio so it turned to industry-specific BI software to track its business performance. Creating mobile BI dashboards has significantly changed the way ICU do business because now everyone has access to accurate real-time data; decision-making is the responsibility of all.
"Access to accurate data has significantly changed the way we do business. Decision-making is not a one-person dependent role anymore. People can refer to Phocas on their laptops, iPhones, iPads anywhere they go. They have access to their data and the confidence to make accurate decisions," said Vinod Devarapalli, commercial administration manager at ICU.
POPS Group
POPS Group is an Australian manufacturer, wholesaler and distributor of PoolPro branded chemicals and products. Phocas BI software helps the seasonal business see the data in real-time so inventory management is efficient and POPS has enough stock to satisfy demand in hot weather.
Sean Ralph, managing Director of POPs group, keeps an eye on dead stock and is forever considering ways to move the products around, reconfigure and move inventory along.
Safeaid Supplies
Safeaid Supplies is a manufacturer and supplier of personal protective equipment based in Portsmouth, England. With its continued growth, the company recognized that business intelligence would become increasingly more important to the business.
The company has set up customer scorecards that visually illustrate a customer's annual spend via cumulative charts, graphs and tables; current annual spend compared to previous years; and spend by category groups, among other KPIs.
"Tracking customer spend was a major challenge for us prior to Phocas," said Barry Taylor, Safeaid's Operations Manager. "Now, we can quickly review top spenders in any month or year. We can review gross profit for a customer any time, and if customers want to challenge our reports or ask a question, we can show them meaningful data on a dashboard. BI has helped us be a lot more responsive - faster in identifying customers that may be walking away or turning to competitors."
Parrish-Hare
Parrish-Hare, an electrical products supplier for commercial and industrial construction across Texas, is data-driven so everybody uses business intelligence to access business information in real-time, 'to see where they're at and where they're going' on a daily basis.
Kevin Talbert, Director of Inventory Control at Parrish-Hare electrical supply, says all parts of the business are using Phocas BI.
Litex Industries
Litex Industries, designs, sources and manufactures ceiling fans, lighting fixtures and patio furniture for customers across America. The company sells thousands of products from dozens of vendors and business intelligence makes it easy to find the hidden data.
Litex Chief Information Officer Ken Lauder leans on Phocas BI software to put data at the fingertips of decision-makers to help them answer critical business questions related to these costs and opportunities.
"Phocas makes it easy to find the hidden data to help us better understand, for example, why products may be trending down in sales, or to address underperforming vendors and sales reps," said Lauder.
Phocas is the #1 business intelligence product in Software Advice's annual review. Software Advice ranks BI software based on ratings from end-users as well as considering product features. Phocas outperformed all 24 BI products reviewed. Reports like these help people evaluate which BI software products may be right for them.
Phocas scored highest in both user categories with a score of 4.5/5 for "usability," which is a weighted average of "functionality" and "ease-of-use." Phocas also achieved the top score of 4.75/5 for "customer satisfaction," which is a weighted average of three user ratings, which are "value for money," "likelihood to recommend" and "customer support."
Phocas is also a 'High Performer' on G2 Crowd's best business intelligence platform grid. G2 Crowd is another well respected independent software review platform. Phocas' leadership as a High Performer is primarily driven by high customer satisfaction scores.
Understand the past, operate better today, and plan well for the future
Whether you want to get your data organized for your team or you're looking to combine business intelligence capabilities with financial reporting, planning and analytics… We can guide you. Let's see if we can help.