[eBook] Make your MS Dynamics NAV ERP go from good to great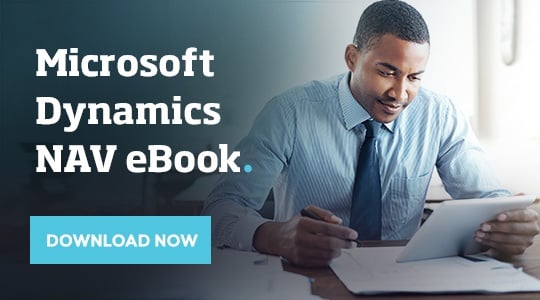 This eBook reviews the benefits to your entire business when you make the data in enterprise resource planning (ERP) system Microsoft Dynamics NAV widely and securely available to key decision makers. We explore the strengths and weaknesses of ERP systems and discuss how business intelligence (BI) can save you time and increase profit margins by leveraging this data in your ERP — enhancing your investment in it.
NB! This is an excerpt from our most recent eBook. Click here to download it now.
Data Analytics for MS Dynamics NAV users
Organizations face many daily decisions. A company's primary goals and objectives shape these decisions, which in turn impacts the likelihood of success.
For the majority of small-to-medium-sized organizations looking to expand, the purchasing, integration and maintenance of the right ERP system is critical. That's because ERPs are the backbone of manufacturing, distribution and retail businesses. The right system facilitates reduced costs, improves efficiencies and serves up the central collection of valuable data that can be analyzed to help you make better business decisions. Additionally, a flexible ERP will provide benefits during periods of growth and evolve with the business' expanding needs.
For these reasons, many growing businesses choose Microsoft Dynamics NAV, which is the most popular ERP system of the Microsoft range with over 110,000 customers globally as of 2015.
Microsoft Dynamics NAV is a melting pot of business data

.

The amount of data your company produces is significant, so finding the most efficient and cost-effective way to leverage it will help you gain that sought-after competitive advantage.

You may not fully realize the extent of the data that you have or everything that it can do for your business, but you have probably heard there is value in that growing pool of information.

According to Gartner, 80% of CEOs consider their data to be an asset, but only 10% say that their company uses it effectively. Therefore, your ERP system is valuable because it provides broad visibility across your organization. It's designed to help you manage your business processes by aggregating and automating the flow of your information so you can monitor and manage day-to-day needs. And bringing all of your processes and data together under a single system can increase productivity and help you adapt to an evolving market.

The problem is, the volume of data coming from across your business can make effective and timely decision making more difficult than it needs to be. So how can you handle this growing amount of data?
Quick access to your biggest asset: data.
While ERPs are useful in giving you an exact view of your business from an operational perspective, they aren't able to perform trend analyses or provide high-level data-driven insights. This ability to turn raw information into actionable intelligence is critical to understanding how to better serve customers and streamline processes, reduce costs and improve profit margins.
So, when companies lean on ERP systems to try and achieve better decision making, they can find them to be clunky and inefficient analytical tools. As with any organizational software system, ERPs cannot be all things to all people. This is why smart companies are turning to dedicated data analytics solutions specifically designed to help facilitate company-wide, data-driven decision making.
By integrating your ERP with BI, you can optimize your company's data to make better business decisions.
This was en excerpt from our latest eBook. To find out how you can better leverage your Dynamics NAV business data, click here, or on the button below, to download the eBook now.
FEATURED EBOOK
Top 7 KPIs and metrics for mid-market executives
Download eBook
Fill out the form below to download the eBook.