5 ways business intelligence providers can offer better customer satisfaction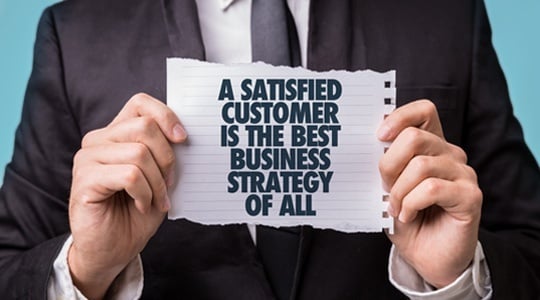 As more companies turn to data to increase profits and improve efficiencies, there is an increasing number of business intelligence (BI) providers emerging. In a previous blog, we looked at factors to consider when choosing a BI solution that fits your needs. As a customer, you need to find the right solution for you and your business.
But with customers' and business' ever-changing needs, BI vendors need to ensure their solutions continue meeting these demands. In this blog, we look at 5 ways BI providers can offer better customer satisfaction and enhance the customer's experience.
One of the main pillars of BI is to make business processes more effective and efficient. And to keep your solution running for you, getting the right support when you need it should be on top of every BI provider's list of priorities.This means that a BI provider who offers free support via phone, email or other online wants to help you resolve your issues quickly and easily.
Regular online training
Many BI providers will offer some form of training when you sign up with them. And while it's great to receive training to give you an idea of the BI basics, a provider that is focused oncustomer satisfactionwill offer ongoing training to help you and your business grow.
One of the more effective ways to do this is to provide a library of easy-to-search shorttutorialsthat show you the benefits of BI for different job roles across your business.
Free user events
Face-to-face contact is important. It helps customers and BI providers build relationships, as well as discuss successes and potential roadblocks with each other.
According toForbes, "it's a lot less expensive to keep current customers than to acquire new ones."
Keeping customers happy with resources such as free user events can cover training, new updates, new products and features, Q&A sessions and anything else that can help a customer get the most from their BI solution.
Free community forums
Happy customers can like sharing stories — so establishing acommunity forumis a great way for BI providers to let customers talk to each other about their BI solution. A community forum should be easy to navigate and let users discuss anything from success stories, hiccups and struggles, as well as share tips and tricks, like shortcuts.
These forums should also include input from the BI provider to ensure everyone is getting the most out of their product and each other.
Free comprehensive online self-learning resources
If you want to get the most out of your BI solution as your company grows, you'll likely want to invest in one that places your experience as its priority.
A company likePhocas Softwareoffers customers an unparalleled level of customer support and self-learning resources for anyone from first-time users to experienced, long-time customers.
These resources are tailored to your industry and complement regular user conferences and training days. When using Phocas to analyze your data, you're set up with not just easy-to-use BI out of the box, — you're also provided with regularly updated resources to help with self-learning and a customer success team that is there to assist you on your BI journey.
It's the Phocas way
You don't have to be a technical expert to use Phocas. Anyone in the company from management,sales,stockand purchasing tofinancecan analyze and make sense of your company's available data.
Thousands of customers around the world use Phocas to categorize opportunities, identify trends, spot challenges and threats, grow profits and save time.
Find out how your business can benefit in a 20-minute online demonstration. Book you demo by clicking here.