Top 5 Business Benefits of Business Intelligence Software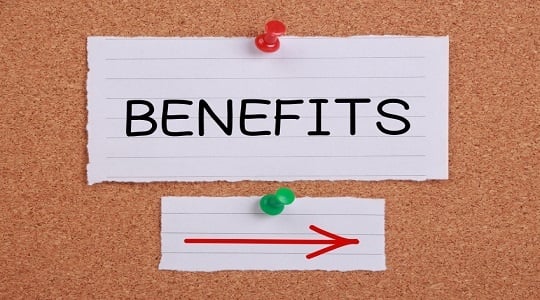 A leading business intelligence (BI) tool can bring many 'business benefits'. In this blog, we discuss the top five.
In the world's largest business intelligence software review, BARC BI & Analytics Survey, Phocas ranks #1 across numerous categories. Arguably, the most important category we ranked #1 in is 'business benefits'. One of the most important considerations when choosing a BI tool is "what's the bottom line?" or "what's in it for me"? In other words, what is this investment actually going to deliver for our business?
Here are the 5 most significant business benefits that Phocas delivers:-
1. Sales Increase
Phocas boosts your sales revenue every day! Since Phocas's early days, development centred on sales analysis and enhancing a company's sales efforts. Phocas has always been a sales aid, helping sales team get insights from their ERPs.
Showing who's buying which products; where they weren't buying, and probably most importantly, what customers could and should be buying allows sales professionals to instantly identify where more sales and profit can be made right here and now,
Sales promotional activity can be designed to fit a company's strengths and weaknesses in a tailor-made way on the spur of the moment.
2. Business Clarity
They say that knowledge is power. Certainly, using a BI tool like Phocas creates a powerful, knowledge-based virtuous circle!
Decision makers tell us that they know their business inside-out, but react with amazement when Phocas shows them something they didn't know. This happens time & time again and underlines how difficult it is to gain absolute clarity across the whole business.
Well, that's just exactly what Phocas does. Whether it's Sales or Finance or Stock Control, Phocas spotlights what a company's staff needs to know, when they need to know it.
3. Cost Control
It's great having a tool that's boosting your revenue. But in this day and age where companies emphasise their leanness, it's no good if increased costs are eating away at your bottom line!
Phocas is the ideal cost controller.
Whether it's moving out those expensive & hard to shift overstocks, cutting your days-to-pay in Credit Control or zeroing-in on your most profitable customers, Phocas puts the means to slice costs in your hand from day one.
4. Customer Relations
Being well briefed is vital in a sales-orientated company. Knowing all about your customer, his or her needs and preferences, the customer's history and current trends are all areas that you need to know.
Again, Phocas delivers that. But not just that: Phocas also allows you to work collaboratively with your key customers. You can use Phocas to show them how to maximise their own revenues and profits by using their own data. It's a superb way of generating mutual benefits between supplier and customer.
Another example is in the case of pull-through/allocated stock. Helping your customer with tight timings on allocated stock pull-through, especially where a third-party or distant sourcing may be involved is a big bonus synergistically. Phocas really earns its keep with this!
5. Profit Increase
While the four aspects above are important, perhaps none is more important than increased profits!
Using Phocas for "Sales Increase" and "Cost Control" combined, will together automatically increase a company's bottom line. Improved customer relations are likely to do the same too.
But everyday analyses such as "who are my best customers for these products?", "which of my sales territories/operational areas do I derive the most profit from?" or "which of my product categories should I replace for the best profit-mix?" – all give the means to grow those profits now!
Naturally, any decision-maker looking to add a powerful BI tool to his/her armoury is going to want more than just Phocas's word that it will bring these massive Business Benefits to the company.
So just look at what the respected and independent BARC user survey says. BARC compiles the world's largest business intelligence software review with over 3,000 users of 35 BI platforms. To download the latest BARC report, click here.