How sharing data makes financial performance everyone's responsibility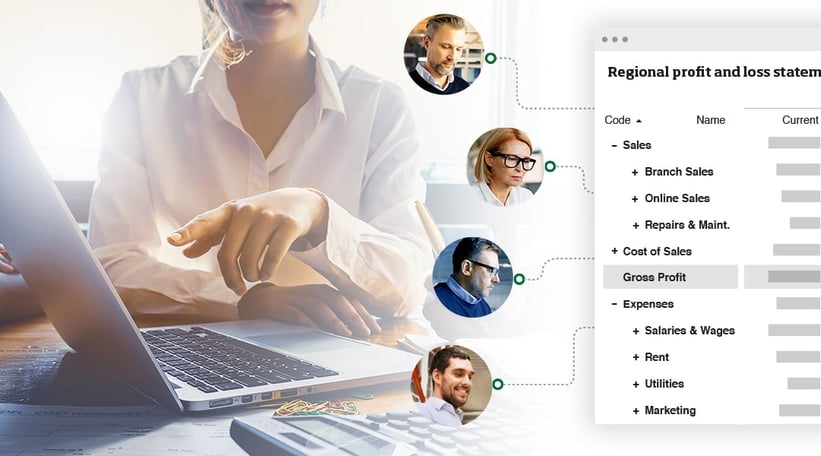 The finance team has always turned to numbers to answer its questions, and as the current economic environment has forced businesses to act faster, everyone needs real-time access to critical financial performance. Many finance teams follow the old method of storing information in a silo, and introducing new technologies seems like turning a giant wheel. Nevertheless, the finance teams can adopt new ways of working to share credible data.
Financial statement analysis software allows customization of reports and regular sharing of actionable data about revenue and profits, helping everyone know what's going on and make them accountable for financial performance.
From spreadsheets to dynamic tools
The finance team traditionally rely on spreadsheets. While spreadsheets have their place, they often can't cope with large volumes of data and can be prone to version error, so they need to be supported by more robust and dynamic tools.
Getting ahead of the competition requires real-time understanding of performance, which simple spreadsheets cannot offer. Effective decision-making requires advanced digital solutions.
Modern business analytics tools are the key to business progress and survival, especially in the current ecosystem, where margins are tight and customers are looking for value. Accountants can deliver actionable data when they add a business intelligence tool kit to financial data analysis. Tools like financial dashboards simplify tracking key financial indicators, such as profit for a quarter, variance from last week, and provide real-time expense numbers.
Phocas Financial Statements is a financial statement tool that allows data users to work with financials. It helps those who want a deeper understanding of their income statements or financial statements through customizable reports. Phocas enables users to create dynamic reports by selecting their dimensions and measures in a safe environment. It helps the finance team to explain things to people who are not as financially focused as them.
Standardized designs make sharing data easy
The standardized design of interactive financial tools is part of the broader requirement of complying with accounting standards. These standards differ depending on the region of operation. Phocas Financial Statements has addressed the different ways countries need to report by providing the user with the ability to customize reports to suit the local standards. Now that generating many different versions of the same statement can be automated, everyone can access and understand financial information – it can help boost business performance and offer merit in using finance numbers in every department. When people understand P & L, cashflow implications, and depreciation/tax, which can help them make more focused decisions.
Companies that implement financial tools and visual dashboards have several advantages:
Brevity: a clear message from the data.
Clarity: When everyone uses the same data, the message becomes more evident as the meaning of the visual elements doesn't change.
Understanding: Visual charts help your audience quickly recognize and understand the numbers, resulting in faster action
Cost: Simple and intuitive tools save valuable time
Speed: Approved and customizable financial statements speed up the ability to make decisions.
How sharing data from the finance team benefits all
Generating insightful reports are limited, especially if not shared with all data users. When the finance team share the results with the rest of the organization, this ensures that data quality is excellent, which leads to a better understanding of the current performance and more reliable decision-making.
The exchange of financial data does not require a meeting or ten pages of information. You can optimize collaboration with actionable data using modern business intelligence software tools.
Ideally, your financial statements solution will work in tandem with your business intelligence software and ERP to facilitate the sourcing and management of data. Phocas Financial Statements, for example, is an add-on to Phocas business intelligence software and integrates with a variety of top ERP systems such as Infor, Epicor, Microsoft, MYOB, Oracle and SAP.
To find out more about the new financial solution, watch this 35-minute video that includes an explanation from an in-house expert, a quick demo showcasing how it works and some feedback from early adopters. Alternatively, you can take a guided trial of Phocas Financial Statements now and see for yourself: