Building a better business intelligence solution one customer at a time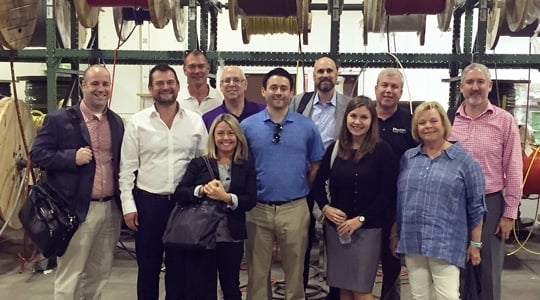 Crafting an outstanding software solution involves passion, vision, and a skilled team. Phocas is refining that solution by communicating with customers whose business has prospered using its BI solution.
Phocas has long embraced the practice of gathering feedback from customers to understand how they are using business intelligence (BI) in a real-life environment, assessing what is working effectively, and identifying opportunities to further improve outcomes.
Co-founder and chief strategy officer, Myles Glashier and the leadership team of Phocas recently traveled to meet with the executive team of Billows Electric Supply in Delran, New Jersey. "I am a big believer in visiting customers, meeting them face-to-face and hearing their stories," says Glashier. "To truly understand how Phocas can help customers achieve their goals, you need to understand their expectations and how you can assist them in their journey." This commitment to helping customers is evident in Phocas' outstanding 98% customer retention rate.
Phocas is designed to meet the many challenges of a supply chain and is ideally suited for manufacturers, wholesale distributors, and retail organizations. Billows has been a Phocas customer since 2013 and has been a leading distributor of electrical equipment and supplies in the tri-state Philadelphia area since 1950.
In addition to their enterprise resource planning (ERP) solution Infor SX.e, Billows previously used MS Access and Excel, as well as multiple data analytics solutions such as Hyperion and MITS to handle the enormity of their data flow. Billows struggled with data analysis despite this, until discovering and implementing Phocas Software.
"Without information, you can't run your business," says David Lowenstein, Vice President of Vendor Relations at Billows. "Whether it's sales history and data, or inventory information, everybody in the organization needs timely data to perform their day-to-day functions." Ease of use for non-technical employees was a clear benefit of Phocas, and Billows uses the solution across their sales, inventory, purchasing, and finance departments.
"It was important for us that our people could just use the Phocas software with ease," Lowenstein says. "You hand people Phocas, you show them how easy it is, and it just makes them more comfortable." With ease of use driving accessibility throughout the organization, Billows is currently looking at expanding Phocas' role within the wider company to drive data analytics into more functional areas of inventory, purchasing, warehouse logistics, rebates, and beyond.
Billows plans to implement Phocas' new pre-configured sales dashboards, and vendor and product scorecards integrated with their Infor SX.e system. Coupled with "favorites" that give team members instant access to relative reports, and automated "alerts" to guarantee timeliness with pre-determined thresholds, relevant information will always be at the fingertips of the Billows team.
Phocas' philosophy is to listen to customers, understand needs, and identify appropriate BI functionality. And this is proving to be a winning combination.
If you're interested in learning more about Phocas, click here to book a free online demonstration of Phocas for your business.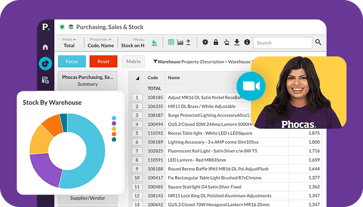 Get a demo
Find out how our platform gives you the visibility you need to get more done.
Get your demo today