One trusted source of data truth improves KPI tracking and performance
Europe's leading golf retailer has access to real-time information allowing them to use their data to highlight missed sales opportunities.
Need for more agile and flexible reporting
In order to continue to move the business forward, the new leadership recognized the need to be more agile, including with its data and reporting. American Golf has a legacy of reporting and sending end-users email and PDF reports through its SSRS system. The reports, built on OLAP cubes within Excel, were not fully automated, and required users to come in every week, refresh and share.
"As we grew, it was becoming quite difficult to maintain our reporting in SSRS," said Adam Kirby, Head of Commercial Finance for American Golf. "We knew there were more dynamic reporting solutions out there. We wanted to slice and dice and analyze data quicker, but there was a bottleneck in terms of resources whenever we wanted anything from our data. It took too long to get answers from the system, and we needed a solution that was more flexible and intuitive for everyone to use."
"When someone doesn't do something with a spreadsheet within a couple of days, we have to restart the process. If someone does pull the formula down from a previous spreadsheet, then the data is wrong. Just when we think we are doing well, a quick fix of the formula may reveal that we are behind in orders or losing money on shipments. The information is not live, and as we started operating across two businesses, we really wanted to kill spreadsheets."
In 2017, the company looked at Power BI, but users struggled to grasp the solution, and in the end, the company turned to Phocas Business Intelligence.
"It was obvious that Phocas was easier to use, and we could see that Phocas would allow us to build a data warehouse and create one version of the truth," added Kirby. "It is intuitive, we can pull and analyze data from across the business, and it's much more dynamic than anything we have tried before."
Users grasp and adopt Phocas quickly
Early success with Phocas came when Kirby and CFO Simon Owers put the software into the hands of its e-commerce trading teams and store managers. The intention was to give them a live view of their performance, as well as the ability to drill down to the colleague level and store staff level and assess individual and store performance throughout the day.
"Our teams got used to Phocas very quickly, which was such a positive for us," said Owers. "Phocas provided our managers the ability to review their dashboard and see their performance at any point in the day. While you could argue that this should be possible with most applications, it's not something we could do before Phocas. The software is straight-forward, visual and cloudbased. It has done everything we wanted it to and for a reasonable price."
Access to current and accurate data to effect real-time change
In addition to American Golf's sales director, regional managers, and e-comm trading team having full access to Phocas and their area of the business, today, every store has its own Phocas account. Prior to Phocas, there was a weekly report compiled on a Monday evening and each store would have an abundance of KPIs to track. Every six weeks, store managers and sales leaders would meet and review the KPIs. Unfortunately, the data and reports were weekly and retrospective. The data was outdated and didn't provide timely answers to important questions. Phocas now provides American Golf store managers access to real-time information that is specific to their stores, allowing them to use their data to effect change at any time.
"Managers should be living in the Phocas dashboard, and living and breathing the KPIs by store, staff and vendor," said Owers. "With Phocas, they no longer have to wait to make changes or wait to identify opportunities. Phocas facilitates their improvement in all the KPIs, and they can change over time."
Owers and Kirby have received strong feedback from store managers about Phocas, as they like the way it has been set up, their ability to track their sales teams, and constantly find areas for improvement.
"We are allowing our e-comm teams and managers to manage their entire businesses with up-to-date, accurate and reliable information," said Kirby. "We are giving them more information than ever before, allowing them to be more analytical, drill down deeper into the data and better track and influence KPIs such as average transaction value and custom mix as a percent of sales. All of this gives them better control over their team's and store's performance."
Endless opportunities with data
While analytics has always been important for the business, answers are coming a lot faster now, and the company get access to the details while supporting financial decisions with data.
"As a non-tech user, I appreciate how simple and easy it is for me to make changes to dashboards and how quickly information appears for end users," said Kirby. "Changes to previous reports often took days because of the complexity in how they were built. With Phocas, I can make changes in a matter of minutes, in between other tasks. That's been a real positive for me and for our team."
Owers added, "Getting involved with Phocas has helped us understand a lot more about our data. We now understand what's underneath and where we can improve. Phocas has opened up endless possibilities in the way we look at our data going forward."
When it comes to golf products, no one does it like
American Golf in the UK
. The company has become the country's largest golf retailer with more than 100 retail locations and revenues exceeding 120 million. In the last few years, the company has gone through a major transition, adding new investors and leadership, while focusing on growing its e-commerce business and looking to enhance its retail concept with golf ranges and food and beverages.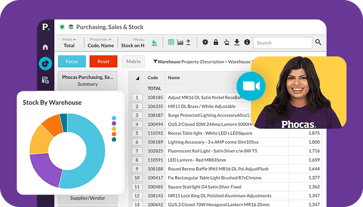 Get a demo
Find out how our platform gives you the visibility you need to get more done.
Get your demo today
Understand the past, operate better today, and plan well for the future
Whether you want to get your data organized for your team or you're looking to combine business intelligence capabilities with financial reporting, planning and analytics… We can guide you. Let's see if we can help.